On the morning of the last day of August 2010, returning from my Colorado tour, I left my parents place to head over to the ghost town of Barstow to shoot (at mom's suggestion). There was a rig up at the end of of the road (half a mile away)…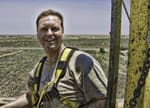 Along with my other niche, old vehicles, subjects range from architecture & objects, landscape & nature to people on the street and more. The work is accessible – brightening and bringing inspiration & motivation into your office or home. From limited edition canvases and paper prints, to metal and ceramic tile coasters and other gift items, we can help you decorate or reward clients and employees. All products are created in-house at my studio & gallery.
3 Ways Technology is Going to Shape the Oil and Gas Industry
Free to Download Today
Oil and gas operations are commonly found in remote locations far from company headquarters. Now, it's possible to monitor pump operations, collate and analyze seismic data, and track employees around the world from almost anywhere. Whether employees are in the office or in the field, the internet and related applications enable a greater multidirectional flow of information – and control – than ever before.