With pressure increasing on the oil and gas industry to minimize costs while producing more and more energy, and large numbers of assets to keep up and running, companies need to find new ways to improve operation efficiency and reduce their costs. Predictive and AI-powered maintenance is the solution. Recent data shows new tech effectively deployed can result in up to 40 percent decrease across operational costs. But what is predictive maintenance? And why should it matter to you?
How Predictive Maintenance Works
To put it into simply, the purpose of predictive technology is to analyze real, current data captured from each machine to give equipment owners alerts before a breakdown inside the engine occurs. Through continuous data aligned with historical data captures, a business can also track routine maintenance needs to schedule downtime better. In this day and age, technology has become a predominant source for information and operational capabilities like never before. To keep up with competitors, who are already using some sort of condition-based analytic tool to stay ahead, you will also want to seriously consider adding predictive analytics solutions beyond what is included by OEMs to prevent unwanted downtime and keep your equipment running smoothly.
What makes oil and gas equipment so productive is the development and management of its processes. With predictive technology, companies can both increase the lifespan of their machines as well as improve the operational performance and profitability of their investments. With the current shortage in labor and need for highly skilled workers, optimizing business processes has never been more critical to maintaining efficient and profitable operations. Finding new and innovative strategies and solutions with high return on investments is what your competitors are doing and what we suggest you do as well.
The Impact on Your Operations
Implementing predictive maintenance technology is a valuable opportunity to mitigate the recent volatility in oil production costs. With this being a relatively new technology built on the back of existing telematics, it's important to know exactly what benefits it provides when researching the right predictive solutions for your fleet. Here are a few things you should know about the impact that predictive maintenance technology has on the oil and gas industry:
Enhances Operational Efficiency
By scheduling maintenance services and predicting when your equipment will need repair, you can minimize on the job disruptions that waste valuable time and money. Implementing an integrated solution such as predictive technology can help optimize workflow and decrease labor costs of technicians – saving them for those paramount equipment problems and not routine fixes.
Improves Equipment Uptime
Being proactive with potential equipment failure can lead to reduced unplanned downtime. If you as a company can schedule maintenance at your best convenience, you won't have to react to unwanted machine problems. The great thing about this technology is that it doesn't rely on a warning light to tell equipment owners that their machine is on the verge of breaking down. Users have their equipment health available for view straight from their smartphones or computers as per most high-end solutions.
Saves You Money
Unexpected repairs can be costly. So are associated expenses when it comes to oil companies, a very operation-intensive market. In order increase revenue and drive growth, these operations need to be fast and effective. The truth is that you cannot afford to have equipment that could be a potential liability.
Compliance with Environment Regulations
Relying on condition-based maintenance solutions can help you avoid leaks or other environmental problems that help you meet environmental regulations. This can be done through the monitoring of pressure readings on piping systems, one of the many features of maintenance services. Avoiding fines and penalties while also protecting the environment is very important for business success.
How You Can Become Predictive
Becoming predictive is an easy process, which can be implemented in four steps:
The first step is to define your objectives. What are you trying to achieve? If you can identify your goals early, you can compose a plan that will best suit your oil fleet and company. What opportunities for operational improvements would best serve your financial goals and timelines?
Next is to analyze your fleet. By looking at your equipment health and condition of inventory, you will be able to determine where you should focus your efforts physically. Whether you manage equipment that is older and more prone to problems or handle newer models that you wouldn't think needs monitoring, investing in extra sensors may be worth your money.
Once you have defined your goals and analyzed your equipment, it's time to choose the right predictive technology. There are several solutions available but not all are created equal. Determining which ones best suit your specific needs (and for the best price!) will provide the highest return on investment. It is suggested that your solution covers every aspect of your oil and gas equipment including asset tracking and geolocation, generator/pump/tank monitoring and servicing, engine life, filtrations systems, etc.
Finally, you will want to implement your external vendor's solution and begin predicting! While your technicians are setting up your sensors, make sure that they are being set up correctly by going over installation manuals and post-installation procedures. With these predictive maintenance tools, you will reduce the need for manual work and replace it with performance tracking and monitoring, making adjustments as you progress in the quarterly year.
With these simple steps, your maintenance strategy will save you time and money to help keep this nation powered and economically sound.
The Future of the Oil and Gas Industry
The oil and gas industry is the one of the most important industries in the world. The industry is facing competition with the rise of environmental-friendly solutions such as renewable energy. Even so, the demand for energy is ever-expanding with the global population also growing at a rapid rate, and the oil and gas industry will need to be at the forefront of this development, if it wants to continue to headline the energy producing sector in the future. With new technologies emerging every day, the efficiency of its operations continues to grow exponentially allowing for greater returns.
In order to protect the valuable equipment of the industry and keep the industry in the limelight, companies are turning to predictive maintenance tools. Technology is on the rise and the digital train doesn't seem to be slowing down anytime soon. While becoming more and more readily available to the public, predictive maintenance solutions give you a powerful digital tool for equipment management, increased return on investment, and prevent machine downtime. Without these powerful and innovative technologies, we would never have been able to get where we are today economically.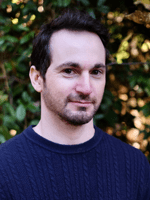 Chaz Vollmer is an expert in data-driven technologies with over a decade of experience in product management and digital application design. As product owner at Senzit, he leads the user experience program and predictive analytics innovation team focus on reducing HD equipment downtime.
3 Ways Technology is Going to Shape the Oil and Gas Industry
Free to Download Today
Oil and gas operations are commonly found in remote locations far from company headquarters. Now, it's possible to monitor pump operations, collate and analyze seismic data, and track employees around the world from almost anywhere. Whether employees are in the office or in the field, the internet and related applications enable a greater multidirectional flow of information – and control – than ever before.