The drilling industry's push for increased digitalization has been driven by new data formats, innovative software applications as well as an ever-increasing abundance of real-time data. Oil rigs have turned into massive sources of data that help engineers, some of whom work at ROCs (remote operations centers) aid operators in…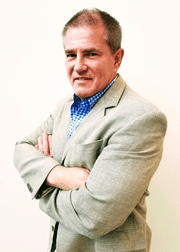 John Evans has over 30 years of experience in the oil and gas industry. He is the Gyrodata Product Line Manager for rotary steerable system (RSS) and measurement-while-drilling (MWD) services. John manages the technology portfolio and operations technical support (OTS) plus the remote operations Guide Center that provides well planning, well engineering and drilling optimization. John's primary areas of expertise include RSS, drill bits and drilling technologies, MWD, logging-while-drilling, as well as drilling engineering and optimization.
3 Ways Technology is Going to Shape the Oil and Gas Industry
Free to Download Today
Oil and gas operations are commonly found in remote locations far from company headquarters. Now, it's possible to monitor pump operations, collate and analyze seismic data, and track employees around the world from almost anywhere. Whether employees are in the office or in the field, the internet and related applications enable a greater multidirectional flow of information – and control – than ever before.