Our next young professional is Ryan Yarger, who is currently a facilities engineer in the Midland area. Ryan and I started our paths in the petroleum industry at the same time, and I've witnessed his tremendous growth through academia and the industry. Ryan is a graduate from the University of Wyoming with a major in petroleum engineering and is an active SPE industry participant.
Alan Alexeyev: Tell us about your current position and what you do, as well as how you found a job.
Ryan Yarger: I am currently a facilities engineer. I handle infrastructure design and development for a portion of my company's Delaware Basin assets. I was put in touch with my current employer [through] a mutual connection.
AA: What inspired you to start a career in the oil and gas industry? How did you decide on becoming a petroleum engineer?
RY: I discovered the oil and gas industry via my fascination in geology as a teenager. I had an earth sciences teacher that really encouraged my curiosity. I had always wanted to be an engineer, so I coupled these interests to pursue my career path.
AA: You often meet workers in industry who do not have a formal college degree, but, in your case, how valuable was it to have the university experience?
RY: It was highly valuable. It provided me with a base understanding of the industry and the technical building blocks needed for an easy transition into it.
AA: How accepting do you think the oil and gas industry is of younger generations of workers?
RY: I'm not even sure it's a question at this point. A significant amount of "youth" have come into the industry in the last two decades, so I never felt anything but acceptance.
AA: How did you find yourself transitioning from an academic environment to the industry/corporate? What would you say to people who are about to make such a transition?
RY: Due to internship experience, I didn't find it to be a significant challenge. My advice to anyone making that transition is to understand what their new goals are. Stay open-minded, be mindful that it's not all about you, and remember that you're there to make an economic difference.
AA: Has the industry taken initiatives to smoothly transition young professionals into the oil sector? What, if anything, could be done better?
RY: Yes. There are robust internship programs and early career rotational programs. Despite the "jack of all trades, master of none" reputation that these programs have, at times, I do believe they're the best answer.
AA: The oil and gas industry has tons of conferences and events. Have you attended any of them? If so, how useful do you find them and what's your takeaway from them?
RY: I have attended some. I think they can be very valuable for gaining perspectives and experiences outside of your company. However, you also need to be strategic and choose the events that maximize the value and takeaways for you and your company.
AA: If you communicate with students on a regular basis, would you say there is an increased or decreased interest among young people to start a career in the oil and gas industry, in comparison to the past?
RY: As always, interest has fluctuated with oil prices. While the worldwide focus on environmental issues may prevent some people from even considering the industry, I still feel that there are plenty who are either exposed to it or understand its value. They're the ones who will remain interested and pursue these careers.
AA: What advice do you provide to students who have an interest in the oil and gas industry? Should they pursue it as a career during these constant downturns?
RY: If they are passionate about it, they absolutely should pursue it. If you're in the industry for more reasons than just a paycheck, you will persevere and find ways to survive downturns. You just have to be conscious that those situations are possible and be prepared for the consequences.
AA: What would you like to learn in the near future from experienced people who are in their mid-to-late careers?
RY: I think my questions right now would center on innovation and technical growth during periods of low oil prices. It's one thing to tighten our belts during times like these, but there also can be opportunities.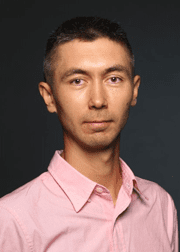 Alan is a graduate from the University of North Dakota with a Master's degree in Petroleum Engineering. He previously earned his BA in Mathematics from the University of Houston and a BS in Petroleum Engineering from the University of Wyoming. Alan is an active SPE member and has presented at petroleum conferences and exhibitions.
3 Ways Technology is Going to Shape the Oil and Gas Industry
Free to Download Today
Oil and gas operations are commonly found in remote locations far from company headquarters. Now, it's possible to monitor pump operations, collate and analyze seismic data, and track employees around the world from almost anywhere. Whether employees are in the office or in the field, the internet and related applications enable a greater multidirectional flow of information – and control – than ever before.