Although the Scoop-Stack has experienced one of the largest decreases in rigs among the major oil and gas plays in the U.S., its overall production has shown moderate growth over the past two years, according to GlobalData, a leading data and analytics company.
The company's latest report, 'Scoop-Stack Shale in the US, 2020', estimates that the overall production from the play will increase slightly up to 2022, then begin a slow decline. With the advancement of technology, drilling rigs are becoming more efficient and helping operators drill longer laterals with fewer rigs. The enhanced efficiency is the major driving factor behind estimated production growth despite a drop in rig count.
The Scoop-Stack play within the Anadarko Basin in Oklahoma has seen a significant drop in the number of drilling rigs over the past 12 months. In October 2018, there were 75 oil and natural gas drilling rigs in the Scoop-Stack and one year later only 54 were remaining. With drilling rigs becoming more efficient, key operators in this area have been able to maintain production while cutting the amount of capital deployed to this area.
Andrew Folse, Oil & Gas Analyst at GlobalData, comments: "The change in the capital was shifted to the Permian Basin where companies are producing with better economics and higher oil cut in production. Devon Energy Corporation has reduced its capital for the Scoop-Stack from 30% in 2018 to around 16% in 2019. This change is undertaken to allocate more capital to other areas, such as the Delaware and Powder River acreage."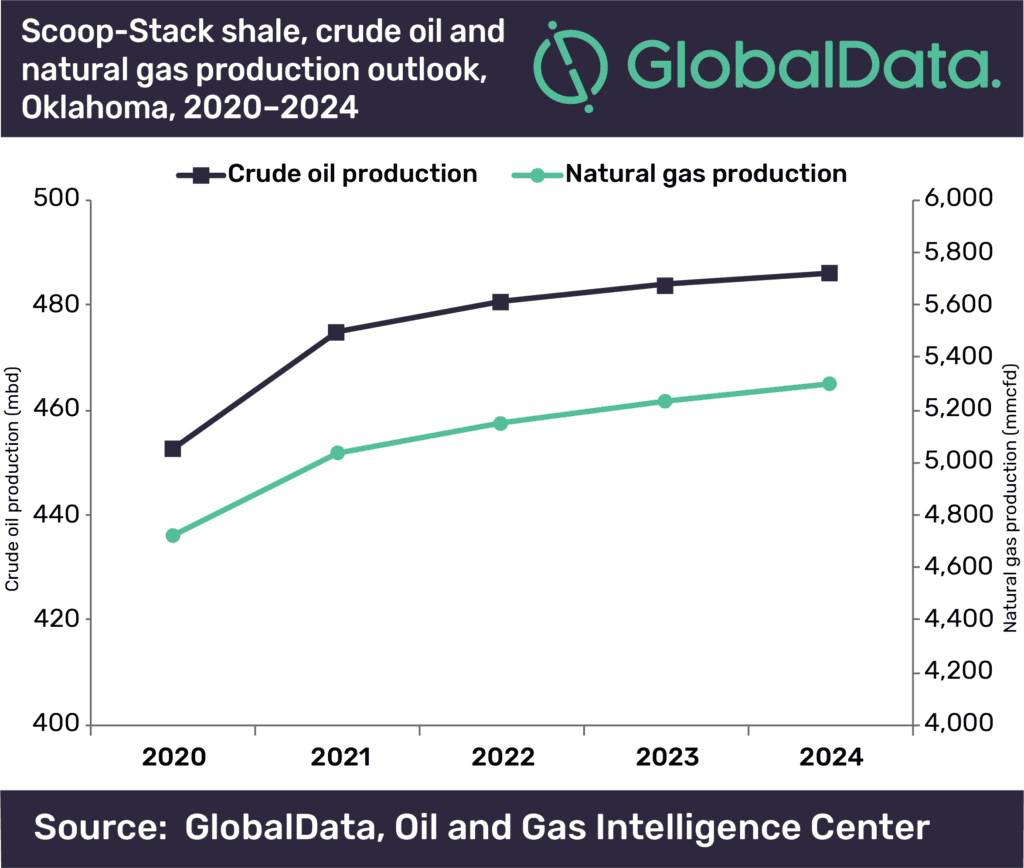 On the surface, with the decline in the rig count and the reduction of capital expenditure in the Scoop-Stack, a negative impact on production levels could be expected. However, with higher specs in drilling rigs, companies are able to drill more efficiently, cutting down the number of drilling days. Major operators like Cimarex Energy, Continental Resources, and Devon Energy have all decreased their drilling and completions days by 20 percent on average.
Folse adds: "At the beginning of 2017, a single rig was able to drill 1.1 wells each month, while currently, operators are able to drill 1.4 wells with one rig. Moreover, the drop in DUCs has an instant impact on overall production levels and given the commitment for lower capex this strategy is likely to continue. GlobalData sees production from the Scoop-Stack increasing gradually to 2022 and then declining in the future after the DUC stock is depleted. In the unconventional plays, increasing the efficiency with respect to drilling time has become as important as increasing the productivity of wells. These two aspects explain much of the resilience shown by shale-related production in the U.S. which continues to be reflected through sustained production and competitive break-even prices."
Subscribe to OILMAN Today, our industry newsletter covering oil and gas business news, events, information and trends shaping the market, delivered to your inbox.