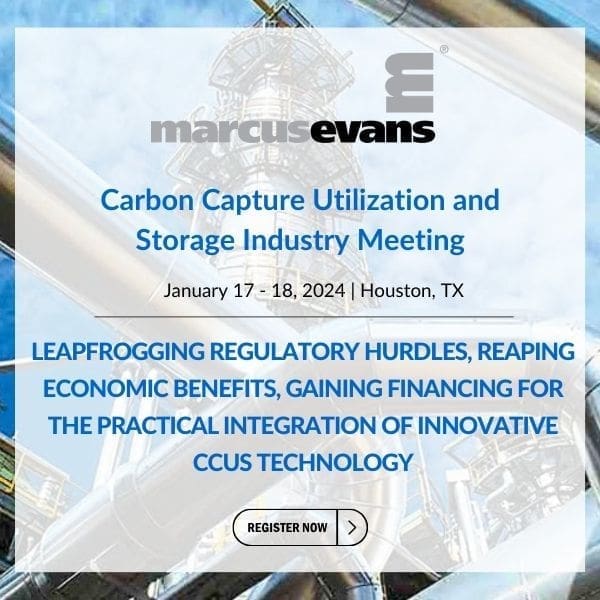 Carbon Capture Utilization and Storage Industry Meeting 2024
The Carbon Capture Utilization and Storage Industry Meeting, hosted by marcus evans Conferences, is set to be an unparalleled gathering of industry experts and thought leaders. This dynamic event is scheduled for January 17-18, 2024, in Houston, TX.
The conference will address critical topics in the CCUS domain, providing attendees with actionable insights to navigate permitting and regulatory challenges, secure financing, and mitigate storage and transportation risks for seamless integration of innovative Carbon Capture Utilization and Storage (CCUS) technology.
Distinguished Speakers Include:
José Figueroa, Carbon Capture Team Supervisor, S. Department of Energy National Energy Technology.
Richard Esposito, R&D Program Manager – Geosciences & Carbon Management, Research & Development, Southern Company.
Greg Johnston, CCUS and Carbon Reduction Lead, Weaver.
Scott McDonald, Director, Archer Daniels Midland.
Martha Ramos Gomez, CCUS and Hydrogen Director, CEMEX.
Richard Garman, Director of Economic Development & Finance/CCUS Task Force Member, North Dakota Department of Commerce.
Matthew Stewart, Production Engineer CCUS, Talos Energy.
Rafat Elahi, Regional General Manager, Black & Veatch.
Bailian Chen, Staff Scientist, Carbon Capture Transport and Storage, Los Alamos National Laboratory.
Sajjad Ahmed, Leader, Project Development, SABIC.
John Kay, Emission and Carbon Capture Group Lead, Energy & Environmental Research Center.
Key Topics to be Addressed:
Grasping Government's Stance on CCUS Permitting Policies for Streamlined Uptake in the U.S.
Financing Strategies with Section 45Q, Inflation Reduction Act (IRA) Amendments, and Renewable Energy Incentives.
Reducing Cost of Capture and Capitalizing on Government Incentives at the Plant Level.
Overcoming Logistical Challenges Impacting CCUS Project Costs and Timelines.
Seizing Economic Opportunities through Carbon Utilization.
Developing a Robust Monitoring Plan in Compliance with EPA Requirements.
Don't miss this opportunity to stay at the forefront of the rapidly advancing field of carbon capture and storage. For more information, please visit the event website. For inquiries, contact us at ayisp@marcusevanscy.com.
3 Ways Technology is Going to Shape the Oil and Gas Industry
Free to Download Today
Oil and gas operations are commonly found in remote locations far from company headquarters. Now, it's possible to monitor pump operations, collate and analyze seismic data, and track employees around the world from almost anywhere. Whether employees are in the office or in the field, the internet and related applications enable a greater multidirectional flow of information – and control – than ever before.