Dec
11
Tue
Cost-Effective Water Management Congress – SCOOP & STACK 2018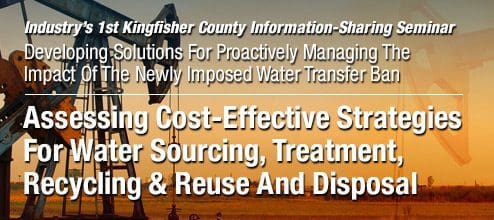 It is an interesting time for Oklahoma. Operators are more confident in the price of the barrel and the SCOOP, STACK, and Merge are being underlined as some of the highest growth regions in the US, with well economics on par with the Permian basin.
But, with water volumes used in fracs climbing, not a lot of produced water reuse taking place, induced seismicity and disposal continuing to pose a challenge, and little to no commercial water infrastructure in place, water is now being understood to be a critical part of the value chain and a big concern for the region's operators.
This combined with the continuing issues surrounding the produced water transfer ban in Kingfisher County means that water management is now front and center of industry significance.
American Business Conferences' Oklahoma Shale Cost-Effective Water Management Congress SCOOP & STACK 2018 comes to Oklahoma City this December as the first event to focus solely on assessing effective water management methods to drive down operational expenditure on a cost per barrel basis, bringing together regional operators and service providers from across the nation, to share their knowledge and experiences on proven and effective ways to optimize water management strategies.
Jan
29
Tue
Permian Basin Artificial Lift & Production Optimization 2019 Congress

Permian Basin Artificial Lift & Production Optimization 2019 Congress
January 29, 30 & 31, 2019 – Houston, TX
Pushing The Limits Of Production & Well Optimization To Operate Better, Faster And Leaner In The Permian Basin
Recognizing the industry's current production challenges, imminent priorities and evolving technology requirements, American Business Conferences' annual Permian Basin Artificial Lift & Production Optimization conference returns to Houston in January, with an agenda that has been researched and redeveloped to assess production optimization and well reliability techniques & technologies that have been adjusted over the last 12 months to achieve better equipment, wellbore and production efficiencies.
In January 2019, you will hear from the largest group of speakers from E&P operating companies, supported by technology providers and equipment suppliers, sharing first-hand technical expertise and strategic visions on the application of cutting-edge techniques and technologies. Learn how some of the Permian leading players are pushing the limits of production to increase operational efficiencies and expand equipment lifetimes.
Latest speakers include:
Donald Peacock. Vice President Operations, PCORE Exploration
Daniel Rohling, Vice President Permian Production, Ajax Resources
Lucas Green, Operations Center Team Lead, Sanchez Oil & Gas
Dennis Harris, Well Reliability Optimization Team, Chevron Energy Technology Company
Austin Caudill, Operations Manager, Urban Oil & Gas
Leslie Malone, Well Work & Well Optimization Manager, Sanchez Oil & Gas
Prince Kwarteng, Special Projects Petroleum Engineer, Discovery Operating Inc.
William Nielsen, Vice President & General Manager, Materion
Richard Cash, Field Sales Engineer, Materion
Renato Peixoto Countinho, Award Winning Researcher, Louisiana State University
Visit www.permian-artificial-lift-production-optimization.com for the speaker line-up and to download the conference brochure.