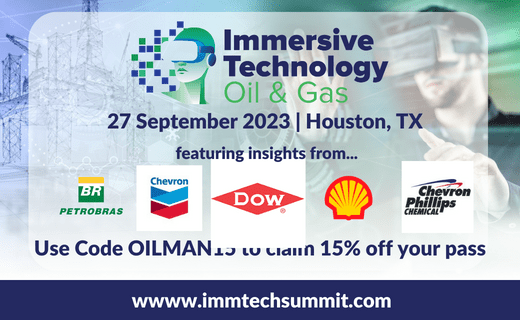 Immersive Technology for Oil & Gas Summit
Emergence of immersive technologies, digital twins, and connected worker solutions is revolutionizing operations, by enabling organizations to visualize and interact with digital representations of physical assets and equipment in unprecedented detail, across multiple complex, hazardous, and remote environments.
Join us for the Immersive Technology for Oil & Gas Summit to hear industry leaders share best practice strategies and exchange know-hows to optimize workforce training, improve safety, enhance decision-making, and increase collaboration and communication.
Although operators are leveraging disruptive technology such as AR, VR, XR, Computer Vision, Edge Devices, Digital Twins, IIoT, Wearables and Connected Worker Tools, to support and develop optimized and sustainable workforce operations, adopting solutions at scale requires strategy, investment, infrastructure, resources, talent and partners to convince stakeholders and encourage user acceptance.
As operators learn how to overcome their rising immersive technology challenges, Oilman Magazine will be hearing valuable insights from attendees and meeting expert speakers from leading oil & gas organizations to aid them in creating an effective immersive strategy.
Early confirmed speakers include:
Dane Laughlin, Operations Transformation Product Leader at INVISTA
Vitor do Valle, Head of Centre of Excellence in UX and Digital Technology at Petrobras
Amit Jain, Functional Advisor Digital Twin Development and Deployment at Chevron
Kat Duggan, Manufacturing Digital Transformation Leader at Dow
Andres Suarez, VR/AR Integration Engineer at Shell
Join Oilman Magazine at the Immersive Technology for Oil & Gas Summit to hear best practice strategies to digitally enable workforces of the future for collaborative, efficient, safe, and sustainable operations
Find out more and register using our 15% discount code OILMAN15 by visiting  https://bit.ly/ImmTechOG-Oilman, email info@amg-world.co.uk or call +44 (0) 113 3970 379 for more details.
3 Ways Technology is Going to Shape the Oil and Gas Industry
Free to Download Today
Oil and gas operations are commonly found in remote locations far from company headquarters. Now, it's possible to monitor pump operations, collate and analyze seismic data, and track employees around the world from almost anywhere. Whether employees are in the office or in the field, the internet and related applications enable a greater multidirectional flow of information – and control – than ever before.