A combined value of US$91.9bn in mergers and acquisitions (M&A) was announced in Q3 2018. This was an increase of 21% from the US$75.9bn in M&A deals announced in the previous quarter. The number of M&A deals decreased by 20% from 102 in Q2 2018 to 82 in Q3 2018, according to GlobalData, a leading data and analytics company.
The company's latest report: 'Quarterly Midstream Capital Raising Review – Q3 2018' states that, of the total M&A deals, 58 deals, with a combined value of US$83.6bn, were domestic acquisitions and the remaining 24, with a combined value of US$8.2bn, were cross-border transactions. A quarter-on-quarter comparison shows a 12% decrease in cross-border transaction values in Q3 2018, compared to US$9.3bn in Q2 2018. However, domestic transaction values increased by 26% in Q3 2018 compared to US$66.5bn in Q2 2018.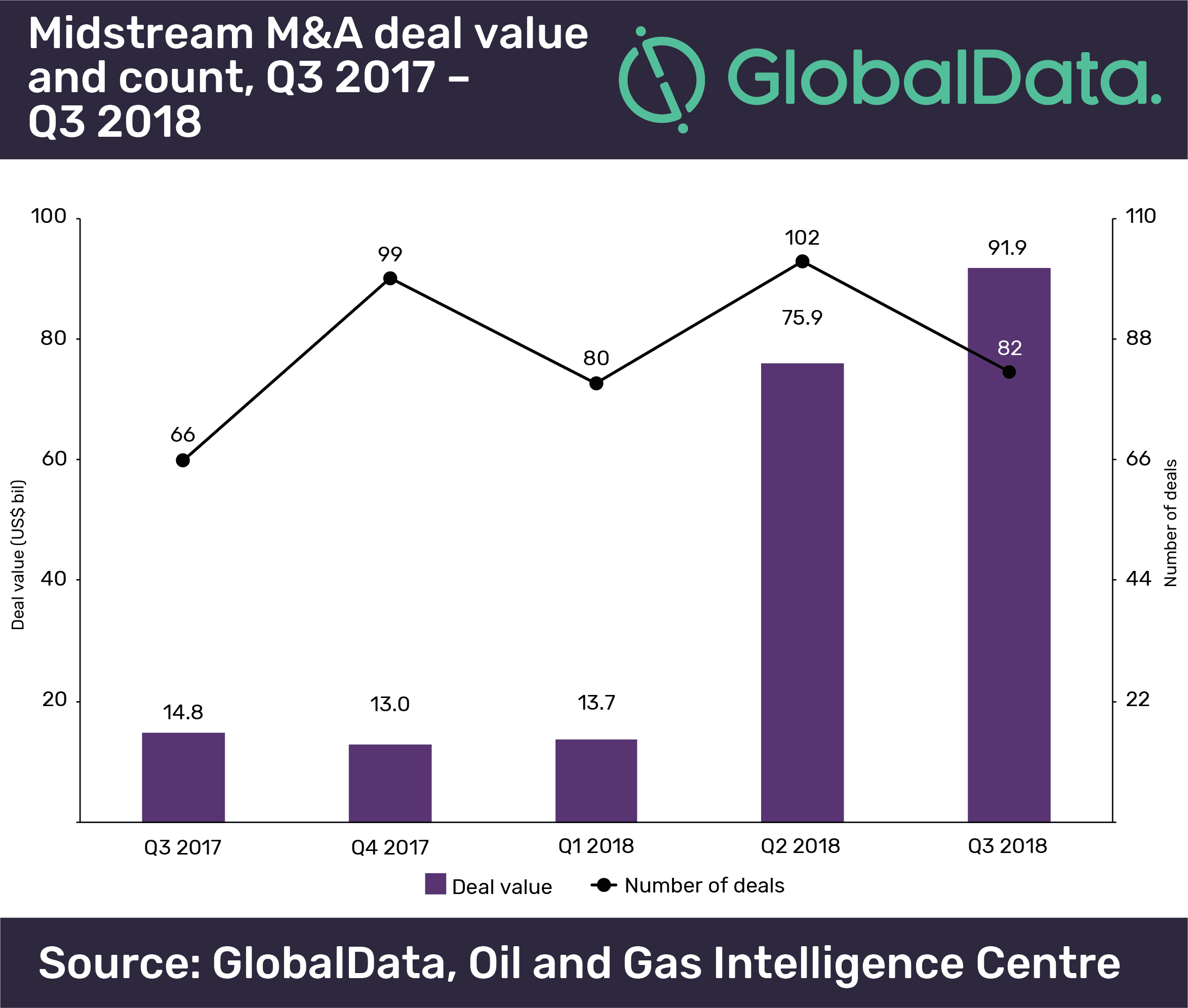 Energy Transfer Equity's (ETE) agreement to acquire the remaining stake in Energy Transfer Partners (ETP) for a purchase consideration of approximately $60.4bn was the top deal registered in Q3 2018. Another landmark deal that was recorded in Q3 2018 was Enbridge's agreement to acquire all of the outstanding public Class A common units of Enbridge Energy Partners, all of the public outstanding shares of Enbridge Energy Management, and all of the issued and outstanding shares of Enbridge Income Fund Holdings, for a purchase consideration of US$7.1bn.
Americas remained the frontrunner for M&A registering 33 deals, with a total value of US$82.1bn in Q3 2018. Cross-border activity in the region decreased from nine in Q2 2018 to six in Q3 2018, while domestic acquisitions decreased by 43% from 47 deals in Q2 2018 to 27 in Q3 2018.
Europe, Middle East, and Africa accounted for 37% share in Q3 2018, comprising 31 acquisitions, of which 10 were cross-border and the remaining 21 were domestic acquisitions. The Asia-Pacific region accounted for 20 global deals, or 24% in Q3 2018, of which 10 were cross-border acquisitions and the remaining 10 were domestic acquisitions.
About GlobalData
4,000 of the world's largest companies, including over 70% of FTSE 100 and 60% of Fortune 100 companies, make more timely and better business decisions thanks to GlobalData's unique data, expert analysis and innovative solutions, all in one platform. GlobalData's mission is to help our clients decode the future to be more successful and innovative across a range of industries, including the healthcare, consumer, retail, technology, energy, financial and professional services sectors.