"Earn more, spend less," the most basic business adage, is the holy grail for profitability in any organization across all industries. For small to mid-sized companies that are largely static throughout the year, planning to achieve this goal may be a relatively consistent exercise, with known variables reported and forecasted…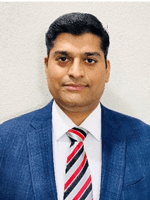 Vishal Chaturvedi, MBA, is head of process-general accounting for North America and the Caribbean at one of the world's largest oil field services companies. For nearly two decades, Chaturvedi has worked to increase profitability, mitigate risk and enhance process efficiency by integrating technological solutions in accounting, reporting and live analytics, resulting in significant time and cost savings.
3 Ways Technology is Going to Shape the Oil and Gas Industry
Free to Download Today
Oil and gas operations are commonly found in remote locations far from company headquarters. Now, it's possible to monitor pump operations, collate and analyze seismic data, and track employees around the world from almost anywhere. Whether employees are in the office or in the field, the internet and related applications enable a greater multidirectional flow of information – and control – than ever before.