The world's energy demand is steadily increasing to the point that it has now become difficult for conventional hydrocarbon reservoirs to meet demand levels. Therefore, oil and gas companies have gone through rapid changes to adapt, survive, improve processes, create automation, generate value and are also seeking novel ways to…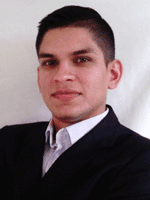 Jose Osorio has worked as a petroleum engineer for three years. He has worked for the oil and gas industry as an industrial electromechanical technician for Turbinas y Mecanicas, c.a. and as an oil reservoir development engineer for Petroleos de Venezuela, s.a. Osorio has experience on AutoCad industrial designs, gas artificial lifting method Simulators Software. He is able to give support to any content related to the oil and gas industry, and analyze well designs, develop geomechanical models for conventional reservoirs, handle and give support with software related to the oil and gas industry, plan well intervention activities to obtain required well/reservoir performance data, perform production optimization activities to ensure reliability and optimum well performance, and champion new technologies aimed at improving well productivity. Osorio has knowledge of various oil and gas software/data-viewer (WellFlo, Ofm, Pipesim, Drillwork, Sisub, Centinela, COPyR, Skua-Gocad, MS Office), developing special techniques, procedures, tests and evaluating new technologies to enhance production and safety of wells, and translating technical documents related to the energy industry.
3 Ways Technology is Going to Shape the Oil and Gas Industry
Free to Download Today
Oil and gas operations are commonly found in remote locations far from company headquarters. Now, it's possible to monitor pump operations, collate and analyze seismic data, and track employees around the world from almost anywhere. Whether employees are in the office or in the field, the internet and related applications enable a greater multidirectional flow of information – and control – than ever before.