Goldman Sachs has secured the top position in the latest mergers and acquisitions (M&A) league table of the top 10 financial advisers for the oil & gas sector based on deal value for the first three quarters (Q1-Q3) of 2019, according to GlobalData, a leading data and analytics company.
The American multinational investment bank topped the rankings with a deal value of US$214.4bn, by advising on 17 deals during the period. Bank of America Merrill Lynch stood at second position with US$177.6bn earned on advising 20 deals.
According to GlobalData, which tracks all M&A, private equity/venture capital and asset transaction activity around the world to compile the league tables, Citigroup occupied third place with 25 deals worth US$176.3bn.
Praveen Karnati, Financial Deals Analyst at GlobalData, says: "Goldman Sachs retained its top position in terms of transaction value for the first three quarters of 2019. Overall, Goldman Sachs represented 14 companies that are on the sell-side, including Saudi Aramco's agreement to acquire 70% stake in Saudi Industries from Public Investment Fund for US$73.4bn and Occidental Petroleum's acquisition of Anadarko Petroleum for US$55bn."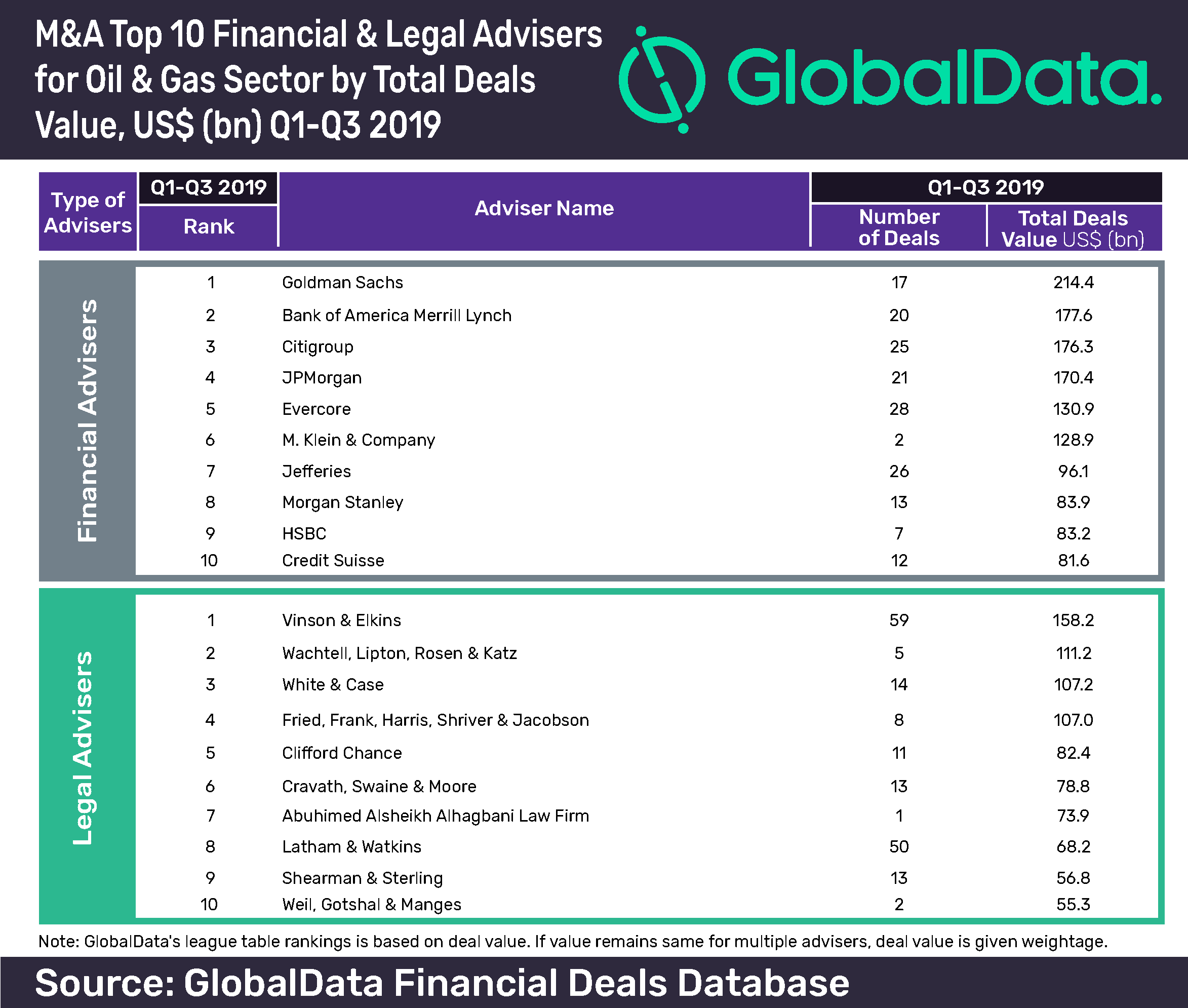 Global oil & gas deals market in Q1-Q3 2019
The oil & gas sector saw a decrease in deal value by 12% from US$469.42bn in Q1-Q3 2018 to US$384.76bn in Q1-Q3 2019. However, deal volume declined by 18% from 1,885 to 1,650.
Goldman Sachs, which topped the sector table, also topped GlobalData's recently released global league table of top 20 M&A financial advisers. Bank of America Merrill Lynch secured sixth position in the global list.
Vinson & Elkins leads top 10 M&A legal advisers list
Vinson & Elkins led the top 10 legal advisers table for Q1-Q3 2019 with a total deal value of US$158.2bn on the strength of 59 deals. Second-ranked Wachtell, Lipton, Rosen & Katz advised on five deals worth US$111.2bn. White & Case came in a close third with US$107.2bn through 14 deals.
Top 10 leader Vinson & Elkins secured 19th position in GlobalData's recently released global league table of top 20 M&A legal advisers. Wachtell, Lipton, Rosen & Katz topped the global list.
About GlobalData
4,000 of the world's largest companies, including over 70% of FTSE 100 and 60% of Fortune 100 companies, make more timely and better business decisions thanks to GlobalData's unique data, expert analysis and innovative solutions, all in one platform. GlobalData's mission is to help our clients decode the future to be more successful and innovative across a range of industries, including the healthcare, consumer, retail, financial, technology and professional services sectors.
3 Ways Technology is Going to Shape the Oil and Gas Industry
Free to Download Today
Oil and gas operations are commonly found in remote locations far from company headquarters. Now, it's possible to monitor pump operations, collate and analyze seismic data, and track employees around the world from almost anywhere. Whether employees are in the office or in the field, the internet and related applications enable a greater multidirectional flow of information – and control – than ever before.