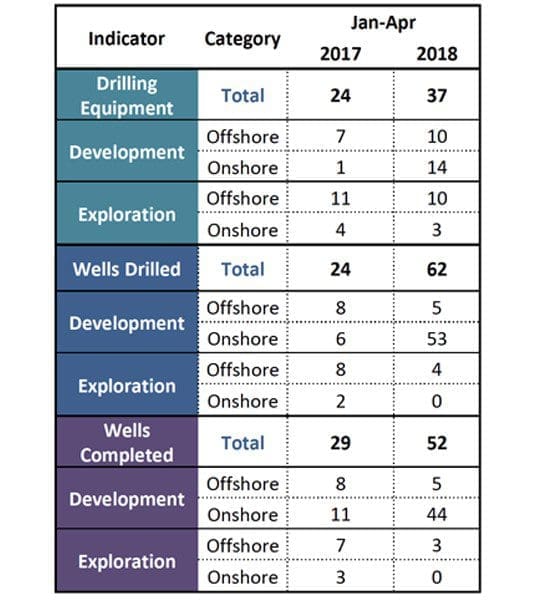 Oil Activity Indicators January – April 2018:
There were 37 drilling rigs operating, which represents an increase of 54.1%
compared to the same period in 2017. Among these rigs, 24 were being used for
development activities and 13 for exploration 1.
Regarding location, 17 rigs were onshore and 20 offshore. The onshore drilling
equipment being used is 3.4 times greater than the active equipment observed from
January to April 2017.
62 wells were drilled, a figure which represents more than double of what was
observed in the first quarter of 2017, when 24 wells were drilled. Drilled wells are
mostly onshore developments (53), of which 36 were in Tampico Misantla 2.
Sources:
National Hydrocarbons Commission (CNH). For more information, please see
Hydrocarbons Information System and the Drilling Equipment and Wells Report,
available at the CNH's Statistics Portal.
1 / Figures correspond to the drilling equipment used in the quarter, on average
2/Distribution by basin is available in the drilling equipment and wells report.
The figures may not match due to rounding.
3 Ways Technology is Going to Shape the Oil and Gas Industry
Free to Download Today
Oil and gas operations are commonly found in remote locations far from company headquarters. Now, it's possible to monitor pump operations, collate and analyze seismic data, and track employees around the world from almost anywhere. Whether employees are in the office or in the field, the internet and related applications enable a greater multidirectional flow of information – and control – than ever before.