BOSTON – Americans have been getting hit hard at the pump with average gasoline prices in the U.S. up 50 cents per gallon since January. With many metro areas across the nation seeing the largest seasonal rise in prices since 2012, GasBuddy, the only smartphone app connecting drivers with their Perfect Pit Stop, today released a new study that found the best and worst days of the week to buy gas to maximize savings and avoid the lines during the busy summer travel season.
Best Day To Save Money: Monday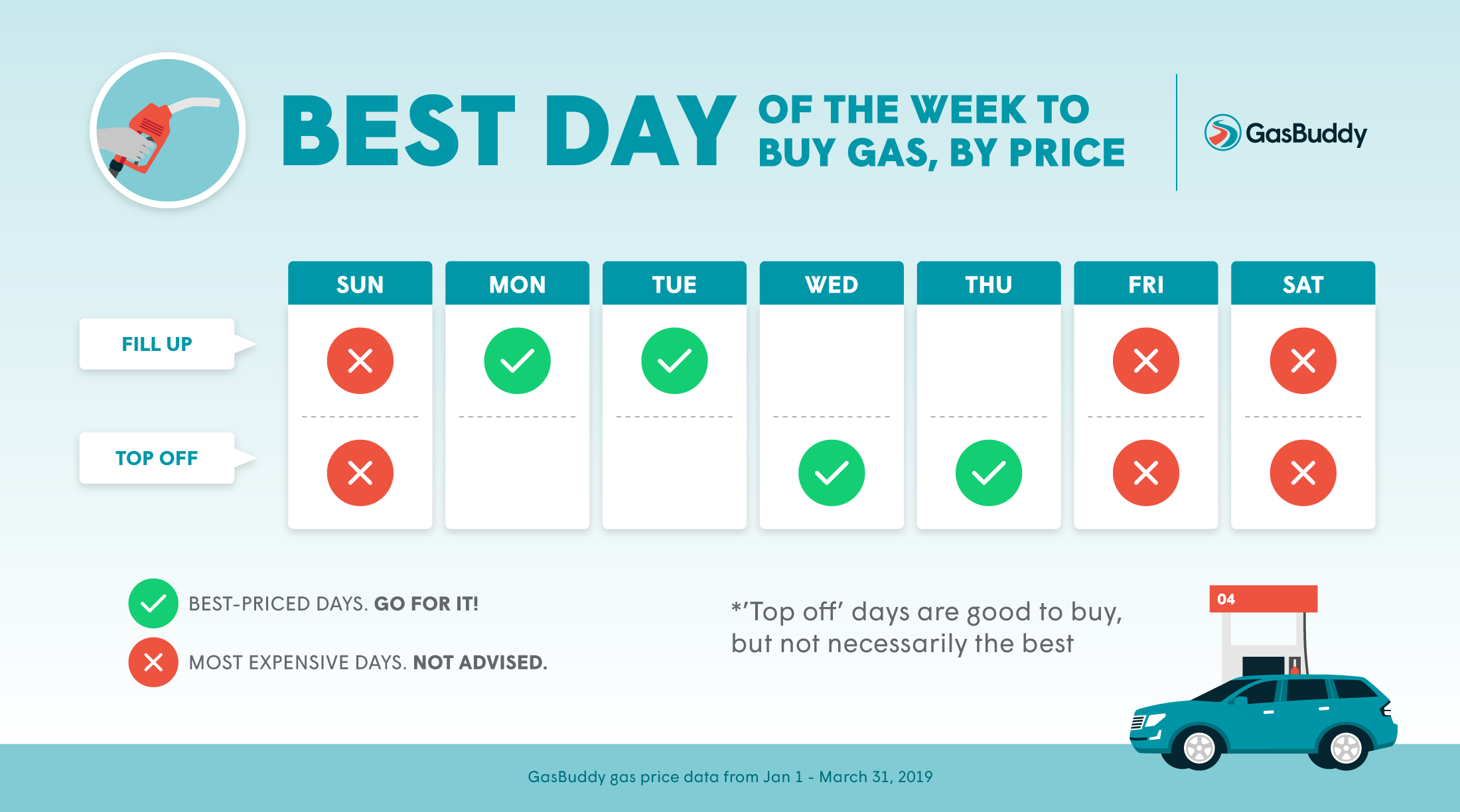 GasBuddy analyzed gas price data from the period of January – March 2019 and found that the first day of the work week offers the lowest average gas price in 30 states, making it the best day to fill-up. While Saturday is the worst day to buy gas in 16 states, Friday has the most expensive average price of any other day of the week.
"Finally consumers have reason to be motivated about Monday since it offers the biggest savings on gasoline and little wait, if any, to fill up," says Patrick DeHaan, head of petroleum analysis at GasBuddy. "As the week progresses and our excitement builds for the weekend, gas prices also have a tendency to rise. The most expensive day to fill-up barely remains Friday when looking at averages, while 16 states saw Saturday have the highest average price. Sundays represented the third-worst day to fill up, bringing our study to a conclusion that weekends are the worst time to fill up. You might as well flush money down the toilet."
Monday was also the best day to buy gas in 2018 and 2017, according to GasBuddy's previous study.
Best Day To Avoid Lines: Sunday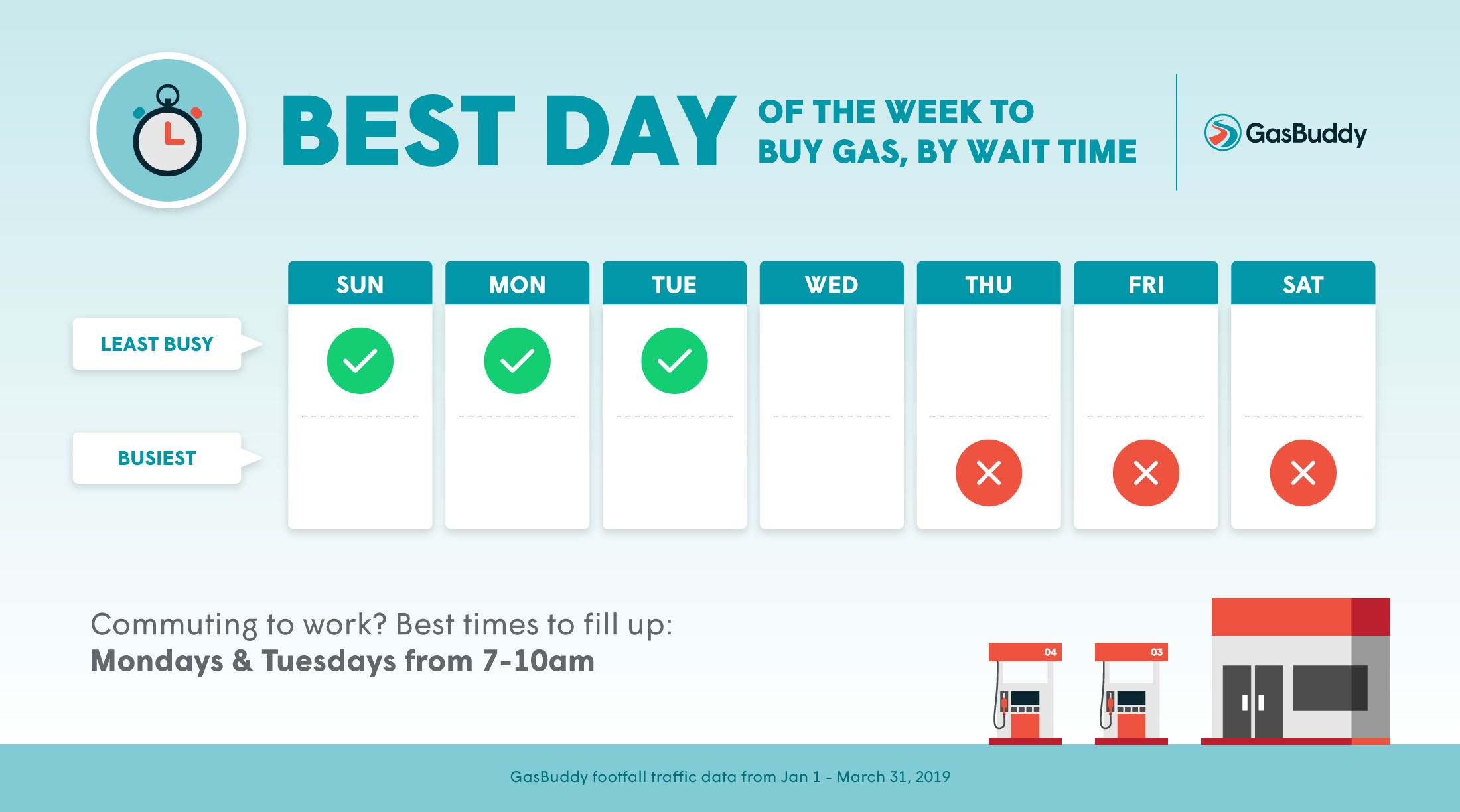 What about waiting in line? GasBuddy also analyzed GasBuddy foot traffic data in the same timeframe and found that gas stations across the country are least busy on Sundays, followed by Mondays. Friday is the busiest day, with 5pm being the busiest time for gas stations nationwide.
"While filling up on a Sunday can save time, it doesn't save money," says DeHaan. "Our data shows that filling up on a Monday morning each week can collectively save drivers $2.1 billion and avoid the possibility of playing bumper cars at the pumps."
Commuters looking to avoid the lines should fill-up on Monday or Tuesday between 7 – 10 a.m.
No matter what time drivers decide to fill-up, GasBuddy's free Pay with GasBuddy program saves drivers 5c/gal on every gallon pumped.
Individual state and city insights can be found here.*
Methodology
To find the cheapest and most expensive days to buy gas, GasBuddy analyzed gas price data from the GasBuddy app from Jan 1 – March 31, 2019.  To find the busiest days of the week at gas stations, GasBuddy examined anonymized, aggregated foot traffic data from the same timeframe.
About GasBuddy
GasBuddy is a company that connects drivers with their Perfect Pit Stop. As the leading source for crowdsourced, real-time fuel prices at more than 150,000 gas station convenience stores in the U.S., Canada and Australia, millions of drivers use the GasBuddy app and website every day to find gas station convenience stores based on fuel prices, location and ratings/reviews. GasBuddy's first-of-its-kind fuel savings program, Pay with GasBuddy, has saved Americans more than $6 million at the pumps since its launch in 2017. The company's business solutions suite, GasBuddy Business Pages, provides Fuel Marketers and Retailers their best opportunity to maintain their station information, manage their brand, and promote to their target consumer audience. For more information, visit http://www.gasbuddy.com.
3 Ways Technology is Going to Shape the Oil and Gas Industry
Free to Download Today
Oil and gas operations are commonly found in remote locations far from company headquarters. Now, it's possible to monitor pump operations, collate and analyze seismic data, and track employees around the world from almost anywhere. Whether employees are in the office or in the field, the internet and related applications enable a greater multidirectional flow of information – and control – than ever before.