BOSTON – April 24, 2018 – Aggressive driving habits like speeding, rapid acceleration and braking is the quickest way to waste gas and lower gas mileage by as much as 40 percent, costing drivers up to an extra $477 per year in fuel consumption. With gas prices at the highest levels since 2015, GasBuddy, the only smartphone app connecting drivers with their Perfect Pit Stop, today reveals the states with the most aggressive drivers, causing them to make more frequent trips to the pump.
TOP 10 STATES WITH THE MOST AGGRESSIVE DRIVERS
California
Connecticut
Georgia
Texas
North Carolina
New Jersey
Delaware
Florida
Kentucky
Arizona
California consistently tops the list of having the most expensive gas prices in the nation, currently averaging $3.56 per gallon. Combined with traffic and congestion, the GasBuddy Aggressive Driving study reveals the way Californians are driving is also contributing to a larger gasoline budget.
"Our findings indicate that states with densely populated cities and high levels of congestion are where motorists are more inclined to drive aggressively," said Patrick DeHaan, head of petroleum analysis at GasBuddy. "And with gas prices expected to continue to rise well into the summer months, simply being aware of how you drive can dramatically lower fuel costs, prevent damages to your vehicle, and make the roads safer for everyone."
Additional findings include: 
Aggressive Driving Per Region: The states with the most aggressive drivers in each region of the U.S. include Connecticut in the Northeast, Georgia in the South, Illinois in the Midwest, and California in the West.
Hard Braking #1 Aggressive Event: Hard braking is the most frequent aggressive driving event, making up 67% of total events analyzed, followed by speeding (25%) and acceleration (8%).
Higher Speeds ? Aggressive Driving: Some of the states with the highest average speeds (52 – 55 MPH) have the lowest frequency of aggressive driving events, including Wyoming (46) and the Dakotas (47-48), states with open roads and little congestion. Alaska (50) is the state with the lowest frequency of aggressive driving events, with one event occurring every 29 minutes on average.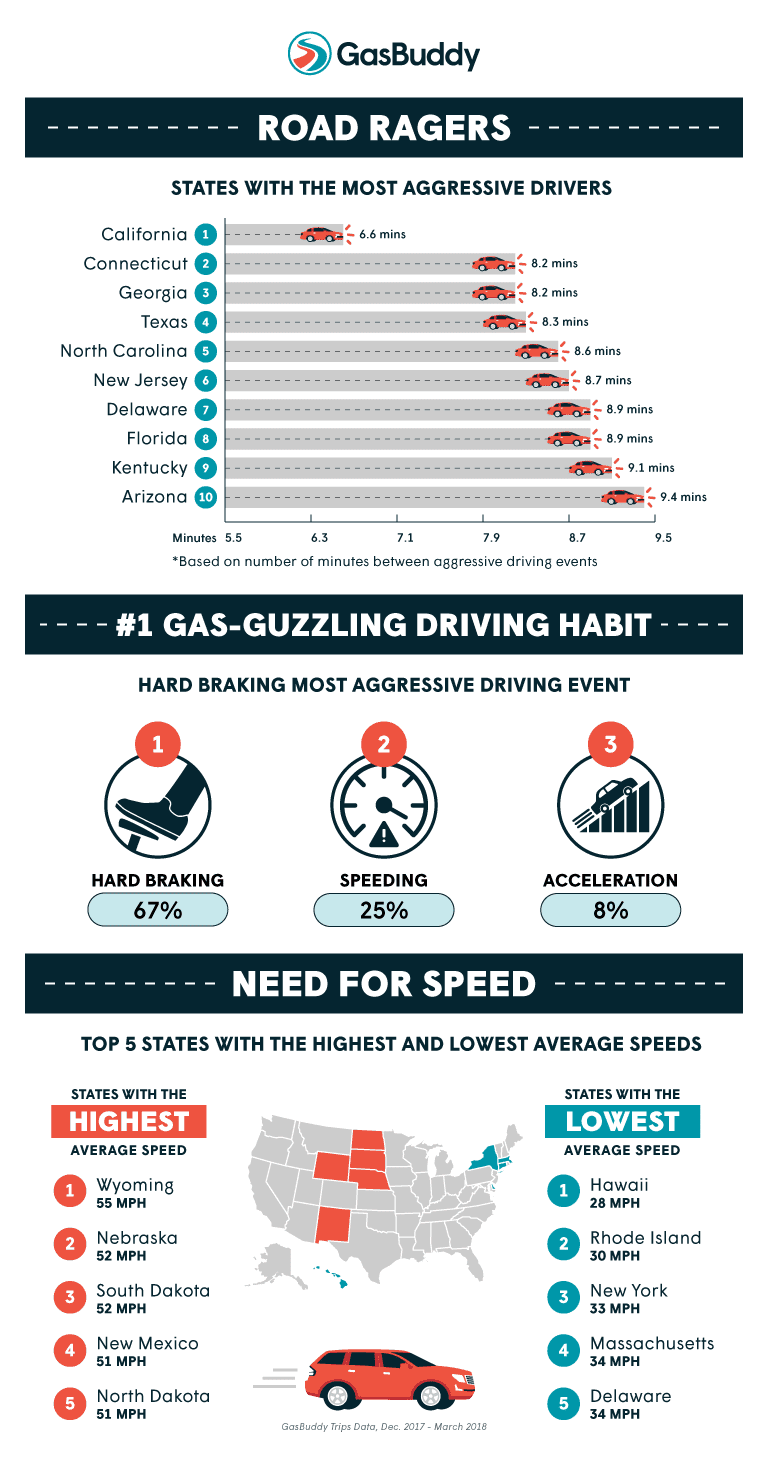 Complete state rankings can be found here.
Methodology
The findings were compiled using data from GasBuddy's Trips feature that provides drivers with an assessment of their driving habits during their trip in an effort to improve fuel efficiency, mapping out when and where a poor driving habit occurred.
GasBuddy examined tens of millions of Trips in the fifty states from Dec. 2017 – March 2018, noting the frequency of an aggressive event while driving, whether it be speeding, hard braking or accelerating.
About GasBuddy
GasBuddy is a smartphone app connecting drivers with their Perfect Pit Stop. GasBuddy is the leader in crowdsourced information to help drivers find the best gas prices, closest stations, friendliest service, cleanest restrooms, tastiest coffee and much more. GasBuddy is the leading source for the most accurate, real-time fuel prices at more than 140,000 gas stations in the U.S, Canada and Australia. The Company's B2B Retailer Software-as-a-Service (SaaS), known as GasBuddy Business Pages, provide Fuel Marketers and Retailers their best opportunity to maintain their station information, manage their brand, and promote to their target consumer audience.
3 Ways Technology is Going to Shape the Oil and Gas Industry
Free to Download Today
Oil and gas operations are commonly found in remote locations far from company headquarters. Now, it's possible to monitor pump operations, collate and analyze seismic data, and track employees around the world from almost anywhere. Whether employees are in the office or in the field, the internet and related applications enable a greater multidirectional flow of information – and control – than ever before.