BOSTON – Apr. 17, 2018 – Against a backdrop of gas prices that have risen sharply in the last two weeks, motorists are sure to be upset: they'll be paying $4 billion more in gasoline taxes in 2018 than they did in 2017. That's $76 billion, or $208 million every day, up from the $72 billion total in 2017.
The rise comes out to an average increase of about 2.6 cents per gallon, but the pain doesn't hit everyone equally: California saw its gas taxes climb 15.3 cents to 73 cents per gallon, a rise of over 25% versus 2017. Pennsylvania, on the other hand, saw its gas taxes fall 0.6 cents per gallon, yet it still leads the nation with combined taxes amounting to over 77 cents per gallon.
"While motorists fill up and see the final price on their receipt, it's not always clear just how much of that goes to gas taxes. What's clear is that most states have recently raised gas taxes using the current environment of lower prices as cover," said Patrick DeHaan, head of petroleum analysis at GasBuddy. "An additional concern is that the federal gas tax has not been touched in decades and may be an attractive revenue option for the federal government if it moves forward on improving infrastructure. No matter the outcome, motorists can lower their fuel bill with common sense: shop around for lower prices and check out various payment options or loyalty programs for easy savings."
States with the highest combined gasoline taxes and the yearly cost of gas taxes, according to the API: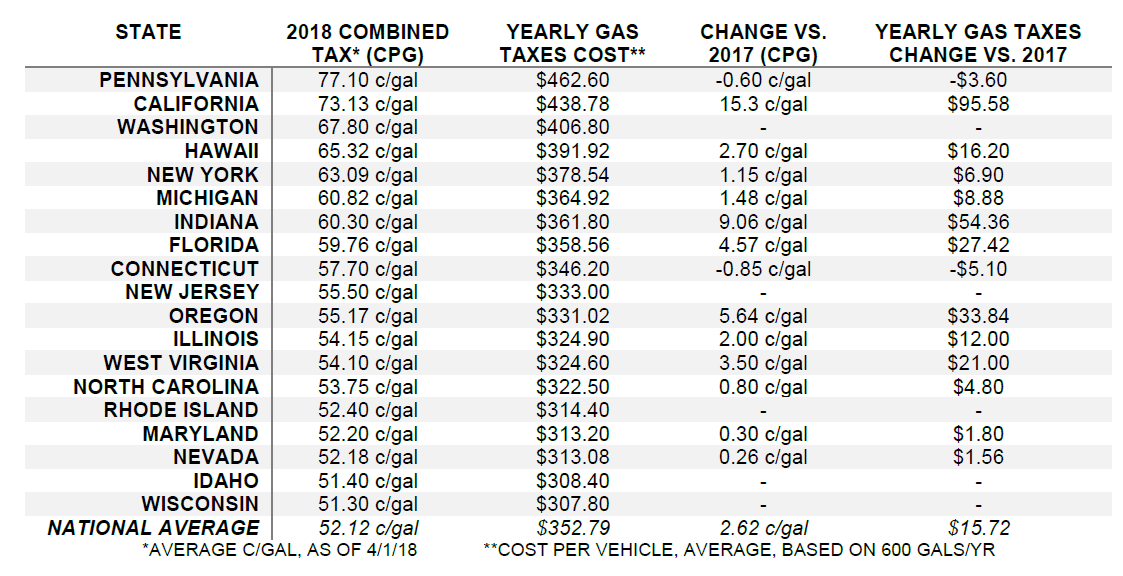 Motorists should also be aware of the possibility of a rise in the federal gas tax rate, which has remained unchanged at 18.4 cents per gallon since 1993. In recent weeks, there has more discussion and talk of doing exactly that. Every penny rise in the federal gas tax would lead America's annual spending on fuel to rise by $1.46 billion.
About GasBuddy
GasBuddy is a smartphone app connecting drivers with their Perfect Pit Stop. With more than 70 million downloads, GasBuddy is the leader in crowdsourced information to help drivers find the best gas prices, closest stations, friendliest service, cleanest restrooms, tastiest coffee and much more. GasBuddy is the leading source for the most accurate, real-time fuel prices at more than 140,000 gas stations in the U.S, Canada and Australia. The Company's B2B Retailer Software-as-a-Service (SaaS), known as GasBuddy Business Pages, provide Fuel Marketers and Retailers their best opportunity to maintain their station information, manage their brand, and promote to their target consumer audience.
3 Ways Technology is Going to Shape the Oil and Gas Industry
Free to Download Today
Oil and gas operations are commonly found in remote locations far from company headquarters. Now, it's possible to monitor pump operations, collate and analyze seismic data, and track employees around the world from almost anywhere. Whether employees are in the office or in the field, the internet and related applications enable a greater multidirectional flow of information – and control – than ever before.