Due to rapid technological developments in the exploration and production of oil sands, Canada has emerged as the world's fourth largest producer of crude oil, behind the US, Russia and Saudi Arabia in 2018. However, chronic midstream infrastructure bottlenecks and low price environment can limit the progress of the oil and gas industry, says GlobalData, a leading data and analytics company.
The company's latest thematic report, 'Oil Sands' reveals that backed by favorable government policy initiatives, oil sands production accounted for 67% of total crude oil production of Canada in 2018.
Ravindra Puranik, Oil & Gas Analyst at GlobalData, comments: "With further improvements in technology and extraction processes, the oil sands industry could prove to be a major growth driver for the Canadian economy, similar to the recent shale boom in the US."
GlobalData's thematic research identifies companies such as Suncor Energy Canadian Natural Resources Ltd. (CNRL), Cenovus Energy, Imperial Oil (ExxonMobil) and Enbridge as the leading players in the oil sands industry in Canada.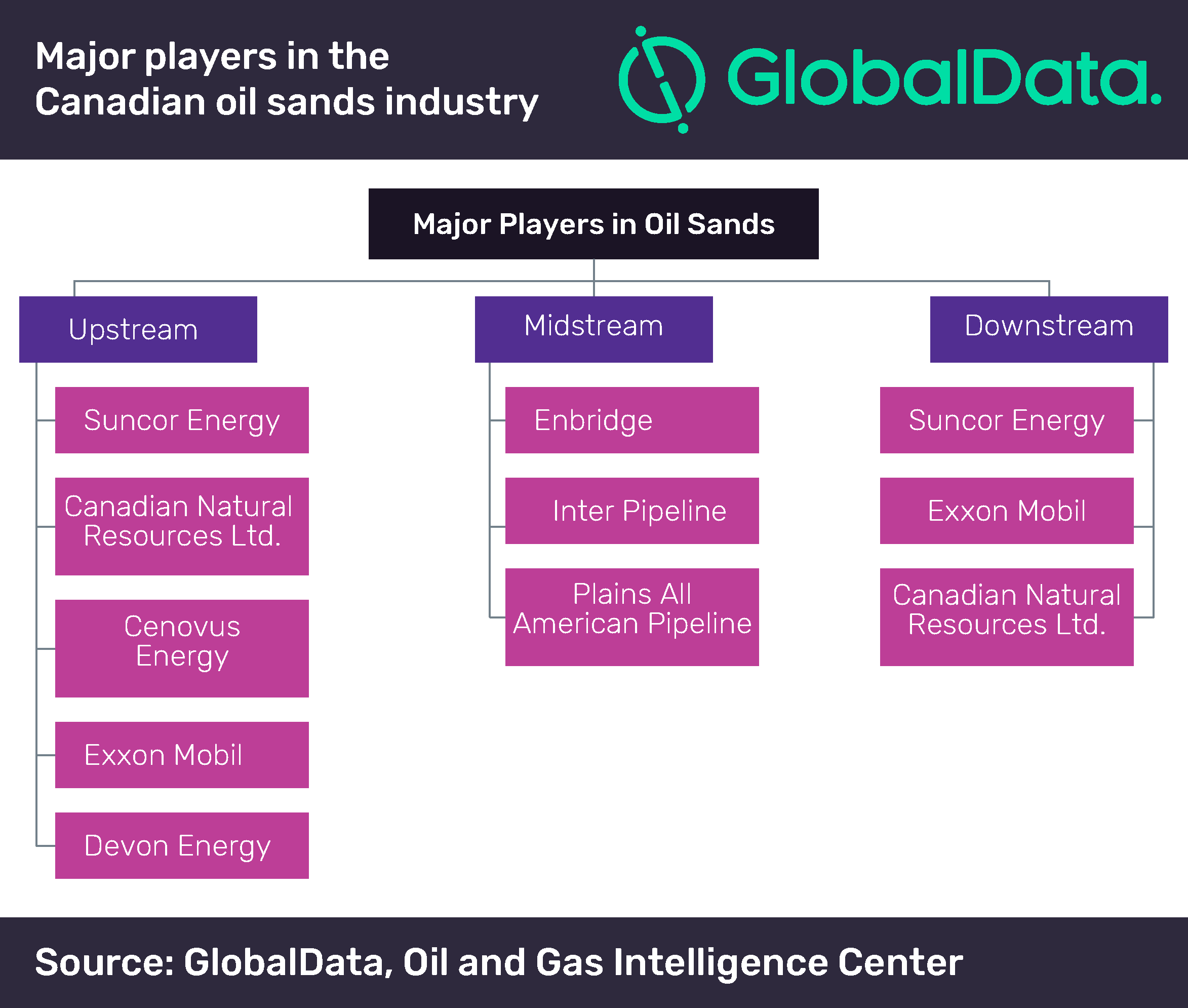 Oil sands are rich sources of bitumen, an extra-heavy hydrocarbon that can be extracted using unconventional techniques, such as, surface mining and in-situ extraction. As these processes are energy intensive, consume large volumes of water and result in emission of greenhouse gas in high volumes, they are attracting severe criticism from environmentalists around the world.
This has prompted organizations from the oil and gas, and financial services industries, such as Equinor, Marathon Oil, Axa and HSBC to withdraw or curtail their involvement in projects associated with oil sands. In addition, pipeline capacity constraints and setbacks in construction of new pipelines could impact further progress of the oil and gas industry in Canada.
Puranik adds: "The growth in oil production in Canada is encountering the problem of chronic midstream infrastructure bottlenecks, amid delays in construction of new pipelines. The two major pipelines that were expected to ease the bottlenecks–Keystone XL and Trans Mountain–have been delayed indefinitely due to legal and regulatory setbacks."
As the global demand for crude oil is expected to grow, particularly in Asia, the Canadian Oil Sands industry will continue to attract investments from all over the world.
Puranik concludes: "Nevertheless, considering the overall complexity of the oil sands extraction process, global prices for crude oil will have to remain at comparatively higher levels to ensure profitability from oil sands projects."
About GlobalData
4,000 of the world's largest companies, including over 70% of FTSE 100 and 60% of Fortune 100 companies, make more timely and better business decisions thanks to GlobalData's unique data, expert analysis and innovative solutions, all in one platform. GlobalData's mission is to help our clients decode the future to be more successful and innovative across a range of industries, including the healthcare, consumer, retail, technology, energy, financial and professional services sectors.
3 Ways Technology is Going to Shape the Oil and Gas Industry
Free to Download Today
Oil and gas operations are commonly found in remote locations far from company headquarters. Now, it's possible to monitor pump operations, collate and analyze seismic data, and track employees around the world from almost anywhere. Whether employees are in the office or in the field, the internet and related applications enable a greater multidirectional flow of information – and control – than ever before.