DENVER, Pa. – A high-end array of antique and vintage petroleum signs, gas globes and early gas pumps will be waiting to impress bidders at a 1,162-lot Automobilia & Petroliana Auction slated for October 14-15 at Morphy's gallery. Online bidding will be available through Morphy Live.
Many of the colorful rarities are from collections that were established back when petroleum-related items in pristine condition were much easier to find. As an added bonus, the big two-day event includes a lineup of 12 fantastic motorcycles, starting with a 1948 Indian Chief Roadmaster, one of only 3,000 made during that year.
Some lucky collector could "black gold" with a very rare and outstanding 53-inch Oilzum Motor Oil & Lubricants porcelain curb sign. One of the most sought-after of all petroleum-related signs, it is double-sided and features the appealing orange and black graphic image of Oilzum's mascot, Oswald the Driver. The sides are graded 8.75 and 8.0, respectively. A pre-sale estimate has been set at $20,000-$30,000.
Two neon signs, in particular, are expected to capture bidders' attention. The first is the finest example of an OK Used Cars neon porcelain dealership sign ever to pass through Morphy's gallery doors. The coveted double-sided sign with yellow, red, sky blue and white lettering and trim against a navy blue and yellow ground is graded 9.0+ and retains its original bullnose attachments. It has size going for it, as well, measuring 56 x 40 x 18 inches. The auction estimate is $14,000-$20,000.
The second neon sign highlight is a great-looking three-dimensional die-cut porcelain advertisement for Ford. With its distinctive flowing-script letters spelling out the brand name, this imposing 112-inch-wide sign was removed from a Ford dealership in Dallas in the early 1970s and has remained in the same private collection ever since. Unbeatable in its 8.5+, condition, this lot could reach $8,000-$14,000 on auction day.

Forty-one high-quality gas pump globes are entered in the sale, including many rare and desirable productions. Immediately identifiable to collectors from its handsome image of a Native-American chief, a one-piece baked globe advertising "Musgo Gasoline Michigan's Mile Marker" is date-stamped "September 20, 1929" on its interior. Graded 8.0+, this very clean and bright double-sided globe is estimated at $10,000-$15,000.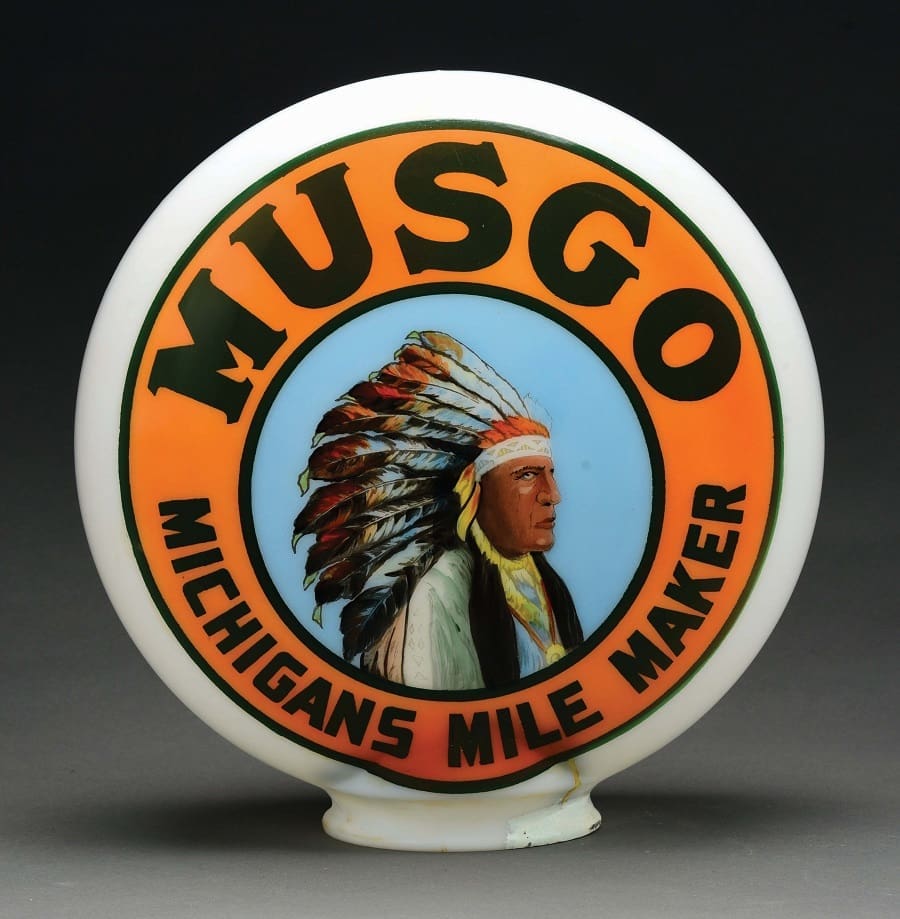 A very rare 15-inch double-sided globe issued by Wirt Franklin Petroleum Corporation (originally based in Ardmore, Oklahoma) also features a Native-American graphic: the full figure of a brave with his arm raised in a power salute. Complete on its original, nicely repainted metal body and in 9.0+ condition, this good-looking globe is expected to sell for $12,000-$18,000.
Collectors are already eyeing an extremely rare Wayne Roman column five-gallon visible gas pump. Its glass cylinder is in excellent condition and the pump light up beautifully. An exceptional restoration was performed on this pump some years ago, and it would be a prized asset in even the most advanced gas and oil collection. Estimate: $15,000-$25,000.
An outstanding Wayne 50 "showcase" pump restored in Firestone Tires livery has glass on three sides and plexiglass on the door. It is topped by an eye-catching reproduction Firestone Tires graphic globe and is poised to sell for $12,000-$18,000.
Two items, in particular, recall the days when "self-serve" was a novel concept. A Raymond Garage Equipment Co., four-in-one 5-gallon visible gas pump with air, water and oil attachments made it a versatile timesaver for those eager to set off on a road trip. Professionally restored with hand-painted detail work on its fire-engine-red body, this extremely rare item is estimated at $15,000-$25,000. Another fabulous display piece is a cast-iron Lipman Air Service Station air meter. Finished in a three-color paint scheme, predominantly a deep, rich green, its interior shows as air hose as well as a gauge. It is topped with a reproduction sphere globe that says "Free Air." Expertly restored and ready for the auction spotlight, its pre-sale estimate is $15,000-$30,000.

Twelve terrific motorcycles will be offered on Day 2 of Morphy's auction. They include four Harley-Davidsons – including a 1984 XR-1000 in Excellent/NM condition, estimated at $8,000-$16,000 – a 1976 Triumph Bonneville T140V Café Racer, $2,000-$4,000; a 1972 BSA B50 Trail Motorcycle, $800-$1,600; and a 1980 Honda GL1100 Gold Wing Interstate with Hitchhiker sidecar, $3,000-$6,000. But the star of the motorcycle section is a 1948 Indian Chief Roadmaster, one of only 3,000 such motorcycles produced that year. It features a 74 ci, 42-degree side-valve engine with a compression ratio of 6:1, and its odometer shows 22,840 miles. An older restoration, this Chief comes with custom-made leather saddlebags and a Pennsylvania title. Estimate $10,000-$20,000.
Morphy's Wednesday/Thursday, October 13-14, 2020 Automobilia & Petroliana Auction will be held live at Morphy's gallery, 2000 N. Reading Rd., Denver, PA 17517, starting at 10 a.m. Eastern Time. Preview Monday through Friday from 9 a.m. to 4 p.m. All remote forms of bidding will be available as well, including live via the Internet through Morphy Live. For additional information on any item in the sale, call 877-968-8880 or email info@morphyauctions.com. View the fully illustrated catalog and sign up to bid live online at www.morphyauctions.com.
3 Ways Technology is Going to Shape the Oil and Gas Industry
Free to Download Today
Oil and gas operations are commonly found in remote locations far from company headquarters. Now, it's possible to monitor pump operations, collate and analyze seismic data, and track employees around the world from almost anywhere. Whether employees are in the office or in the field, the internet and related applications enable a greater multidirectional flow of information – and control – than ever before.