Norway had the highest number of oil and gas discoveries globally in the first quarter (Q1) of 2019 with five discoveries. Of these, three were conventional oil discoveries and the remaining two were conventional gas discoveries, according to GlobalData, a leading data and analytics company.
GlobalData's report: 'Q1 2019 Global Oil and Gas Discoveries Review – Norway Leads with Highest Number of Discoveries in the Quarter' reveals that globally, 23 oil and gas discoveries were made in Q1 2019. Of these, 11 each are conventional oil and conventional gas discoveries. L46/16- 31 was the only unconventional gas discovery in the quarter made in the U.K.
Among the countries, Norway had five discoveries, the highest among all countries globally in Q1 2019. The U.S. followed with three discoveries. Russia, Egypt, Guyana and the UK had two discoveries each in the quarter. Australia, Indonesia, Angola and Bolivia had one discovery each during the period.
Ashwin Gupta, Oil & Gas Analyst at GlobalData, comments: "All the discoveries in Norway were offshore discoveries. Two conventional gas discoveries and a conventional oil discovery were made in the Norwegian Sea Basin while the remaining two conventional oil discoveries were made in the North Sea Basin."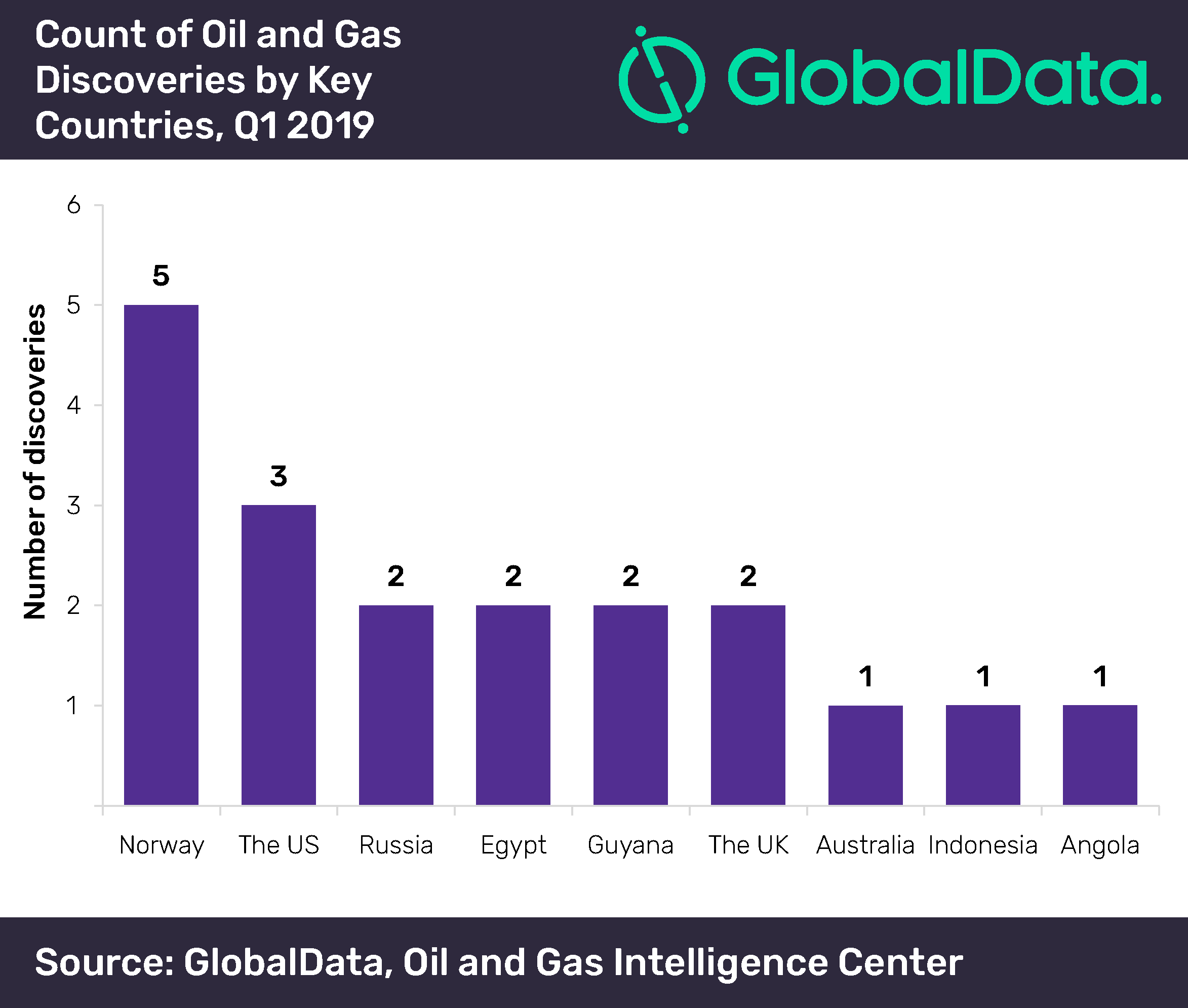 Regionally, Europe leads with eight discoveries, followed by Africa with four discoveries. North America and South America had three discoveries each with Asia and the Former Soviet Union (FSU) having two discoveries each in the quarter. Oceania had only one conventional gas discovery in the quarter.
Among operators, Statoil ASA and Exxon Mobil Corp led with three discoveries each in Q1 2019. Eni SpA and Total SA followed with two discoveries each. The rest of the operators had one discovery each during the quarter.
In terms of terrain, onshore accounted for the most with seven discoveries, followed by deepwater terrain with six discoveries. Shallow water and ultra-deepwater accounted for five discoveries each.
About GlobalData
4,000 of the world's largest companies, including over 70% of FTSE 100 and 60% of Fortune 100 companies, make more timely and better business decisions thanks to GlobalData's unique data, expert analysis and innovative solutions, all in one platform. GlobalData's mission is to help our clients decode the future to be more successful and innovative across a range of industries, including the healthcare, consumer, retail, technology, energy, financial and professional services sectors.
3 Ways Technology is Going to Shape the Oil and Gas Industry
Free to Download Today
Oil and gas operations are commonly found in remote locations far from company headquarters. Now, it's possible to monitor pump operations, collate and analyze seismic data, and track employees around the world from almost anywhere. Whether employees are in the office or in the field, the internet and related applications enable a greater multidirectional flow of information – and control – than ever before.