Norman, Okla., March 21, 2018 – With the focus of the Energy Symposium on the future of the energy industry – including hydrocarbons, wind and solar power, electric transportation and more – delegates heard predictions for growth in battery power and natural gas as more and more people, spearheaded by innovative technology and digital analytics, make a move to cleaner energy.
The sixth annual Energy Symposium, hosted by the Price College of Business Energy Institute at the University of Oklahoma, took place at the SandRidge Energy Auditorium in Oklahoma City.
The event, titled "The Future of Energy," included a keynote address from David Lawler, CEO of BP America Inc. – U.S. Lower 48 Onshore, who told the symposium during his keynote speech, "The global energy transition is not simply about expanding the use of renewables; it's about reducing greenhouse gas emissions while also meeting increased demand for reliable, affordable energy."
Delegates also heard from a panel of experts across two sessions, where industry leaders told audiences there was space in the market for all energy forms – fossil fuels and renewables – with new and innovative technologies supporting these.
Panel speaker Joseph Stanislaw, senior partner of Bright Star Capital Partners, said, "It isn't one or the other. We need all forms of energy. There will be transitions from more dominance to less dominance, but we need them all. To get to tomorrow, in a world that will be sustainable in every sense of the word, we need to have oil and gas as a bridge, and as a solution, along with complementary workings with solar, with conservation, with efficiency – they all go together."
Touching on technology, all speakers spoke of the dynamic shift that the industry was facing, due to innovative technology advances.
Referencing Amazon founder and CEO Jeff Bezos and "the Amazon approach," C. Michael Ming, vice president – executive liaison for marketing technology at BHGE (Baker Hughes, a GE company), spoke of the data-driven models that were increasingly being applied to projects within the industry.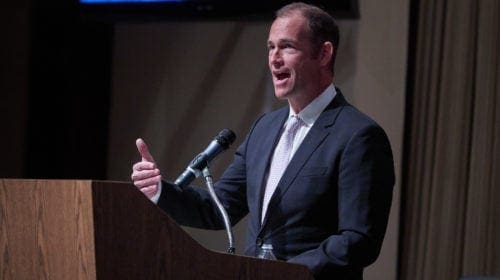 Using big data technology and analysis, technology can change the role of energy – making it more reliable, efficient and cost-effective, he said.
The Energy Symposium featured two panel sessions: The Future of Hydrocarbons and The Future Role of Alternative Energy and Related Technologies. Mike Stice, dean of the Mewbourne College of Earth and Energy, moderated the first panel. Bryan Hannegan, president and CEO of Holy Cross Energy, oversaw the second session.
The sessions focused on the increasing role for natural gas in the future of power generation, including a look at the future of LNG exports. They also included discussions about peak oil demand and future technology "game changers" – with artificial intelligence being a favorable future trend predicted to pass on cost savings through market intelligence and analysis.
Looking closely at alternative energies in the second panel, enhancing battery power came out as a strong discussion topic for the future of the industry.
Battery technologies are fast emerging as the new front line in the sustainable energy revolution.
The audience heard how the growth of battery adoption was picking up speed as part of the increase in popularity of electric vehicles over diesel and petrol cars, and battery-powered homes.
Paul Dabbar, Under Secretary for Science for the U.S. Department of Energy, said, "Batteries and storage really do have the capabilities to make some tremendous moves. There's an easy runway to get to batteries that have double the energy capacity at half the price.
"Batteries could be three times more powerful for 20 percent of the cost, and so, when you take a look at the personal electronics, grid support and electric vehicles – we're having conversations around the EV Tall, drones for transportation that use powerful batteries to fly around. And people like Uber and Airbus are sitting up and looking into it."
Dipankar Ghosh, executive director of the Price College of Business Energy Institute, said, "The international energy industry faces many challenges today, but it was clear from the high-quality debate at the Energy Symposium that very real opportunities for growth exist.
"In a fast-paced and exciting industry, it is fantastic to hear industry stalwarts and experts in their field discuss the changes they've witnessed and continue to witness as the energy industry embraces the changes required today to meet the demands of tomorrow."
About the Price College of Business Energy Institute:
Through Education, Research and Outreach, the Price College of Business Energy Institute creates a platform for thought leadership and intellectual exchange on the intricate network of issues confronting today's energy businesses. The Institute also advances innovative and sustainable energy solutions to address the critical challenges facing our domestic and international communities. Since 1958, education and research in energy management has been central to the college's purpose and this year, it is proud to celebrate 60 years of energy education.
3 Ways Technology is Going to Shape the Oil and Gas Industry
Free to Download Today
Oil and gas operations are commonly found in remote locations far from company headquarters. Now, it's possible to monitor pump operations, collate and analyze seismic data, and track employees around the world from almost anywhere. Whether employees are in the office or in the field, the internet and related applications enable a greater multidirectional flow of information – and control – than ever before.