As the oil and gas sector comes to terms with decade-low oil prices and global disruptions caused by the coronavirus (COVID-19), company costs and investments are being slashed with over US$50bn pledged to date and more on the horizon, says GlobalData, a leading data and analytics company.
Daniel Rogers, Oil and Gas Analyst at GlobalData, comments: "Of the announced US$50bn in cuts to date, approximately 20% of that is coming solely from Saudi Aramco, which could have implications for its ongoing expansion projects in the country. Elsewhere, across the supermajors, the investment cuts are within the 20-25% range, resulting in multibillion dollar pull backs in new projects and non-critical investments."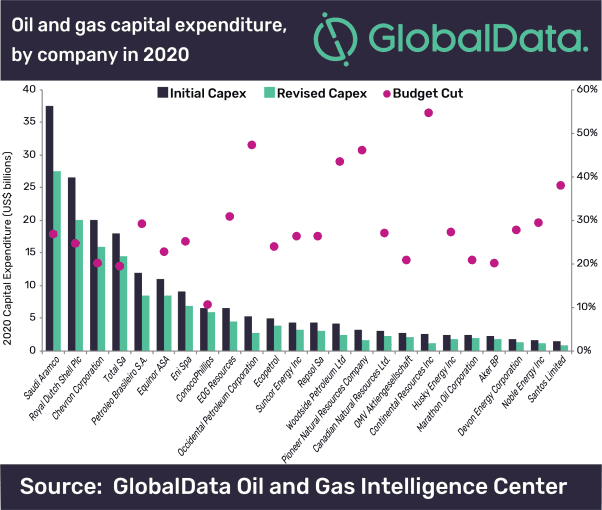 GlobalData has calculated that the average announced capital expenditure (CAPEX) cut for 2020 currently sits at 29% from original forecasts. On the higher end of the spectrum, U.S. operators with significant shale acreage and Australian operators with imminent large-scale liquified natural gas (LNG) projects have taken the most drastic reduction measures. While U.S. operators such as EOG Resources and Occidental Petroleum cut down on rig counts, Australian players Woodside Petroleum and Santos are opting to defer LNG projects until investment conditions improve.
Rogers continues: "We have yet to see companies such as Exxon Mobil and BP release budget cut estimates, but based on what we have seen already it is highly likely a further US$10bn could be taken off the table in 2020."
Regained market stability at sustainable levels is required to bring back delayed spending and investment confidence. In addition to deferred project investments, share buy backs, dividend pay-outs and general overhead costs have all come under review for 2020 with revisions downward.
Rogers concludes: "The types and severity of the cuts seen will differ depending on stakeholder requirements. National oil companies will strive to protect obligated payments to the government, whilst maintaining production volumes, whereas independent oil companies will focus on strengthening balance sheets and continuing to generate returns for investors in a challenging environment."
3 Ways Technology is Going to Shape the Oil and Gas Industry
Free to Download Today
Oil and gas operations are commonly found in remote locations far from company headquarters. Now, it's possible to monitor pump operations, collate and analyze seismic data, and track employees around the world from almost anywhere. Whether employees are in the office or in the field, the internet and related applications enable a greater multidirectional flow of information – and control – than ever before.