According to a new research report by Global Market Insights, Inc. the Personal Protective Equipment (PPE) Market is projected to reach USD 70 billion by 2024.
Personal protective equipment is used to protect the body from infection, injury, and accidental hazards along with workplace safety to the employees. It includes protective helmets, clothing, goggles, gloves, respiratory protection, and footwear.  The equipment protects the wearer from electrical, physical, biohazards, chemical, heat and airborne particulate matter. Growing investments in PPE equipment in maintaining industrial and worker's safety along with the availability of diverse product range is likely to favor PPE industry growth.
The manufacturing industry is a labor-intensive sector and involves various processes along with hazardous chemicals, gasses and equipment which may boost product demand. Rising fatal accidents leading to injuries, loss of life and the additional cost of compensation have promoted the use of safety equipment. Rapid industrialization along with growing investments has led to developing various industries such as oil & gas, chemical, mining and steel production thereby driving PPE industry growth.
Favorable regulations led by OSHA regarding occupational safety to control hazards effectively at its source to protect employees. PPE equipment minimizes exposure to a variety of hazards. OSHA is responsible to maintain improved and safe working conditions for workers mainly in areas of potential hazards and design standards and regulations which actively involves worker's safety across various industries. Increasing awareness regarding worker's safety along with various manufacturers providing proper fitting equipment in compliance with regulatory norms may have a positive influence on personal protective equipment industry growth.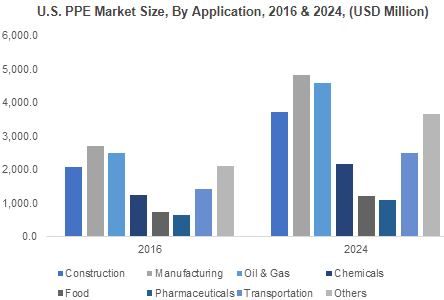 U.S. personal protective equipment market from oil & gas application may surpass USD 4.5 billion by 2024. This equipment protects the workers from oil spills, splashes and slips. Manufacturers initiatives regarding organizing training programs and guidance on usage of PPE equipment has led to rising product demand. Growing shale gas exploration and extracting activities supported by technical advancements will propel industry growth in this region.
U.K. personal protective equipment market is anticipated to reach over USD 1.5 billion by 2024. Presence of a large number of safety device manufacturers supported by stringent industrial safety norms and quality standards will favor industry growth.
Germany Personal Protective Equipment market size is anticipated to surpass USD 5.5 billion by 2024. In the food processing industry, food is handled by selecting the right safety equipment including gloves, apron, and caps. Majorly to avoid cuts, injuries to the skin & hands, and to avoid health risks to consumers from contaminated food ingredients.
Personal Protective Equipment caters to mechanical, mining, chemical, oil & gas, construction, manufacturing industries. This equipment helps workers to avoid vapors, dust, fog, mist, smoke and other harmful chemicals & gases. Increasing R&D spending on technological innovation in this sector may stimulate industry growth. The effectiveness of PPE relies on workers following instructions and procedures correctly.
Personal Protective Equipment market size from the chemical application is anticipated to exceed USD 7.5 billion by 2024. PPE is used by workers to eliminate exposure to harmful chemicals. Chemicals can cause injury through direct skin contact, by inhalation of fumes vapors and dust. Typical products utilized include skin protection, eye protection and face shields which would drive product demand.
The global Personal Protective Equipment (PPE) market share is competitive and moderately fragmented with some of the manufactures, which includes 3M, Ansell Ltd., Honeywell, JAL Group, MSA, DuPont. The companies are focused on manufacturing innovative safety products which can have utilization in various end-use industry.
3 Ways Technology is Going to Shape the Oil and Gas Industry
Free to Download Today
Oil and gas operations are commonly found in remote locations far from company headquarters. Now, it's possible to monitor pump operations, collate and analyze seismic data, and track employees around the world from almost anywhere. Whether employees are in the office or in the field, the internet and related applications enable a greater multidirectional flow of information – and control – than ever before.