The oil & gas industry can be proud of the opportunities it creates in developing countries. The problem is that local suppliers are often overwhelmed by the complex array of international and national standards relating to the industry across everything from health and safety, finances, ethics and compliance, to technical requirements and digital security. If, however, these suppliers could meet minimum standards, this would benefit the smaller businesses, local economy and reduce costs to international oil companies (IOCs), national oil companies (NOCs) and international service providers; creating a highly appealing, win-win scenario.
Blue Bull Energy (BBE) is looking to transform the landscape of the oil industry in Mexico by helping local businesses understand, develop and transform to meet the required standards to become a supplier to major IOCs, NOCs and large service providers within the industry, including EPC contractors. Very often, local suppliers are not able to compete for higher, added-value jobs because of lack of clarity of minimum standards and performance expectations. This not only means they are missing out on opportunities created by local energy sources in Mexico, but also that operators are not able to meet local content requirements attached to onshore and offshore blocks in the region.
To resolve these industry challenges, BBE is creating the 'Blue Wave Supplier Development' platform. This automated, intelligent platform is a sustainable solution that will create value for all parties by leveraging a combination of BBE's experience of working with IOCs and suppliers globally and its databases of supplier qualification requirements. Based on a company's status, the system will assess capabilities across six pillars of expertise and return a development plan to meet minimum standards required by the oil industry. Once the capabilities and gaps have been understood and assessed, blended teams are formed which can include local suppliers, government, IOCs and funding services.
The Blue Wave Supplier Development Platform is a joint venture between Eduardo Nunez, a former General Manager of Global Procurement at ExxonMobil and now President of Third Wave Digital, and Alma Del Toro, President & Founder of Blue Bull Energy and Strategic Advisor to CEMVITA Factory, a Houston-based start-up looking to create a sustainable future by transforming CO2 into value-add products.
Nunez said: "The Blue Wave Supplier Development is an automated, intelligent platform and a purposeful project created to resolve a big problem in the Energy Sector. It consolidates the standards of over 10 major oil operators and service companies against which local companies can be assessed and plans put in place to close any gaps. It is a creative strategy designed to benefit local companies, the Mexican economy and the oil industry."
The standards set by governments and oil companies are necessarily detailed to ensure increasing demands for safety, reliability, environmental protection and efficiency are met. As these standards span across different areas of expertise, it is often difficult for new suppliers to understand and assess where they are in relation to them, and what they need to do to meet them.
Del Toro, a 17-year veteran of BP, commented: "The Blue Wave Supplier Development platform works because it is based on our experience of working with International Oil Companies. The system is based on data from some 10 different companies, including major IOCs. Our experience means we know what 'good' looks like, understand the culture within the industry, and know what IOCs are looking for.
It is not only about providing a document or piece of software, but about helping suppliers change their mindset. We create the opportunities for International Operators to build relationships with local suppliers from the start, so they can decide who they want and need to work with locally to help them deliver their targets and comply with local content clauses. For Mexico, it means good, well-paid jobs are created; the local economy becomes stronger, and more appealing opportunities are created for investors. Everyone wins as the supply chain becomes more and more sustainable and efficient."
Del Toro is also the co-chair for the AIPN (Association of International Petroleum Negotiators) 2019 International Petroleum Summit (IPS), due to be held in Houston on May 22-23. She will be moderating a session at the IPS on Operating in Mexico and will be discussing the future of BBE, its revolutionary Blue Wave Supplier Development platform and how it will change the industry in developing countries.
Del Toro concluded: "We plan to roll out the Blue Wave Supplier Development platform in Mexico, but the system is not country-specific. Once we have completed this initial project, we will look to other areas in the world that will benefit from this solution. The system will make a huge difference to the local support available to the oil industry and create opportunities and hope for poorer communities; changing economies and improving lives. It makes sense for both large, international companies and local suppliers and ticks boxes on every level: Socially, economically and ethically."
About Blue Bull Energy: Blue Bull Energy (BBE) provides strategy, business development, business transformation and digital solutions globally. BBE specializes in problem solving and alternative solutions. We are a purposeful firm, committed to make a difference, we build business and communities. BBE is a certified minority-women owned business and is committed to making a difference building business and communities. BBE operates globally with offices in Houston and Mexico City.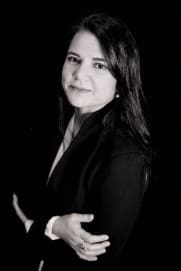 Alma Del Toro Biography: Alma is the founder and President of Blue Bull Energy (BBE). BBE provides strategy, business development, business transformation and digital solutions globally. BBE specializes in problem solving and alternative solutions. Before BBE Alma spent 17 years in BP where she held several leadership roles across Regions. Within a short period of time, Alma built BBE into a successful brand, developed a mix portfolio working with large organizations; E&P Suppliers and Operators in Mexico, IOC's, NOC's such as Equinor, Petronas, Pemex, Ecopetrol to name a few. To expand and progress BBE Alma formed alliances with some of the most influential firms in the world and with Governmental Agencies. Throughout her career with her mantra of helping anyone you can, when you can, she has built an incredible network. She counts some of the most experienced and respected executives in the energy industry among her friends, mentors and advisers. Given Alma's humble upbringing, Alma is passionate and committed to developing and creating opportunities for others. BBE philosophy is to work side by side with its clients to ensure the know-how stays in house as part of BBE's local talent development agenda. Alma is a Board Member of several NGO's that focuses on serving underprivileged families. In addition to serving families in need Alma is committed to protecting the environment and has adopted an endangered sea turtle conservation centre in Campeche Mexico.
About AIPN: The Association of International Petroleum Negotiators is an independent not-for-profit professional membership association that supports international energy negotiators around the world and enhances their effectiveness and professionalism in the international energy community. Founded in 1981, AIPN has over 3,000 members in more than 110 countries, representing international and national oil and gas companies, governments, law firms and academic institutions. The International Petroleum Summit is the global annual conference of the AIPN and this year it is taking place in Houston on May 22-23, 2019.
3 Ways Technology is Going to Shape the Oil and Gas Industry
Free to Download Today
Oil and gas operations are commonly found in remote locations far from company headquarters. Now, it's possible to monitor pump operations, collate and analyze seismic data, and track employees around the world from almost anywhere. Whether employees are in the office or in the field, the internet and related applications enable a greater multidirectional flow of information – and control – than ever before.