WFS Technologies Limited (WFS) unveiled the world's first subsea wireless edge network for real-time monitoring of subsea assets at this week's Ocean Technology Conference (OTC) in Houston.
WFS provides wireless subsea devices which are designed to provide robust, long-term monitoring of subsea hardware.
The latest technology, ExtremeEdge®, has been developed to process and analyze the raw data at the sensor level, thus reducing information overheads by transmitting only the data needed to downstream solutions in real-time rather than all sensor data collected.
In addition, by deploying a number of ExtremeEdge-enabled sensors, WFS has created the first subsea network designed to operate wirelessly. Traditionally, most solutions operate by individual sensor only, and not as a network of sensors that can communicate, process and transmit data between themselves, increasing subsea asset monitoring efficiencies.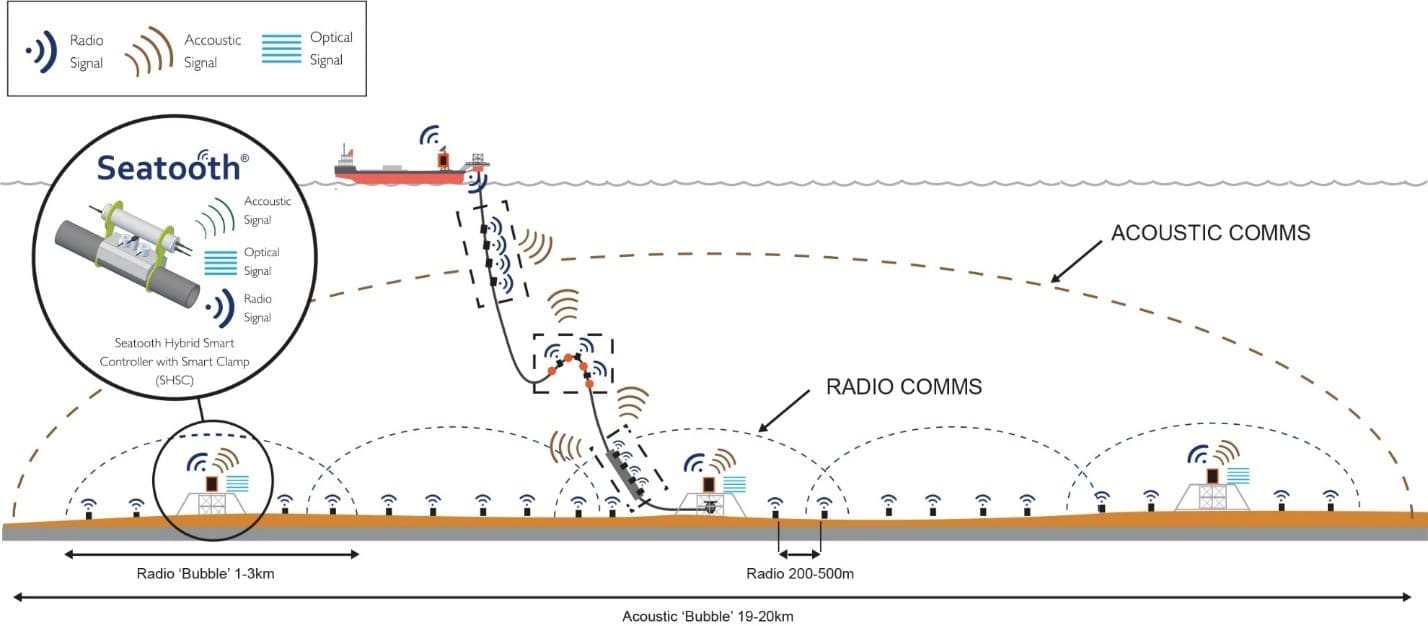 "To enable exceptionally long battery life on each sensor, we use ExtremeEdge® analytics to monitor the sensor data in real-time and only report if the data exceeds pre-set values," said Theo Priestley, chief marketing officer at WFS.
"Edge computing enables a variety of calibration models to be uploaded to each sensor. During extreme events such as hurricanes, the system will calculate and compare performance of subsea assets against the model, transmitting data in real time."
Each new Seatooth sensor, using a patented wireless technology standard for exchanging data through water and the water-air boundary using low frequency radio waves, is supplied with a built-in processor with the capability to run WFS ExtremeEdge computing.
During extreme events such as hurricanes, the system calculates and compares performance of the assets against predictive models, transmitting resultant information in real time.
The wireless edge solution is also accompanied by a new "hot swap" architecture which allows multiple sensors to be configured and chained together by wireless communication to monitor for a variety of conditions, including vibration, temperature, flow, fatigue, corrosion.
"The benefits are quite clear in implementing big data analysis at the edge, rather than transmitting the information to downstream IT systems", Brendan Hyland, CEO, said. "Increased efficiency, combined with reduced production and maintenance costs, means reduced data processing overheads. Overall, the result is considerable reduced risk and capital costs."
WFS is set to launch a series of webinars designed to give a demonstration of its Seatooth products. Details of the webinars will be made available this month. For more information, contact WFS Technologies at info@wfs-tech.com
WFS Technologies specializes in subsea wireless automation, the Subsea Internet of Things® (SloT) and subsea cloud computing networks (SCCNs) which can be applied across oil & gas, offshore wind to aquaculture and smart cities.
With around 350 patents applied for, WFS's innovations are performing a crucial role towards helping clients to improve cost effectiveness and operational efficiencies by producing highly-sophisticated data which generate high-level intelligence and, in turn, allows more informed decisions.
More information about WFS Technologies can be found at www.wfs-tech.com.
About WFS Technologies
WFS Technologies has developed the building blocks for Subsea Internet of Things (SIoT) enabling Smart Devices to extend wireless IoT networks through water and through ground, providing a low-cost alternative to cables, connectors and buoys. The industries served include Oil and Gas, Marine Equipment, Environmental and Defense. Key customer benefits include improved asset productivity, asset integrity management, safety and reducing costs for automation in the subsea environment.
The Internet of Things (IoT) wave is providing direct integration of the physical world into the digital world on a global scale. This is creating a disruptive step-change in the way mankind is organized, from work practices and leisure activities through to how industry is run. At the same time, we face many challenges relating to our environment, and it is accepted that we cannot continue using the planet's resources in the way we have been doing since the previous industrial revolution.
While the IoT revolution is impressive, it has yet to consider 70% of the world's surface – the ocean. New technologies are required to bring IT infrastructure to the oceans and that's where the largest opportunities are for both industry and the environmental challenges we face.
3 Ways Technology is Going to Shape the Oil and Gas Industry
Free to Download Today
Oil and gas operations are commonly found in remote locations far from company headquarters. Now, it's possible to monitor pump operations, collate and analyze seismic data, and track employees around the world from almost anywhere. Whether employees are in the office or in the field, the internet and related applications enable a greater multidirectional flow of information – and control – than ever before.