5,000 participants due to attend from over 70 countries
Today's program included remarks by, Mike Wirth, Darren Woods, Amin H. Nasser, Mayor Sylvester Turner and more.
HOUSTON, TX — The 23rd World Petroleum Congress got underway in Houston today, with over 5,000 participants from over 70 countries attending in person in the energy capital of the world.
Proceedings opened with a special opening keynote session featuring remarks from Houston Mayor the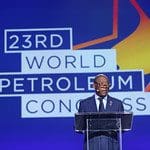 Hon. Sylvester Turner, David M. Turk, Deputy Secretary at the U.S. Department of Energy, and Tor Fjaeran, President of the World Petroleum Council. For Deputy Secretary Turk, the priorities are clear: "First we need to accelerate the clean energy transition. Second, that all people have affordable and reliable energy during this transition." He continued: "American people, companies and government can take on climate head on together, and we have to." For Mayor Turner, the choice of Houston to host the Congress was an obvious one: "Houston and Houston's energy-related firms are leading the way in the energy evolution" commented Mayor Turner.
Immediately after, delegates made their way to the first plenary session, Innovative Energy Solutions, where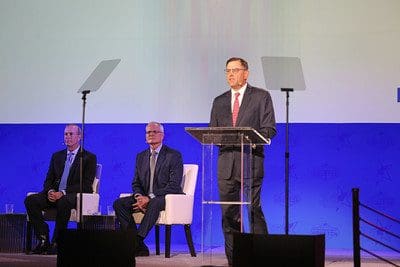 U.S. energy leaders Darren Woods, Chairman and CEO, ExxonMobil Corporation, Mike Wirth, Chairman and CEO, Chevron, and Jeff Miller, Chairman, President and CEO, Halliburton discussed the importance of the right technology, investments and government policy, as well as collaboration – as the industry moves forward.
Global industry leaders Amin H. Nasser, President and CEO, Saudi Aramco; Patrick Pouyanne, Chairman and CEO, TotalEnergies; Anders Opedal, President and CEO, Equinor, and Dave Lawler, Chairman and President, bp America gave their international perspectives in plenary session two, in a discussion that focused on how key industry players are navigating the energy transition and moving towards net zero over the next three decades. "By 2030, Equinor will be a carbon neutral company, and net zero by 2050" commented Anders Opedal, President and CEO of Equinor, an ambition echoed by Dave Lawler, Chairman and President, bp America: "We can see a warm future that we all can be a part of, and we can see net zero by 2050".
Today also saw the announcement of the winners of the WPC Excellence Awards, recognizing companies, institutions or any public or private organization engaged in the oil and gas industry for promoting or operating with high excellence standards. Over 130 nominations came in for two categories: Social Responsibility and Technological Development, with one from an NOC or large business and the other to represent the work of small and medium sized organizations. Sakhalin Energy and ExxonMobil scooped the Social Responsibility award, with Kayrros and Halliburton Landmark taking the Technological Developments Award. All the finalists' projects will be showcased during the Congress. The Social Responsibility Finalists will present their projects at the Social Responsibility Stand with the Technological Development projects presented at the Digital Poster Plaza.
3 Ways Technology is Going to Shape the Oil and Gas Industry
Free to Download Today
Oil and gas operations are commonly found in remote locations far from company headquarters. Now, it's possible to monitor pump operations, collate and analyze seismic data, and track employees around the world from almost anywhere. Whether employees are in the office or in the field, the internet and related applications enable a greater multidirectional flow of information – and control – than ever before.