Asia is expected to be the major contributor to the growth of global liquefied natural gas (LNG) regasification capacity between 2018 and 2022, accounting for around 62% of the total global growth, according to GlobalData, a leading data and analytics company.
The company's report: 'H2 2018 Global Capacity and Capital Expenditure Outlook for LNG Regasification Terminals – Asia to Dominate LNG Regasification Capex and Capacity Additions' reveals that the global LNG regasification capacity is expected to grow by 48% from 43.7 trillion cubic feet (tcf) in 2018 to 64.6 tcf by 2022.
Asia is expected to add around 12.4 tcf of regasification capacity during the outlook period. Within the region, India plans to add the highest capacity of roughly 5.2 tcf by 2022 with the help of 23 planned and announced LNG regasification terminals. Capital expenditure (capex) for these terminals totals US$6.8bn over the next four years.
China follows with a regasification capacity of 2.3 tcf from 15 planned and announced terminals by 2022. China has the global highest capex of US$18.5bn for the period 2018–2022.
Soorya Tejomoortula, Oil & Gas Analyst at GlobalData, comments: "Both India and China are driving the growth in global LNG regasification capacity due to their fast growing economies and thriving middle class population. The need to control growing pollution by replacing coal with natural gas is also driving natural gas demand in both countries, more so in China."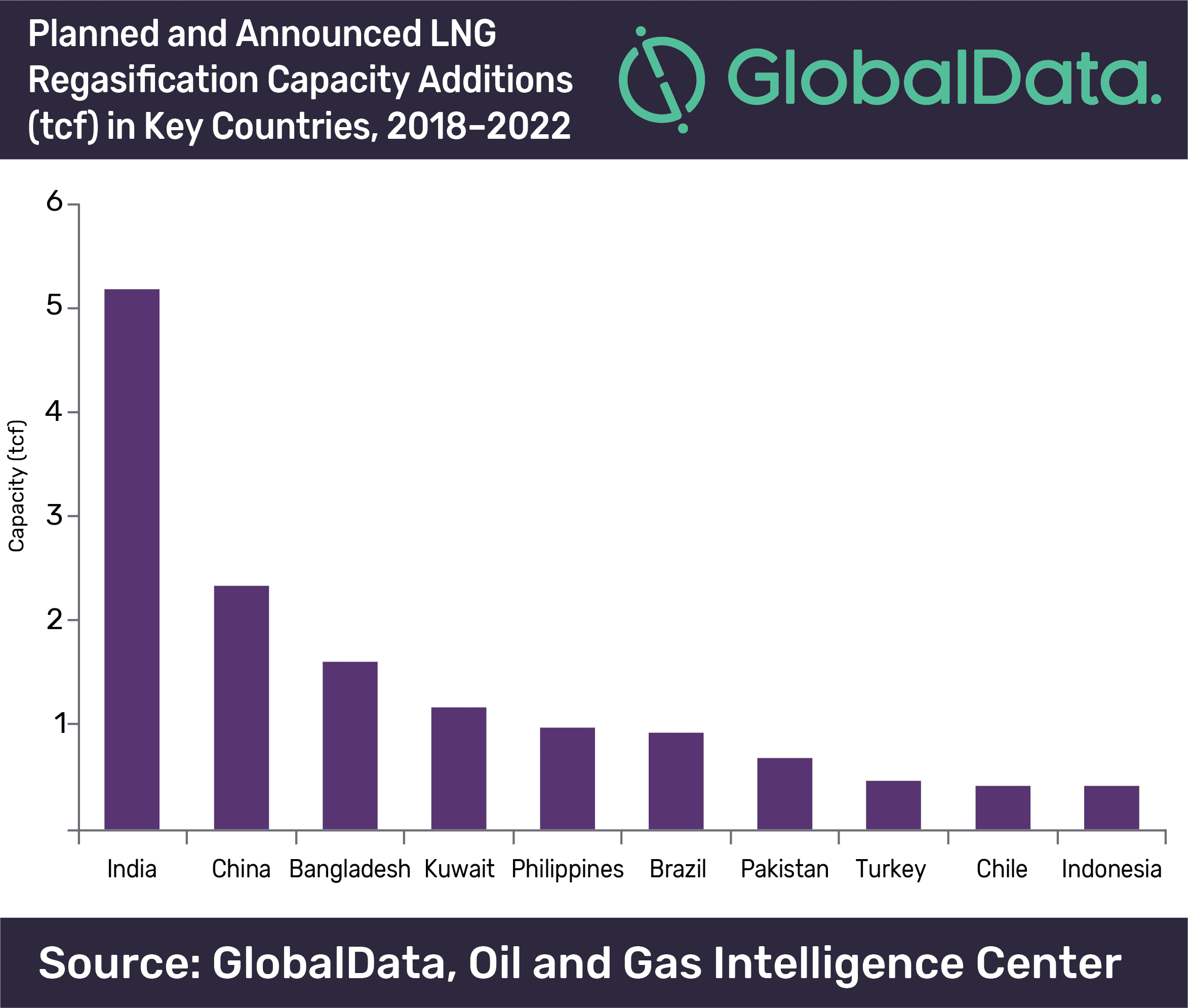 GlobalData identifies the Middle East as the second highest region in terms of regasification capacity additions. The region is expected to add roughly 2.3 tcf by 2022. Within the region, Kuwait has the highest planned capacity of approximately 1.2 tcf by 2022 from an onshore planned regasification terminal. Capex to be spent on the terminal during the forecast period is US$3.2bn.
Turkey stands second in the region with a planned capacity of 0.5 tcf by 2022 from two upcoming terminals. Around US$1bn capex is expected to be spent by the country during the outlook period.
In terms of regasification capacity, among the upcoming LNG regasification terminals, Al-Zour in Kuwait, and Yanam and Krishnapatnam Floating II terminals in India will lead with 1.2 tcf, 535.7 bcf and 487 bcf , respectively.
In terms of planned and announced capex, Al-Zour terminal in Kuwait will again lead with US$3.2bn. Binhai in China and Wakayama in Japan will follow with US$2.2bn and US$2bn, respectively during the outlook period.
About GlobalData
4,000 of the world's largest companies, including over 70% of FTSE 100 and 60% of Fortune 100 companies, make more timely and better business decisions thanks to GlobalData's unique data, expert analysis and innovative solutions, all in one platform. GlobalData's mission is to help our clients decode the future to be more successful and innovative across a range of industries, including the healthcare, consumer, retail, technology, energy, financial and professional services sectors.
3 Ways Technology is Going to Shape the Oil and Gas Industry
Free to Download Today
Oil and gas operations are commonly found in remote locations far from company headquarters. Now, it's possible to monitor pump operations, collate and analyze seismic data, and track employees around the world from almost anywhere. Whether employees are in the office or in the field, the internet and related applications enable a greater multidirectional flow of information – and control – than ever before.