Colorado's Anti-Fracing Measure: What's At Stake for Future Oil & Gas Production?
On August 29, 2018, the office of Colorado Secretary of State Wayne Williams announced that a setback measure for oil and gas development made the November ballot. The measure, if passed, would mandate that new oil and gas development, including hydraulic fracing, be a minimum distance of 2,500 feet from occupied buildings and other areas designated as "vulnerable". The current minimum setback of drilling and completing oil and gas wells is 500 feet from homes and 1,000 feet from schools.
The measure comes 18 months after a home explosion that occurred last year in Firestone, Colorado that killed two men. The incident was blamed on a leaky flowline from a nearby well owned by Anadarko that hadn't been capped properly. Supporters of the initiative say there have been 13 explosions and fires since then.
Backers of Initiative 97, which include instate green groups such as Colorado Rising and Colorado Sierra Club, submitted signatures on August 6, 2018. The Colorado Secretary of State confirmed that the number of required signatures met the threshold to get Initiative 97, now officially Proposition 112, on the November ballot. However, the measure is facing widespread opposition from political leaders on both sides of the aisle, as well as the oil and gas industry. Colorado governor candidates Jared Polis (D) and Walker Stapleton (R), as well as outgoing governor John Hickenlooper (D), are all on the record opposing the proposal.
To put into perspective what the state would be dealing with, Figure 1 shows Colorado's population density (per the 2010 United States Census Bureau) along with active horizontal drilling permits by major oil and gas basins in Colorado.
Of all the basins in Colorado producing hydrocarbons, major exploration and production (E&P) operators in the Denver-Julesburg (D-J) Basin would experience the biggest setback. The core of the D-J Basin sits north of Denver and is primarily located in southwest Weld County. According to the Colorado Oil & Gas Conservation Commission (COGCC), Weld County accounted for about 91% of the state's oil production, producing over 119 million barrels (MMbbl) of oil in 2017, equating to around 330,000 bbl/d.
Since January 2016, there have been 6,995 horizontal drilling permits filed, 6,029 of which are in Weld County. Each of these drilling permits are to be associated with completion techniques that involve hydraulic fracturing stimulation in order to produce commercial quantities of oil and gas.
Figure 2 depicts the core D-J Basin with major city boundaries along with a 2,500-foot buffer that is to be used as a reference for Proposition 112, but does not by any means show the true extent of the potential repercussions that this measure would create. Despite considerable oil and gas development on rural lands in Weld County, one cannot fully portray the effect this bill would have on the oil and gas industry in Colorado. What this map does not show are the parks, the streams and occupied buildings that are distant from the city boundaries that would be designated as "vulnerable areas."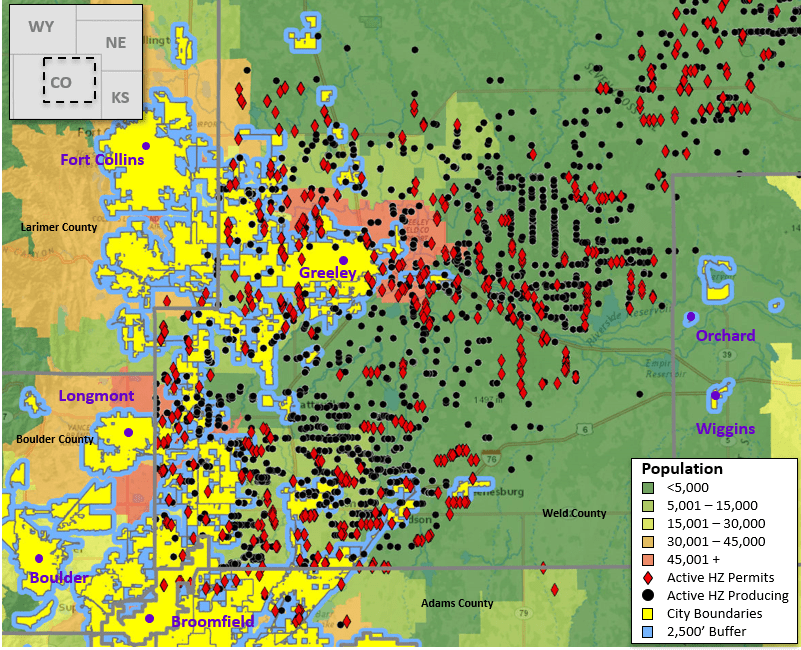 According to the Colorado Oil & Gas Association (COGA), the measure will slash nearly 148,000 jobs and would eliminate about 94% of non-federal land in Weld County from future drilling—the area where the majority of oil and gas activity is occurring in the state. According to the American Petroleum Institute (API), the measure, if passed, "could devastate the economic livelihood of hundreds of thousands of Coloradans, both in and out of the energy industry."
In addition, the new policy would effectively eliminate oil and gas severance tax revenues, which would be a major blow to the state's economy while also hurting the counties that use this money to fund schools, infrastructure costs and other amenities—not to mention the headache the state would have to contest, and arguably compensate, for the many claims that would arise from lowering the appraisal value of one's land by essentially banning the production of oil and gas.
The measure is creating uncertainty for oil and gas companies. If passed, it would have a meaningful impact on earnings for upstream and midstream companies that operate in the state. However, it is hard to imagine that such a bill would pass in the seventh- and fifth-largest crude oil and natural gas-producing state in the U.S., respectively, according to the EIA. The profound negative impact this measure would have on the economy is something the state and local governments would feel almost instantly.
What does this mean for oil and gas going forward? It's a good question and no one really knows. But, one thing is certain: groups such as Colorado Rising and Colorado Sierra Club are making their presence known. If this bill does not get passed, expect the current minimum setbacks from oil and gas development to slowly increase.