It is clear that the events in Texas are unique, in that the weather patterns are highly uncommon in the region. The infrastructure established to date is not equipped for such significant temperature drops, like those most of the country has witnessed over the past few days. Given the unprecedented circumstances Texas faces, where do we go from here, and could we prevent the complications it brings in the future? And, in hindsight, could it have been prevented at all?
AI & IoT
There is a large potential to increase the use of AI and the IoT to predict weather patterns leading to extreme conditions — and risk of malfunction and failure in machinery. With preemptive indications from these systems, operators will be able to signal crews to put in place preventative measures such as pipeline heating or de-icing.
Despite this being described as a once-in-a-generation occurrence, the increasing prominence of unpredictable weather patterns influenced by climate change means that it is becoming increasingly necessary to prepare for the unexpected.
Drones as a Remediation Tool
De-icing windmills by hand means scaling these large structures in potentially dangerous and extreme conditions. Using drones to do this instead could mean faster implementation of mitigation efforts, coupled with lower labor costs and risk of injury.
Furthermore, remote technology integrated into these infrastructure components may be used to a further degree to diagnose and attempt to remedy issues before the need arises to put a manual workforce into harm's way.
The Opposite Extreme, Equally as Impactful?
As can be seen in the weather patterns of the last decade, climate change has had a significant impact on the predictability of conditions all over the globe. This year, it's been a winter significantly colder than expected. So, what happens if the same happens in summer? It is important to assess the risks, and by extension, the preventative strategies which can be preemptively put in place to avoid failures on this scale due to extreme heat, or flooding, or other weather events.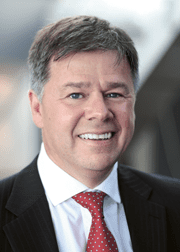 Colin Beaney is the Vice President for Energy, Utilities & Resources within IFS, where he has worked for nearly 20 years. Colin has been involved in implementing and project managing IFS software into many project and asset-intensive organizations in Europe and worldwide. These cover many industries including energy, utilities, pulp & paper, aviation and defense. He is therefore ideally placed to understand the real challenges faced by organizations working in the service and asset-intensive industries. He is a key member of the IFS product directions board and plays an instrumental role in the decisions regarding IFS product strategy. Prior to this, Colin worked as a management consultant specializing in maintenance continuous improvement philosophies such as TPM and RCM. He completed a mechanical engineering apprenticeship many years ago and spent over 15 years working in automotive manufacturing including time as a maintenance and facilities manager.
3 Ways Technology is Going to Shape the Oil and Gas Industry
Free to Download Today
Oil and gas operations are commonly found in remote locations far from company headquarters. Now, it's possible to monitor pump operations, collate and analyze seismic data, and track employees around the world from almost anywhere. Whether employees are in the office or in the field, the internet and related applications enable a greater multidirectional flow of information – and control – than ever before.