Gray Frederickson is an Academy Award-winning producer who won an Oscar as Co-Producer of The Godfather Part II and received an Academy Award nomination for his work as Co-Producer of Apocalypse Now, has won an Emmy for producing "Dream No Little Dream, The Life and Times of Robert S. Kerr". He was the executive producer of "The Grand Energy Transition" a recently produced documentary about natural gas. Mr. Frederickson had been working as president of a motion picture production company, Graymark Productions Inc. (GRMK), publicly traded on NASDAQ, until it merged with a health care company, Graymark Healthcare (GRMH), in the spring of 2008.
Gray Frederickson is a member of the Academy of Motion Picture Arts and Sciences, The Academy of Television Art and Sciences, The Directors Guild of America, and the Screen Actors Guild.
Read the recent article in The Oklahoman: "The Godfather of Oklahoma Film" (12/3/21: https://www.oklahoman.com/story/entertainment/2021/12/03/godfather-oklahoma-film-oscar-winner-gray-frederickson-keeps-working-home-state-the-outsiders/5548962001/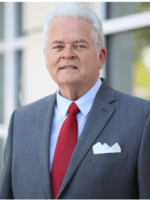 Mark A. Stansberry, Chairman of The GTD Group, is an award-winning author, columnist, film and music producer, radio talk show host and 2009 Western Oklahoma Hall of Fame inductee. Stansberry has written five energy-related books. He has been active in the oil and gas industry for over 44 years, having served as CEO/President of Moore-Stansberry, Inc., and The Oklahoma Royalty Company. He has served as Chairman of the Board of Regents of the Regional University System of Oklahoma, Chairman 2016-2017 of the Gaylord-Pickens Museum/Oklahoma Hall of Fame Board of Directors, Lifetime Trustee of Oklahoma Christian University, and Board Emeritus of the Oklahoma Governor's International Team. He has served on several public and private boards. 
3 Ways Technology is Going to Shape the Oil and Gas Industry
Free to Download Today
Oil and gas operations are commonly found in remote locations far from company headquarters. Now, it's possible to monitor pump operations, collate and analyze seismic data, and track employees around the world from almost anywhere. Whether employees are in the office or in the field, the internet and related applications enable a greater multidirectional flow of information – and control – than ever before.