The Scoop and Stack shale plays of Oklahoma may not be as prolific as the Permian Basin or the Bakken shale play. However, acreages across Kingfisher, Canadian, Blaine, and Grady counties continue to attract sizable interest for hydrocarbon appraisal and development in the Scoop-Stack, according to GlobalData, a leading data and analytics company.
The company's latest report, 'Scoop-Stack Shale in the US, 2020', reveals that the gross crude oil and condensate production from Scoop and Stack shale plays of Oklahoma was 434 thousand barrels per day (mbd) in 2019 – a 5% annual increase. Operators in these plays carried out drilling activities in around 15 counties within the state. Among these, nine counties collectively contributed to around 96% of the total crude oil and condensate production in 2019.
Ravindra Puranik, Oil & Gas Analyst at GlobalData, comments: "Kingfisher County in Oklahoma has been a key hotspot for crude oil and condensate production in the Scoop-Stack shale play over the last few years. It accounted for around 28% of the total crude oil and condensate production in 2019. Encana and Alta Mesa were at the forefront in applying for drilling permits in this county during that year. Blaine and Grady counties were the other major counties for crude oil production in 2019."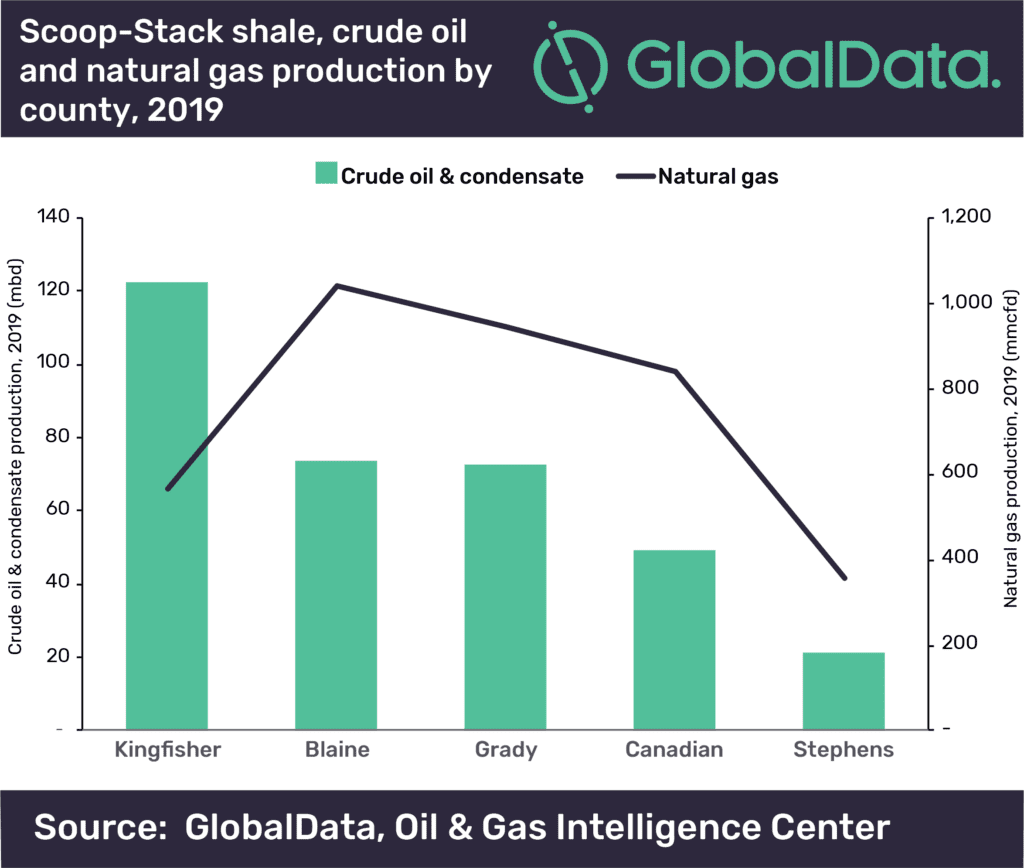 Operators in the Scoop-Stack shale play were also drilling for its vast deposits of natural gas, especially in the Blaine, Grady and Canadian counties. According to the Oklahoma Corporation Commission, the gross natural gas production from the Scoop-Stack formations was 5,079 million cubic feet per day (mmcfd) in 2019 and the three aforementioned counties contributed to over half of this output.
Puranik adds: "Earlier, the Canadian County accounted for the largest production of natural gas from the Scoop and Stack plays. However, since 2018, Blaine County has emerged as a new hotspot for natural gas in this play. Driven by the shale drilling capabilities of operators, such as Continental Resources and Devon Energy, Blaine County contributed around 20% of the total natural gas production from Scoop-Stack in 2019. Continental also led the permit activity in the Grady county throughout 2018-19."
3 Ways Technology is Going to Shape the Oil and Gas Industry
Free to Download Today
Oil and gas operations are commonly found in remote locations far from company headquarters. Now, it's possible to monitor pump operations, collate and analyze seismic data, and track employees around the world from almost anywhere. Whether employees are in the office or in the field, the internet and related applications enable a greater multidirectional flow of information – and control – than ever before.