A total new-build capital expenditure (capex) of US$846bn is expected to be spent globally on planned and announced upstream projects from 2019 to 2025. Royal Dutch Shell Plc leads among all oil and gas companies and is expected to spend US$54.6bn on upcoming upstream projects during the forecast period, according to GlobalData, a leading data and analytics company.
The company's report: 'H1 2019 Global Oil and Gas Upstream Capital Expenditure Outlook by Key Countries and Companies to 2025 – Shell Leads New-Build Upstream Capex Outlook among Companies' reveals that Gazprom and Exxon Mobil Corp are the next top spenders with new-build capex of US$49.8 billion and US$43 billion, respectively.
Soorya Tejomoortula, Oil & Gas Analyst at GlobalData, comments: "Shell has spread its new-build capex for the development of 60 upcoming upstream projects. This will further aid the company to expand its scale, and increase production and cash flows."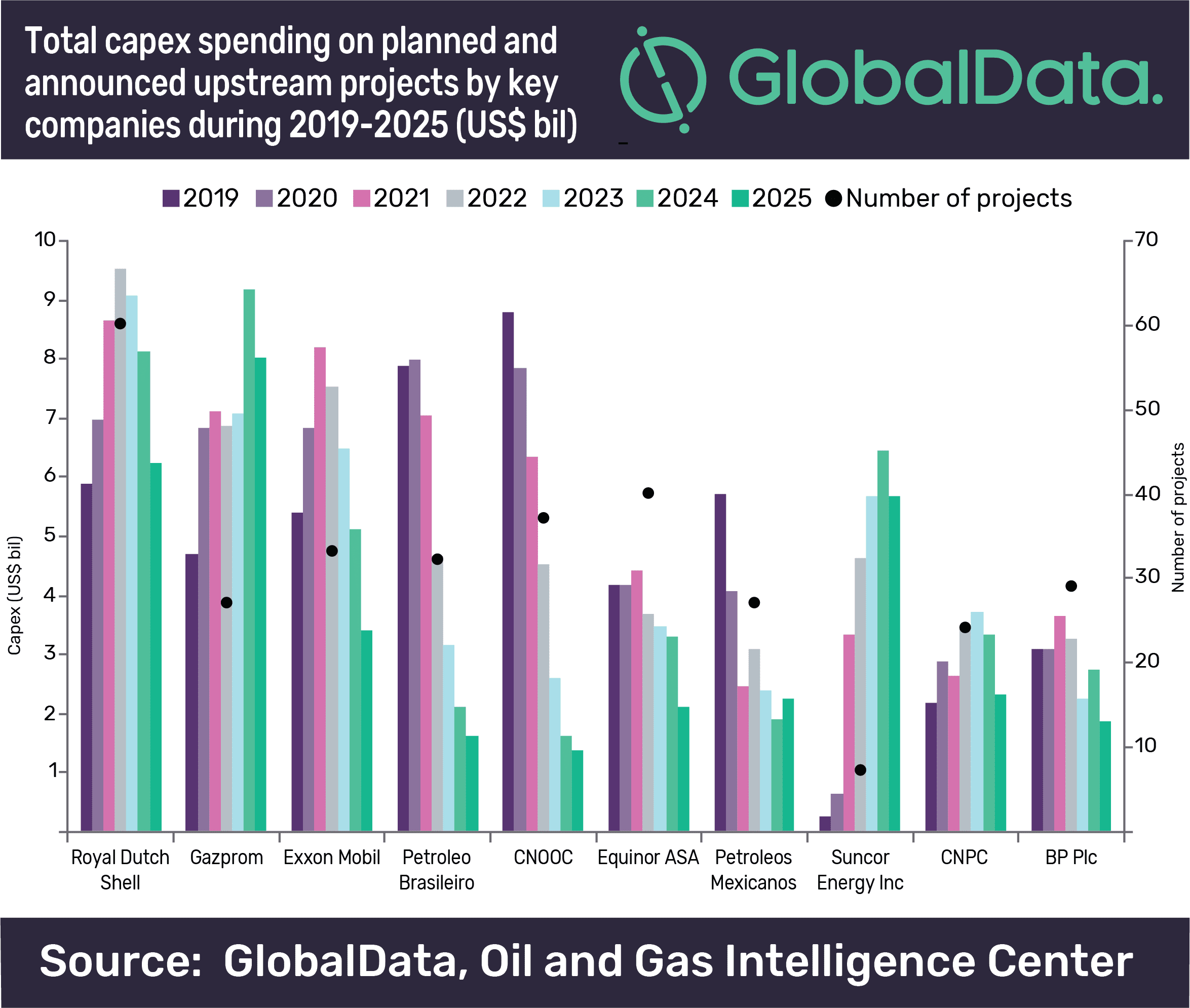 GlobalData identifies Canada, Russia, and the US as the top countries in terms of new-build capex to be spent on planned and announced upstream projects during the outlook period. Canada tops the list with capex of around US$107.7bn. Russia and the US together will spend around US$143.8bn on planned and announced upstream projects, from 2019 to 2025.
Globally among the planned and announced upstream projects, Golfinho-Atum Complex in Mozambique has the highest capex spending of US$16.8bn  between 2019 and 2025. Voyageur South (Suncor Energy Inc.) project in Canada, and Mamba Complex project in Mozambique follow with an estimated capex spending of US$15.8bn and US$14.8bn, respectively during the outlook period.
About GlobalData
4,000 of the world's largest companies, including over 70% of FTSE 100 and 60% of Fortune 100 companies, make more timely and better business decisions thanks to GlobalData's unique data, expert analysis and innovative solutions, all in one platform. GlobalData's mission is to help our clients decode the future to be more successful and innovative across a range of industries, including the healthcare, consumer, retail, technology, energy, financial and professional services sectors.
3 Ways Technology is Going to Shape the Oil and Gas Industry
Free to Download Today
Oil and gas operations are commonly found in remote locations far from company headquarters. Now, it's possible to monitor pump operations, collate and analyze seismic data, and track employees around the world from almost anywhere. Whether employees are in the office or in the field, the internet and related applications enable a greater multidirectional flow of information – and control – than ever before.