#TalkTexasOil Media Group will broadcast live from the Irving Convention Center on several social media channels including Periscope, Instagram, and Twitter on April 2 and 3, 2019 to highlight Texas Alliance of Energy Producers Annual Meeting and Expo.
All broadcasts can be watched on @talktexasoil social media channels.
Participants can view live interviews with influential Texas Energy leaders including the following speakers.  Our team has been utilizing Periscope since its inception. #TTOlive is lending their expertise and momentum to this event because it is an inclusive event engaging ALL levels of leadership. Tickets to this event range from $40 to $80 which allows all levels to engage.   
Our team has added enthusiasm because Texas Alliance has extended a complimentary membership and expo tickets to ALL students who are currently interested in various classes studying fossil fuel disciplines. Those fields include, but are not limited to the following: land, geology, engineering, energy management, law, physics, or business management. This $300 value is provided complimentary from the Board of Directors of the Texas Alliance and Expo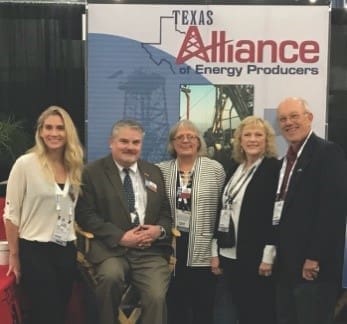 sponsors including Basic Energy, Phillips 66 and others. Other complimentary events include the 9:30 a.m. April 3 Water Discussion following Texas Railroad Commissioner Ryan Sitton's breakfast speech.
Tuesday, April 2  1:00 pm. – this is the opening to the entire annual meeting and Expo, the first program in General Session.
Moderator: Karr Ingham, Petroleum Economist, Texas Alliance of Energy Producers
Dr. R. Dean Foreman is API's chief economist, specializing in energy and global business. With a Ph.D. in economics from the University of Florida, he came to API from Saudi Aramco Strategy & Market Analysis in Dhahran, where he managed short-term market monitoring and the long-term oil demand outlook. Foreman has more than 20 years of industry experience in corporate strategic planning, forecasting, finance / risk management and regulatory policy at ExxonMobil, Talisman Energy and Sasol North America.
Dr. Mine Kuban Yücel is Senior Vice President and Senior Research Advisor at the Federal Reserve Bank of Dallas. She joined the Bank in 1989 and has previously served as director of research, head of the micro/regional/energy group and director of publications. She is an expert on regional and energy issues and has published numerous articles on energy and regional growth.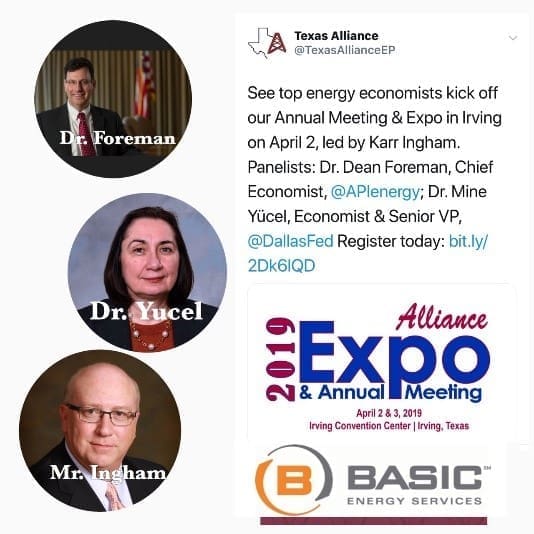 Yücel is the immediate past president of the National Association for Business Economics. She serves on the board of the Global Interdependence Center, and the University of Texas at Dallas Energy Board. She was president of the International Association of Energy Economics (IAEE) in 2011 and president of the United States Association of Energy Economics (USAEE) in 2005. She has served on the executive boards of these two organizations, as well as Executive Women of Dallas, Dallas Area Business Economists, the Dallas Chapter of Women in Technology International, Inc. and the Greater Dallas Chamber's Board of Economists. She received the USAEE Senior Fellow Award in 2007, the Energy Journal Best Paper Award in 2009 and the Outstanding Contributions to the IAEE Award in 2015.
Before joining the Bank, she was an assistant professor of economics at Louisiana State University. She has a BS and MS in mathematics from Bogazici University in Istanbul, Turkey, and a PhD in economics from Rice University in Houston.
#TalkTexasOil or (#TTOLive) has an organic following of individuals who represent a broad spectrum of professionals from rig hands to executives. #TTO live broadcasts help other #fossilfuel journalists build their stories and connect with influential global leaders in oil and gas development.
3 Ways Technology is Going to Shape the Oil and Gas Industry
Free to Download Today
Oil and gas operations are commonly found in remote locations far from company headquarters. Now, it's possible to monitor pump operations, collate and analyze seismic data, and track employees around the world from almost anywhere. Whether employees are in the office or in the field, the internet and related applications enable a greater multidirectional flow of information – and control – than ever before.