The U.S. is set to drive most of the liquids storage capacity growth in North America with its planned and announced (new-build) terminals, contributing around 85 percent of the regions' total growth between 2019 and 2023, says GlobalData, a leading data, and analytics company.
The company's report, Liquids Storage Industry Outlook in North America to 2023 – Capacity and Capital Expenditure Outlook with Details of All Operating and Planned Terminals, reveals that the U.S. is expected to have new-build liquids storage capacity of 14.5 million cubic meters (mmcm) by 2023. Planned projects account for 70 percent of the new-build capacity additions in the region, while early-stage announced projects account for the remaining total.
Varun Ette, Oil and Gas Analyst at GlobalData, comments: "In the U.S., 30 planned and announced liquids storage terminals are expected to start operations during 2019 to 2023. Of these, Plaquemines has the highest storage capacity of 3.2 mmcm and is scheduled to start in 2020."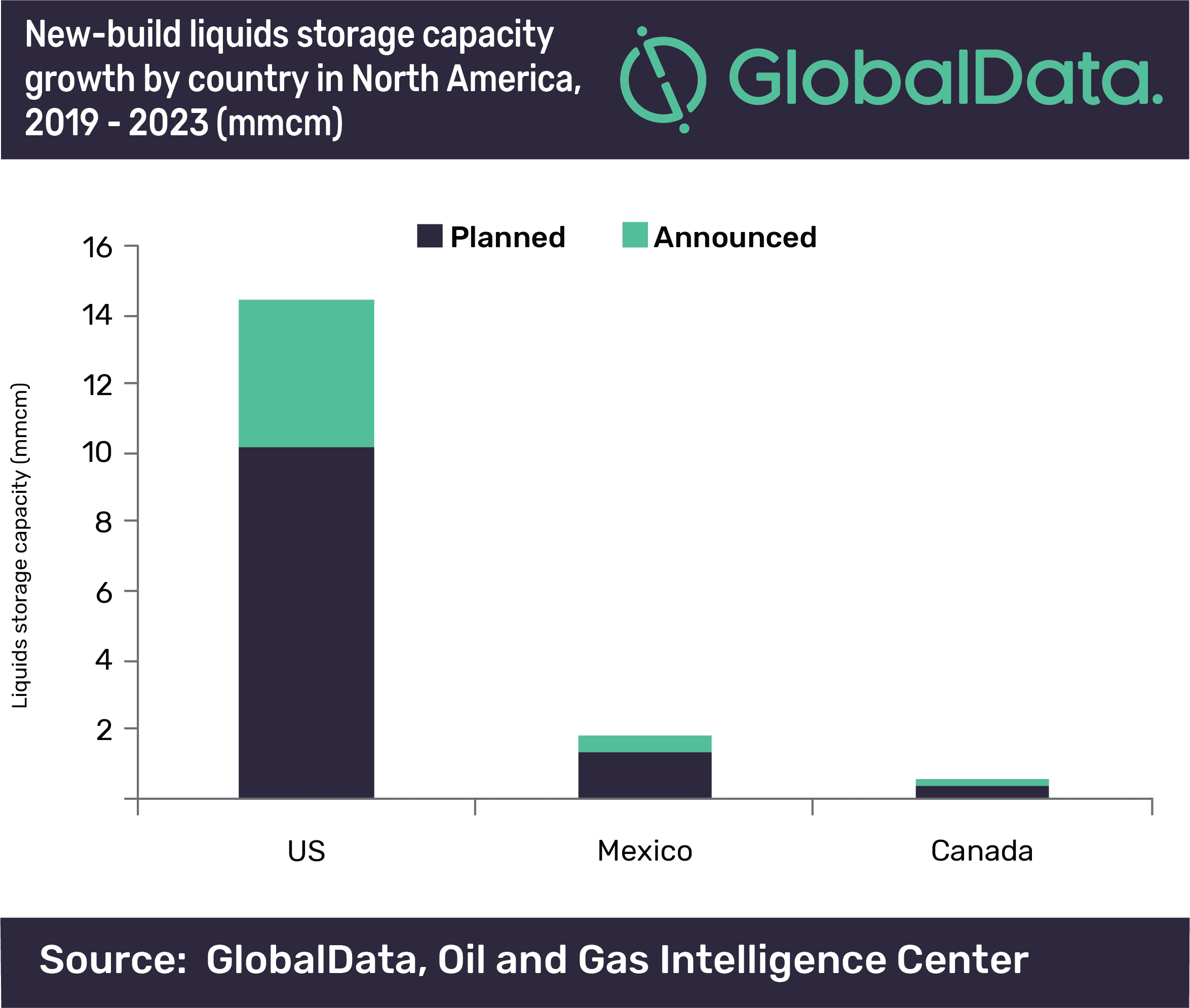 Following the U.S., GlobalData identifies Mexico as the second highest contributor to the liquids storage capacity growth in North America with a new-build capacity of 1.9 mmcm by 2023. The country is expected to witness the start of 14 new-build terminals by 2023. Of these, eight terminals are planned with a capacity of 1.4 mmcm and the remaining six terminals are early-stage announced projects.
Ette concludes: "Canada is expected to begin operating three liquid storage terminals by 2023 with a total capacity of 0.6 mmcm."
About GlobalData
4,000 of the world's largest companies, including over 70% of FTSE 100 and 60% of Fortune 100 companies, make more timely and better business decisions thanks to GlobalData's unique data, expert analysis, and innovative solutions, all in one platform. GlobalData's mission is to help our clients decode the future to be more successful and innovative across a range of industries, including the healthcare, consumer, retail, technology, energy, financial and professional services sectors.
3 Ways Technology is Going to Shape the Oil and Gas Industry
Free to Download Today
Oil and gas operations are commonly found in remote locations far from company headquarters. Now, it's possible to monitor pump operations, collate and analyze seismic data, and track employees around the world from almost anywhere. Whether employees are in the office or in the field, the internet and related applications enable a greater multidirectional flow of information – and control – than ever before.