Challenge
Tasked with transferring water from settling ponds to a frac pond, a specialist water provider to oil and gas drilling companies needed a pump capable of handling a complex operation through a seven-mile-long steel pipeline. The mid-Western U.S. project called for a solution capable of handling a challenging dynamic head of 680 feet (295 psi).
This ultrahigh requirement often requires transferring water through a carefully coordinated series of pumps which adds ancillary equipment and increases energy consumption. The team required something different and turned to Xylem to find a more efficient solution.
After contacting their local Xylem team, the Godwin HL270M Dri-Prime® pump proved the best fit. 
Solution
"When pumping water out of a mine or a settling pond, you are not usually dealing with clean water. You can control for those conditions to a certain degree, but it is a rough life for a pump. Our customers choose Godwin pumps because they want durability and 24/7 reliability," Jon Craig, application engineer at Xylem, says.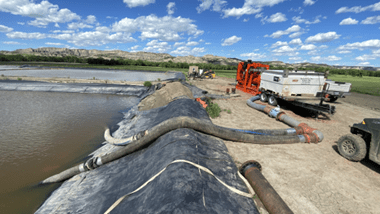 With a maximum head capacity of 984 feet, the Godwin HL270M is designed to remove water from deep mines or transfer water over long distances without the need to operate pumps in series. The durable, high-pressure pump is built with hardened wear parts and plates to operate reliably in tough conditions.
Alongside efficiency and durability, economical fuel consumption was a key factor for the customer in selecting the Godwin HL270M pump. Its fully automatic, self-priming capabilities simplify operations and an enclosed impeller design delivers hydraulic efficiency of up to 70 percent.
The HL270M is available in diesel and electric-driven package pump sets and can be retrofitted to existing engines and bases to maximize a customer's investment. Another cost-effective option, especially for temporary projects, can be to rent anS HL270M pump.
Results
Compared to operating two pumps in a series, the HL270M pump saved the customer 15-20% in diesel costs.
Since the customer began using the HL270M pump, it has operated trouble-free for more than 1,400 hours. The pump's Godwin PrimeGuard 2 controller is fitted with Field Smart Technology – an advanced telemetry and cloud-based monitoring and control system – automatically alerts operators about any issue with the potential to develop into a problem. This enables operators to focus on other tasks without constantly worrying about pump performance.
"Xylem's engineers worked closely with us to find the correct pump to meet our duty points and supply demands," the customer said. We've been satisfied from day one with their communication and efficiency."
Project highlights:
Cutting energy costs by 15-20 percent
Trouble-free operation for 1,400+ hours to date
Automatic monitoring & control supports reliability and frees staff to focus on other tasks
Solutions:
Godwin HL270M Dri-Prime® pump
Godwin PrimeGuard 2 controller fitted with Field Smart Technology (FST)
Headline image: With a maximum head capacity of 984 feet, the Godwin HL270M is designed to remove water from deep mines or transfer water over long distances.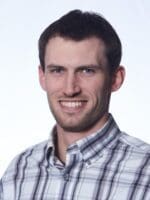 Jon Craig joined Xylem at the start of 2018 as a dewatering application engineer based out of Helena, Montana. He supports the sales team with technical pump setup, operation and controls solutions for both municipalities and construction. Before Xylem, Craig worked in the construction and mining industry as a project engineer, and has worked in the construction and industrial sector for the last 10 years. Craig has a BS in civil engineering from Montana Tech.
3 Ways Technology is Going to Shape the Oil and Gas Industry
Free to Download Today
Oil and gas operations are commonly found in remote locations far from company headquarters. Now, it's possible to monitor pump operations, collate and analyze seismic data, and track employees around the world from almost anywhere. Whether employees are in the office or in the field, the internet and related applications enable a greater multidirectional flow of information – and control – than ever before.