China will continue to lead the global propylene capacity growth with highest planned capacity additions over the next nine years, according to leading data and analytics company GlobalData. Asia and the Middle East will drive most of the global market growth with the majority of the planned and announced plants slated to come online in both these regions over the outlook period.
The company's latest report, 'Q2 2018 Quarterly Global Propylene Capacity and Capital Expenditure Outlook – China Continues to Drive Global Capacity Growth,' forecasts that the global propylene capacity is poised to see considerable growth over the next nine years from 121.3 million tons per annum (mtpa) in 2017 to 148.1 mtpa in 2026.
Within Asia, China is forecast to possess a total capacity of about 10 mtpa by 2022 with 31 planned and announced propylene plants. Capital expenditure (capex) for these plants will be US$5.63bn. Major capacity additions will be from Oriental Energy, followed by Zhejiang Petrochemical.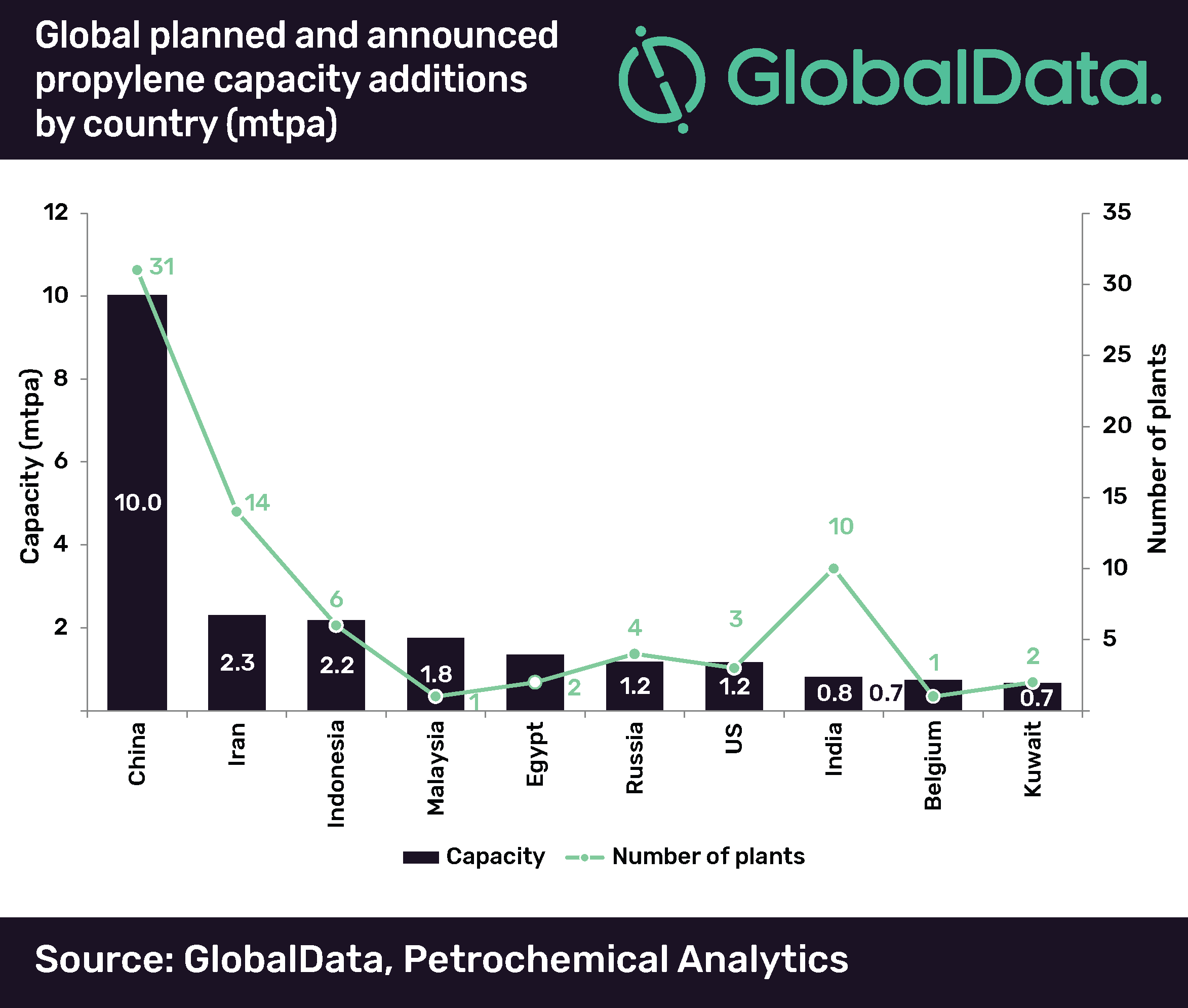 Dayanand Kharade, Petrochemicals Project Manager at GlobalData, says: "China will dominate the global propylene market in the mid-term with both the biggest number of new projects and the largest absolute capacity expansion driven by economic growth. The country is forecast to account for 65% of the Asian capacity addition and 39% of the global capacity addition during the outlook period.
"The global propylene industry will witness expansion of coal-based propylene capacity with the construction of many MTP plants in China. Globally there are currently 19 MTP plants, most of which are situated in China, which use methanol feedstock derived from domestically available coal. Since China has one of the largest coal reserves in the world, producers can readily obtain coal for propylene production. The availability of methanol production units also creates an environment conducive to the use of MTP plants. This has encouraged potential investors to invest in MTP plants and has resulted in many new announcements of planned propylene plants. It is forecast that China will build 13 more MTP plants in the next five years."
In the Middle East, Iran has 14 planned and announced propylene plants with total capacity of around 2.3 mtpa. They are expected to commence operations by 2024. Capex for these plants totals US$2.24bn over the next eight years. Major capacity additions will be from The National Petrochemical Company.
In the Former Soviet Union, most propylene capacity additions will be in Russia, which is forecast to have a capacity of roughly 1.2 mtpa by 2022. Capex for these plants totals US$1.07bn. Far East Petrochemical Company and Sibur Holding are the top companies accounting for the major capacity additions in Russia.
In North America, the US is forecast to spend US$0.9bn on three planned and announced propylene plants, which will have a capacity of approximately 1.2 mtpa, over the next eight years. Major capacity additions will be from Formosa Plastics Group.
In South America, Bolivia tops with planned and announced propylene capacity additions of around 0.4 mtpa by 2021. Capex for these plants totals US$0.34bn. In Africa, Egypt plans to spend US$1.30bn and add capacity of around 1.4 mtpa, which is expected to come on-stream by 2021.
In Europe, Belgium plans to spend US$0.71bn on capacity addition of 0.7 mtpa, which is expected to come on-stream by 2021.
About GlobalData
4,000 of the world's largest companies, including over 70% of FTSE 100 and 60% of Fortune 100 companies, make more timely and better business decisions thanks to GlobalData's unique data, expert analysis and innovative solutions, all in one platform. GlobalData's mission is to help our clients decode the future to be more successful and innovative across a range of industries, including the healthcare, consumer, retail, technology, energy, financial and professional services sectors.
3 Ways Technology is Going to Shape the Oil and Gas Industry
Free to Download Today
Oil and gas operations are commonly found in remote locations far from company headquarters. Now, it's possible to monitor pump operations, collate and analyze seismic data, and track employees around the world from almost anywhere. Whether employees are in the office or in the field, the internet and related applications enable a greater multidirectional flow of information – and control – than ever before.