Gov. Doug Burgum and U.S. Senator John Hoeven met with President Donald Trump at the White House, highlighting the benefits of state-federal partnerships to North Dakota's COVID-19 response and recovery efforts and the need for continued federal support to fully execute the state's testing strategy.
During the White House meeting with President Trump and Colorado Gov. Jared Polis, Burgum thanked the president for his and Vice President Mike Pence's leadership throughout the pandemic and for the administration's partnership in addressing testing, personal protective equipment, economic relief for citizens and businesses, and other COVID-19 impacts.
"We appreciate the opportunity to share our coronavirus successes and challenges with President Trump, whose partnership has been instrumental to our whole-of-government approach to saving lives and livelihoods during this pandemic," Burgum said. "We're deeply grateful for the tireless efforts of the administration and our congressional delegation that have helped us slow the spread of COVID-19 and implement our ND Smart Restart plan. Our top priority remains the health and safety of all North Dakotans, and we look forward to continued collaboration with President Trump and all our federal partners."
Burgum highlighted that North Dakota has the nation's second-highest per capita testing rate, at nearly 63 tests per 1,000 people, as well as its fifth-lowest rate of positive tests, which he credited to North Dakotans exercising individual responsibility and practicing social distancing to slow the spread. However, he also noted a Red River Valley COVID-19 Task Force has been formed to specifically address concerns about a growing concentration of COVID-19 cases in Cass County.
Burgum thanked the president for testing resources provided by the federal government so far and asked for continued support to ensure North Dakota can fully execute its aggressive strategy for testing and contact tracing. Also attending the meeting were Dr. Deborah Birx, the White House coronavirus response coordinator; Interior Secretary David Bernhardt, who visited North Dakota last October; U.S. Sens. John Hoeven of North Dakota and Cory Gardner of Colorado; and North Dakota Commerce Commissioner Michelle Kommer.
Burgum also emphasized the ongoing need for assistance for North Dakota's agriculture and energy industries to continue to be able to feed and power the world.
The governor expressed his gratitude for the close collaboration on COVID-19 with the administration and the congressional delegation of Hoeven, Sen. Kevin Cramer and Congressman Kelly Armstrong. Among the assistance provided so far:
President Trump approved the state's request for a major presidential disaster declaration on April 1, ordering federal assistance to supplement state, local and tribal recovery efforts in areas affected by COVID-19.
As of last week, the IRS had issued more than 287,000 economic impact payments totaling more than $510 million to eligible individuals in North Dakota.
The Small Business Administration has issued more than $1.7 billion in loans to over 18,400 North Dakota small businesses through loan and funding programs created by the federal Coronavirus Aid, Relief and Economy Security (CARES) Act, passed by Congress and signed by President Trump on March 27.
The State of North Dakota received $1.25 billion from the Coronavirus Relief Fund created by the CARES Act. On Tuesday, the state Emergency Commission, chaired by Burgum, approved using $524.2 million of the money, with additional requests expected.
The U.S. Department of Education has provided more than $62 million to support K-12 and higher education, while also suspending student loan payments and waiving interest during the emergency.
The U.S. Department of Transportation has allocated more than $34 million in funds for public transportation in North Dakota and over $85 million to help North Dakota airports cover continuing operations and lost revenue.
Between the Administration's Project Air Bridge and the Strategic National Stockpile, the federal government has supplied North Dakota with more than 102,000 N95 masks, 1.5 million surgical and procedural masks, nearly 55,000 eye and face shields, 600,000 isolation/surgical gowns and coveralls, and over 42 million surgical and exam gloves.
The Administration has provided $52.6 million in testing assistance to North Dakota to help the state and tribal nations meeting testing goals.
Senator John Hoeven
 issued the following statement after joining Governor Doug Burgum at the White House for a discussion with President Trump on further efforts at both the federal and state levels to combat the coronavirus disease 2019 (COVID-19) pandemic and safely re-open the economy. Hoeven further emphasized the importance of supporting agriculture and energy producers, stressing that they continue to provide essential goods and services to the nation during this public health emergency.
"North Dakotans are doing a great job in fighting this pandemic, and we appreciate Governor Burgum's leadership throughout this public health emergency as well as President Trump's continued strong support for our state," said Hoeven. "This meeting was an opportunity to review the progress we're making and our ongoing efforts to defeat this disease. We continue working with the administration to provide North Dakota, including our farmers, ranchers, energy producers, health care providers and others in the state, with the necessary resources to advance these important efforts."
For more information on North Dakota's COVID-19 response, visit www.health.nd.gov/coronavirus or www.ndresponse.gov.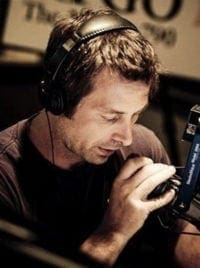 Jason Spiess is a multimedia journalist, entrepreneur and content consultant. Spiess has over 25 years of media experience in broadcasting, journalism, reporting and principal ownership in media companies.  (Over 30 years experience if you count his adolescent years as a newspaper delivery boy learning the importance and logistics of daily distribution and monthly door-to-door bill collecting.) Spiess has worked in the areas of oil and gas, UAS and precision agriculture, health care, cannabis, agriculture, real estate, government affairs and economic development. Spiess is the host of two radio programs, Building the Bakken and Coffee & Capitalism, and three specialty programs, MonDak OilField Review, Corporate Ink and UnStuck, that carry a radio network that spans five states and two countries. Spiess is a North Dakota native and graduated from North Dakota State University.
3 Ways Technology is Going to Shape the Oil and Gas Industry
Free to Download Today
Oil and gas operations are commonly found in remote locations far from company headquarters. Now, it's possible to monitor pump operations, collate and analyze seismic data, and track employees around the world from almost anywhere. Whether employees are in the office or in the field, the internet and related applications enable a greater multidirectional flow of information – and control – than ever before.