Cody Adolphson started living the "crude life" right after high school when he started welding for Westcon at the Marathon Refinery in Mandan, North Dakota.
"When I was 18, I jumped in a welding truck, and went to work," Adolphson says. "I started with Westcon, a local company, and traveled around with them for a while. Built the refinery in Dickinson, worked up in Watford here and there, and then ended up coming back to the refinery."
A second generation welder, Adolphson has been welding since he was 10 years old and, despite entering into knife making, sees it in his future for the rest of his life.
"I've done welding for the past 11 years and knife making kinda caught my eye; one day, I'd like to go full time. That's the goal, but I'll always do some kind of welding in my shop."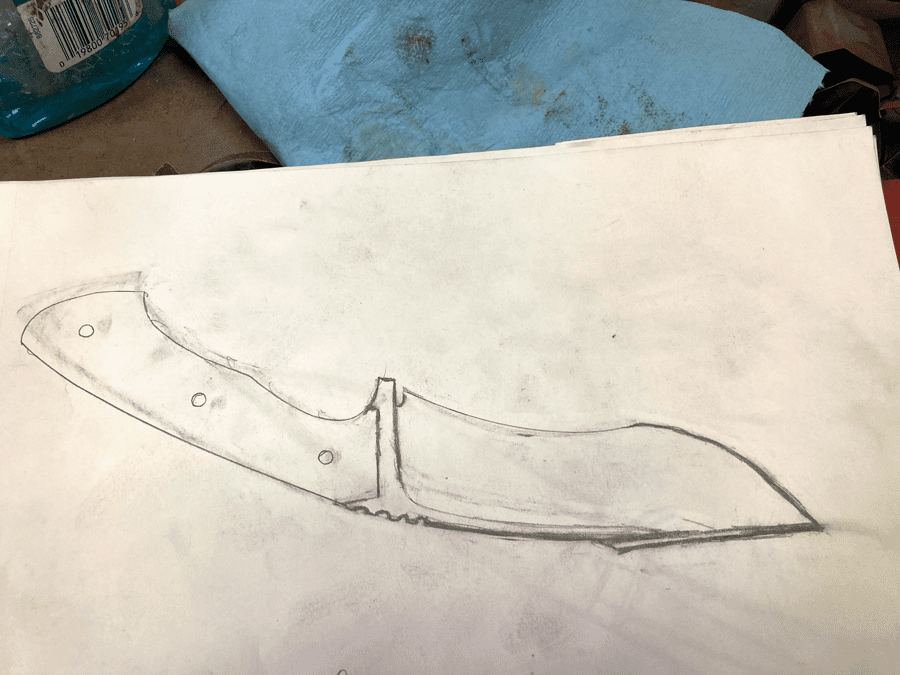 Understanding the foundational opportunities welding can present for an entrepreneur, Adolphson found himself being drawn to the outdoors for the next chapter in life.
"Growing up in North Dakota, I've always been around hunting and always carried a knife. I've always wanted to get into making knives. I am a welder by trade and have been around metal my whole life."
Dipping a toe into the knife-making waters, Adolphson began taking an order here and there while working full time as a pipe welder. It was this part-time forging that opened his eyes to a whole new world of possibilities in the world of bladesmithing.
"I've made handles with meteorites and mammoth tusks. These are "forever knives" and meant to be handed down for generations."
In January 2020, Adolphson became serious about his passion and began learning how to make knives, daggers and swords.
"I got hold of a guy who was a two-time champion on the show and took a class with him in Wisconsin. I just fell in love [with knife making]. I made my first Damascus knife and I was just hooked."
Adolphson's abilities caught the eyes of the producers at The History Channel, too. He recently had an opportunity to compete on Forged in Fire, a competition set to bladesmithing and blacksmithing weapons from specific time periods and cultures.
According to IMDB, Forged in Fire tests some of the best bladesmiths in the industry as they attempt to recreate some of history's most iconic edged weapons. Former Army Ranger Grady Powell hosts the competition series that sees four master bladesmiths in each episode challenged to forge the swords, which are then tested by a panel of judges consisting of J. Neilson, who has been making knives for more than 20 years, hand-to-hand combat specialist Doug Marcaida, and David Baker, an authority on replicating period-accurate weaponry.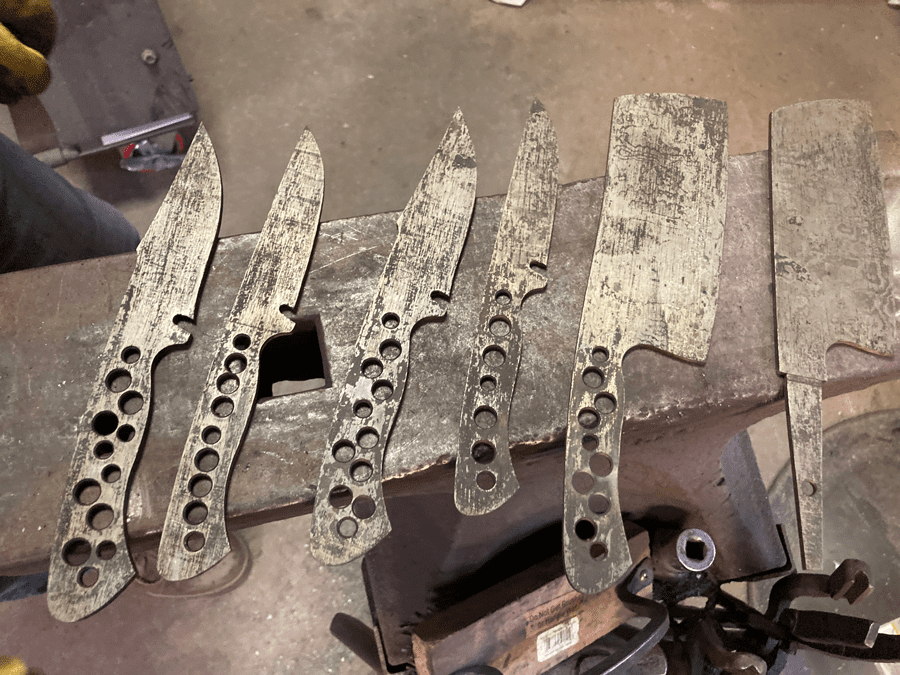 The contestant who survives the elimination rounds and wins the episode's contest earns $10,000 and the title of Forged in Fire champion.
Adolphson survived, was named the winner and took home the $10,000 prize.
"I made a Cinquedea sword. It is an Italian Renaissance era sword that a nobleman carried and it [has] a very wide blade at the base. Cinquedea actually means "five finger blade" [because] the base of the blade is the width of your five fingers."
The championship sword took 32 hours to complete over four days. The show also allows the finalists to return to their "home forge" to forge the final entry.
"I cannot reveal where we were for the show but, for the finale, they were right here in my shop," Adolphson says. "In the final round, the smith goes back to their home forge and makes a weapon from history. Then they bring you back and test it."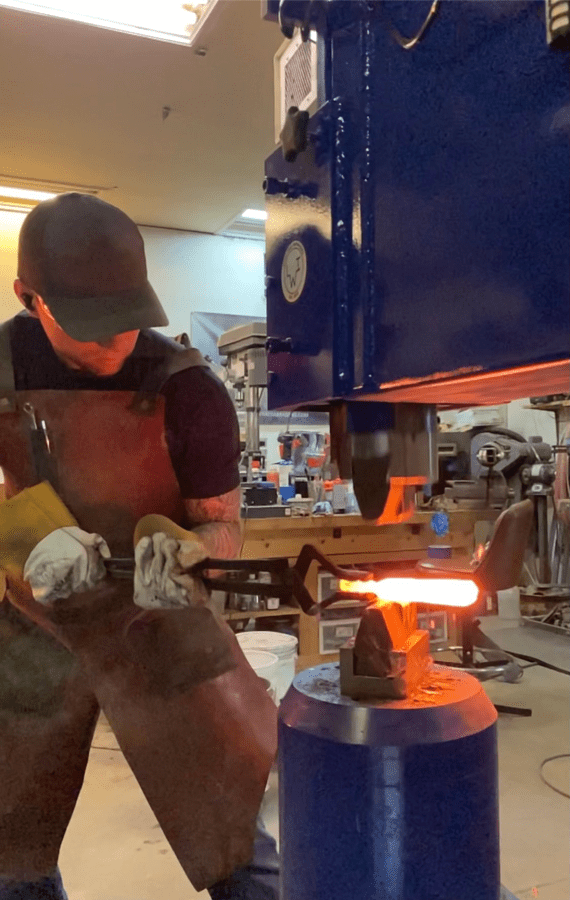 Adolphson survived two preliminary rounds of knife forging before winning the finals, demonstrating his wide array of blacksmithing talents, concentration and artistic creativity.
"The show obviously helped jumpstart my knife-making business," Adolphson says, "and I look forward to forging a new chapter in life."
Photos courtesy of The Crude Life.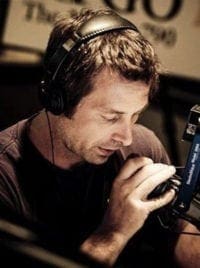 Jason Spiess is a multimedia journalist, entrepreneur and content consultant. Spiess has over 25 years of media experience in broadcasting, journalism, reporting and principal ownership in media companies.  (Over 30 years experience if you count his adolescent years as a newspaper delivery boy learning the importance and logistics of daily distribution and monthly door-to-door bill collecting.) Spiess has worked in the areas of oil and gas, UAS and precision agriculture, health care, cannabis, agriculture, real estate, government affairs and economic development. Spiess is the host of two radio programs, Building the Bakken and Coffee & Capitalism, and three specialty programs, MonDak OilField Review, Corporate Ink and UnStuck, that carry a radio network that spans five states and two countries. Spiess is a North Dakota native and graduated from North Dakota State University.
3 Ways Technology is Going to Shape the Oil and Gas Industry
Free to Download Today
Oil and gas operations are commonly found in remote locations far from company headquarters. Now, it's possible to monitor pump operations, collate and analyze seismic data, and track employees around the world from almost anywhere. Whether employees are in the office or in the field, the internet and related applications enable a greater multidirectional flow of information – and control – than ever before.