The Crude Life's Chief Intention Officer Jason Spiess and mascot FracleBerry Hound recently made a surprise appearance at the Morton County Ag Day in Bismarck, North Dakota, by hosting "Wattage Wednesday" on KLXX SuperTalk 1270's Talk Of The Town and engaging with Future Farmers of America (FFA).
"What a fun day interviewing FFA students, exotic animal farmers and fuel oil drivers at Morton County Ag Day," Spiess says. "It is critical for The Crude Life to continue to interact and listen to [people of] all ages and walks of life."
Spiess interviewed a number of students about raising animals, industry image, especially in regard to energy and agriculture, as well as picking rocks. For the uninitiated, picking rocks is a rite of passage and a popular job every farm kid has. A row of kids – generally consisting of kin, cousins and neighbors – walks the field in front of a tractor with a front loader, bends over when they see a rock bigger than a pea, and throws it into the front loader. The next time you see a pile of rocks next to a farm field, you'll know why it's there.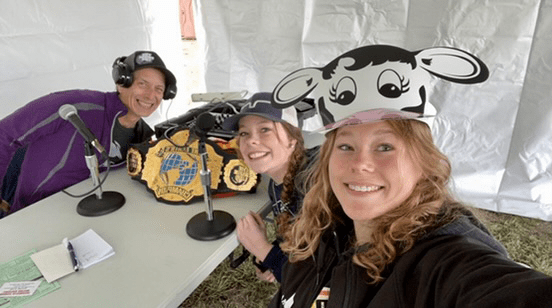 The day kicked off with Spiess interviewing Kara Haff from the North Dakota Department of Agriculture about North Dakota's ag industry, the department's collaboration with students, and how energy is integrated into the process and supply chain. The two even discussed Pumpkin Economics, an entrepreneurial program The Crude Life sponsored in 2015 with Kids and Capitalism.
"Pumpkins are a great way to teach a class on economics, time and maintenance rather than a ten minute video game or hour-long board game," Spiess says. "Our kids were able to literally see their $5 investment and, with a little observation and love, can grow their seed investment into $100 over six months."
There was a bit of excitement when one of the goats climbed over the portable fencing. "Breaking news, folks, we have a goat on the lam," Spiess joked over the airwaves while interviewing Bailey and Mia, the two students who wrangled the goat back into the pen.
Next, Spiess interviewed Alexis and Kaylee, students who have leadership roles in FFA. The two ran down the line-up of activities happening at Ag Day, including a petting zoo, which allowed all attendees to meet, feed and pet the farm animals. There was even a sheep shearing demonstration of shaving the wool off the sheep. There were no chickens allowed at this year's event due to bird flu dangers and issues.
One of the more interesting interviews was with Ben Gerving from the Midwest Alternative Livestock Auctions about his upcoming event. He and Spiess also discussed the exotic animal industry.
"So, to recap, someone starts with a rabbit, then a chicken, a pheasant, then a pig, a llama… until, eventually, they raise cows," Spiess says. "The rabbit is the gateway to the cow or horse. I guess in raising exotic animals you can really go down the rabbit hole."
There was even a dose of reality sprinkled in over the radio and podcast. The FFA students named their three little piglets Bacon, Sausage and Pork Chop, and Ben talked about how a rabbit is really a mammal-sized chicken.
Engaging and interacting with all walks of life are normal when you are Living The Crude Life. FFA's puppet master, Brooklyn, joined Spiess to talk about how the puppet show is used to showcase safety and real life farm situations to the elementary students.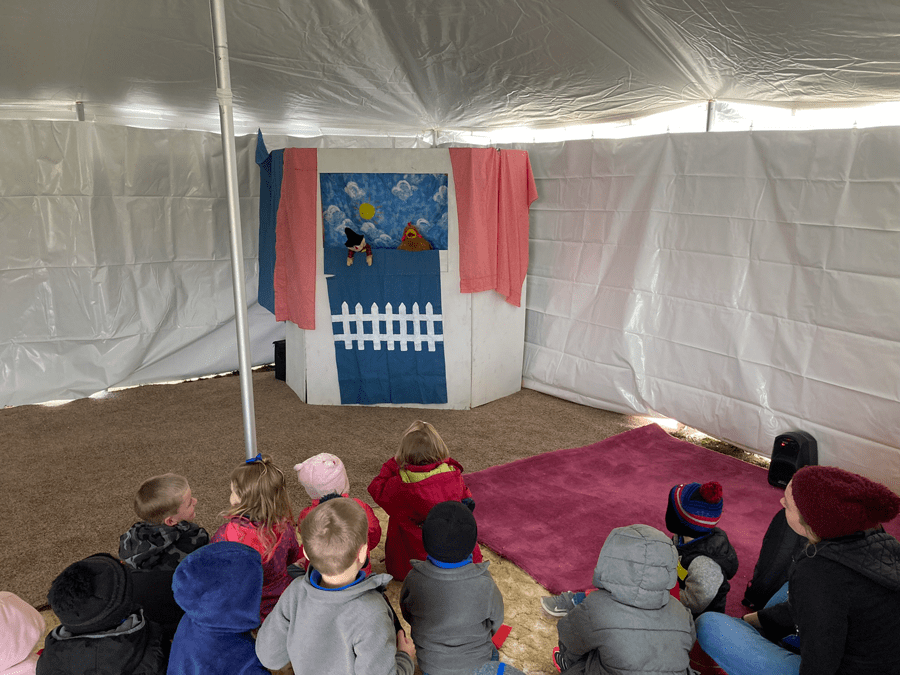 Morton County Ag Day is sponsored by the North Dakota Farm Bureau and attracts more than 3,000 students and adults from all over the county.
KLXX, known as "Super Talk 1270," is a radio station located midway between Mandan and Bismarck, North Dakota. KLXX currently broadcasts with a talk radio format.
Headline photo: The renegade goat who got away, only to be caught.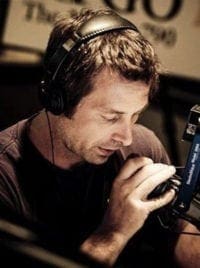 Jason Spiess is a multimedia journalist, entrepreneur and content consultant. Spiess has over 25 years of media experience in broadcasting, journalism, reporting and principal ownership in media companies.  (Over 30 years experience if you count his adolescent years as a newspaper delivery boy learning the importance and logistics of daily distribution and monthly door-to-door bill collecting.) Spiess has worked in the areas of oil and gas, UAS and precision agriculture, health care, cannabis, agriculture, real estate, government affairs and economic development. Spiess is the host of two radio programs, Building the Bakken and Coffee & Capitalism, and three specialty programs, MonDak OilField Review, Corporate Ink and UnStuck, that carry a radio network that spans five states and two countries. Spiess is a North Dakota native and graduated from North Dakota State University.
3 Ways Technology is Going to Shape the Oil and Gas Industry
Free to Download Today
Oil and gas operations are commonly found in remote locations far from company headquarters. Now, it's possible to monitor pump operations, collate and analyze seismic data, and track employees around the world from almost anywhere. Whether employees are in the office or in the field, the internet and related applications enable a greater multidirectional flow of information – and control – than ever before.