Mark J. Lindquist understands the power of timing and networking in North Dakota.  Lindquist shares his experience on how he ended up speaking at the 2016 North Dakota Petroleum Council's annual meeting.
"I didn't necessarily have a foot in the door with the oil and gas industry," Lindquist said. "People in the audience have connections and they say 'my goodness I need that guy to speak at my event'.  Just so happen that Ron Ness, president of the North Dakota Petroleum Council, happen to be in one of my audiences and he said just that."
Lindquist said he felt honored to present his keynote "Passion" to the oil and gas industry during a time when oil prices were low.
Lindquist has shared the stage with former U.S. Attorney General Janet Reno, Senator John McCain, Magic Johnson, Edward James Olmos, Grammy Award winning artists Rihanna, Brooks and Dunn and Brandy, Academy Award nominated actor Liam Neeson, The Band Perry, Craig Campbell, Dierks Bentley, CEO Bob Nardelli (Home Depot), Steve Case (AOL/Time Warner), Ken Thompson (Wachovia), Jeff Swartz (Timberland) and Ben and Jerry (Ben and Jerry's Ice Cream).
Throughout his entertainment career, Lindquist has performed for the Tuskegee Airmen, the Secretary of the Interior Gayle Norton, Secretary of Commerce Don Evans, Secretary of Labor Elaine Chao, Members of Congress, Sargent Shriver, Mia Hamm, Tony Stewart, Jordin Sparks, The Washington Redskins, The Atlanta Falcons, and The New York Giants (NFL), the Florida Panthers (NHL), the Washington Nationals (MLB), the NCAA, Universal Studios and The Supreme Allied Commander of NATO Europe.
Currently, Lindquist travels the country delivering keynote addresses for businesses, colleges, young professionals networks, conferences and school assemblies. He also performs the National Anthem for collegiate and professional sports teams and is the full-time National Anthem singer for the National Champion University of North Dakota Men's Hockey program as well as a guest performer for the College World Series, WE Fest, The Minnesota Twins, The Minnesota Lynx, The Los Angeles Dodgers and The Minnesota Vikings.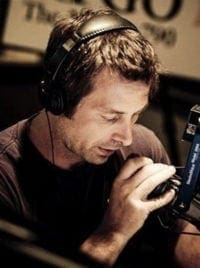 Jason Spiess is a multimedia journalist, entrepreneur and content consultant. Spiess has over 25 years of media experience in broadcasting, journalism, reporting and principal ownership in media companies.  (Over 30 years experience if you count his adolescent years as a newspaper delivery boy learning the importance and logistics of daily distribution and monthly door-to-door bill collecting.) Spiess has worked in the areas of oil and gas, UAS and precision agriculture, health care, cannabis, agriculture, real estate, government affairs and economic development. Spiess is the host of two radio programs, Building the Bakken and Coffee & Capitalism, and three specialty programs, MonDak OilField Review, Corporate Ink and UnStuck, that carry a radio network that spans five states and two countries. Spiess is a North Dakota native and graduated from North Dakota State University.
3 Ways Technology is Going to Shape the Oil and Gas Industry
Free to Download Today
Oil and gas operations are commonly found in remote locations far from company headquarters. Now, it's possible to monitor pump operations, collate and analyze seismic data, and track employees around the world from almost anywhere. Whether employees are in the office or in the field, the internet and related applications enable a greater multidirectional flow of information – and control – than ever before.