Increased recovery projects in Norway will unlock substantial oil resources, driven predominantly by the majority state-owned Equinor, says GlobalData, a leading data and analytics company.
Daniel Rogers, Upstream Oil & Gas Analyst at GlobalData, comments: "Field expansion projects in Norway remain competitive against ongoing planned greenfield developments, and are projected to unlock vast reserves at viable investment levels."
Of the identified expansion projects, Troll Phase 3 will cost the lowest on a capital expenditure (capex) per barrel of oil equivalent (boe) basis. It will target an additional 2.2 billion boe, as well as extend field life by 17 years with a project breakeven price of below US$10 per barrel.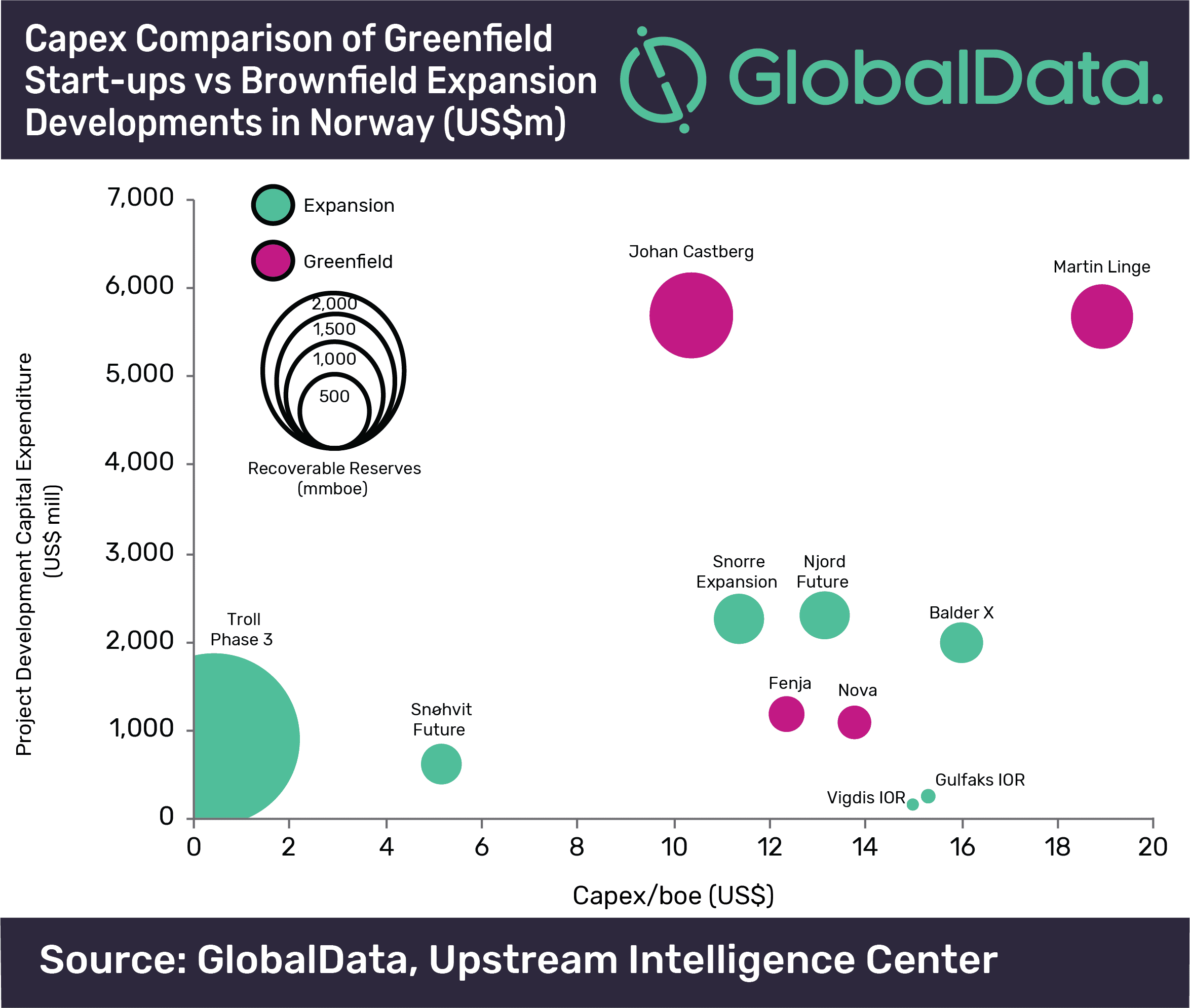 GlobalData's latest research reveals that Norway has the highest number of expansion projects under construction globally, with efforts expected to exceed US$10bn in total capex. National oil companies Petoro and Equinor are set to spend the bulk of upcoming expansion capex, while Wintershall DEA and Var Energi also have significant exposure.
The average oil recovery of producing fields in Norway currently sits around 45 percent, with almost 70 percent for gas fields. These recoveries have been the outcome of advancements in recovery technology coupled with significant investment and government-led initiatives.
Rogers continued: "Norwegian giant Equinor has a strong track record of maximizing recovery from major fields in its home country. The company has been able to achieve greater than 50 percent recovery factors from large fields, including Statfjord and Gullfaks, through enhanced and improved recovery mechanisms. Utilizing innovative technologies, improved production efficiencies, and enhanced recovery practices have been key to Equinor's success in maximizing value from Norwegian fields."
Since 2010, nine enhanced oil recovery (EOR) projects commenced operations off the Norwegian continental shelf, compared to just two in the UK during the same period. Less than 10 percent of fields currently producing in Norway are applying EOR techniques, signifying substantial upside for application across additional fields in an effort to boost remaining value and volumes in the country.
About GlobalData
4,000 of the world's largest companies, including over 70% of FTSE 100 and 60% of Fortune 100 companies, make more timely and better business decisions thanks to GlobalData's unique data, expert analysis and innovative solutions, all in one platform. GlobalData's mission is to help our clients decode the future to be more successful and innovative across a range of industries, including the healthcare, consumer, retail, financial, technology and professional services sectors.
3 Ways Technology is Going to Shape the Oil and Gas Industry
Free to Download Today
Oil and gas operations are commonly found in remote locations far from company headquarters. Now, it's possible to monitor pump operations, collate and analyze seismic data, and track employees around the world from almost anywhere. Whether employees are in the office or in the field, the internet and related applications enable a greater multidirectional flow of information – and control – than ever before.