In an open letter to 2020 Democratic presidential candidates printed in today's New York Times, 54 executives from the western oil and natural gas industry forcefully pushed back against months of claims that they are corrupt criminals who should be jailed. The full-page advertisement placed by Western Energy Alliance, an oil and natural gas trade association, responds to statements that have gone unchallenged by Sen. Bernie Sanders, Vice President Joe Biden and Sen. Elizabeth Warren by explaining the environmental and life-sustaining benefits of oil and natural gas.
Sen. Bernie Sanders calls oil and natural gas executives criminal. Vice Pres. Joe Biden wants us in jail. Senator Elizabeth Warren calls us corrupt.
We, the undersigned executives, would be criminal not to produce oil and natural gas.
Dear Presidential Candidates,
It would be criminal not to produce the reliable, affordable energy that keeps people warm in the winter, cool in the summer, and gets them to school to learn and work to provide for their families. Without our energy, the lights go dark, and smart phones go silent. Medicines and medical devices cease to cure the sick and injured. Food cannot be grown and grocery store shelves go bare.
We're proud to provide the power and raw materials to manufacture the goods Americans use every day, from clothes and shoes to anything with a computer chip. Currently there are no alternatives that do everything that oil and natural gas do. We continue to innovate to produce more energy, reduce costs for consumers, and lessen environmental impact.
The clean-burning natural gas we produce helps improve air quality and lowers greenhouse gas emissions. Greater use of natural gas electricity is the number one reason the United States has reduced more greenhouse gas emissions than any other country. By exporting our clean, abundant natural gas, we can help lift out of poverty the one billion people worldwide without access to electricity.
Were we to be prosecuted, as you promise, and forced to stop providing our life-sustaining products, 10.3 million jobs and hundreds of billions of dollars would be sent overseas to import the energy that Americans rely on. So we will continue to produce the environmentally responsible energy that powers America and enables a healthy, safe, and modern way of life.
Sincerely,
David W. Ballard, President, Ballard Petroleum Holdings, LLC
Stephen Barnes, President, Breck Energy Corp.
Rob Bayless, Executive Manager, Robert L. Bayless, Producer LLC
Chris Beato, CEO, Exaro Energy III, LLC
Ryan Birkenfeld, CEO, Northwoods Energy, LLC
Robert S. Boswell, Chairman & CEO, Laramie Energy, LLC
Jim Brown, CEO, PetroStar Services, LLC
Ted D. Brown, President & CEO, Confluence Resource LP
Tony Buchanon, President & CEO, Crestone Peak Resources
Andrew Calerich, CEO, Thunder Basin Resources, LLC
Alex Campbell, Chairman, Western Energy Alliance
Collis Chandler III, President, Chandler Energy, LLC
Dragan Cicvaric, CEO & President, Patriot Well Solutions
Robert J. Clark, Chairman, 3Bear Energy, LLC
Bryce Conway, President & CEO, Flex-Chem Corporation
Michael Decker, COO, Altamont Energy, LLC
Christopher Frain, CEO, Rolfson Oil, LLC
Rich Frommer, President & CEO, Great Western Petroleum, LLC
Robert Gardner, President & CEO, Elk Mesa Energy, LLC
Eric Greager, President & CEO, Bonanza Creek Energy, Inc.
Harold Hamm, Executive Chairman, Continental Resources
David L. Herbaly, Manager, Herbaly Exploration LLC
Roger Hutson, President & CEO, HRM Resources III, LLC
Danny Jimenez, CEO, Gradiant Energy Services
David Knapp, President, Knapp Oil Corp.
William D. Lancaster, President, GMT Exploration Company, LLC
Don Law, President, Prima Exploration
David Lehman, President & CEO, DJR Energy
James S. McAda, President, McAda Drilling Fluids, Inc.
Jerry McHugh, Jr., President, San Juan Resources, Inc.
Charles S. McNeil, Chairman & CEO, NexGen Resources Corporation
T. Greg Merrion, President, Merrion Oil & Gas
Salar Nabavian, CEO, ARSI Energy, LLC.
Kurt Nelson, President, Chaco Energy Company
Eric Noblitt, Partner, Stonegate Resources LLC
Nicholas Noppinger, CFO, Flatirons Field Services
Mike O'Shaughnessy, Chairman & CEO, Lario Oil & Gas Company
C. Mark Pearson, CEO & President, Liberty Resources, LLC
Kyle K. Rhodes, President & CEO, PESCO
Kim Rodell, President, Upstream Petroleum Management, Inc.
James Schroeder, Managing Partner, Mesa Energy Associates LLC
Kathleen Sgamma, President, Western Energy Alliance
Steve Skinner, President & CEO, Ursa Resources Group II, LLC
George H. Solich, President & CEO, FourPoint Energy, LLC
Daryl Stewart, President, Stewart Petroleum Corporation
Steve Struna, President & CEO, Bayswater
Adam S. Tesanovich, Chief Commercial Officer, Eagle Pipe, LLC
Jeff Vaughan, President & CEO, Tracker Resource Development LLC
Jack Vaughn, Chairman & CEO, Peak Exploration and Production, LLC
Whitney Wickes, COO, Rocking WW Minerals
R. Heggie Wilson, Partner, Stonegate Resources LLC
Jack Wold, CEO, Wold Energy Partners, LLC
R. Scot Woodall, CEO & President, HighPoint Resources
Chris Wright, CEO, Liberty Oilfield Services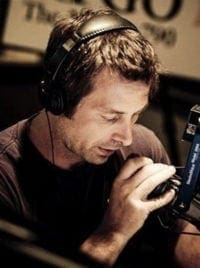 Jason Spiess is a multimedia journalist, entrepreneur and content consultant. Spiess has over 25 years of media experience in broadcasting, journalism, reporting and principal ownership in media companies.  (Over 30 years experience if you count his adolescent years as a newspaper delivery boy learning the importance and logistics of daily distribution and monthly door-to-door bill collecting.) Spiess has worked in the areas of oil and gas, UAS and precision agriculture, health care, cannabis, agriculture, real estate, government affairs and economic development. Spiess is the host of two radio programs, Building the Bakken and Coffee & Capitalism, and three specialty programs, MonDak OilField Review, Corporate Ink and UnStuck, that carry a radio network that spans five states and two countries. Spiess is a North Dakota native and graduated from North Dakota State University.
3 Ways Technology is Going to Shape the Oil and Gas Industry
Free to Download Today
Oil and gas operations are commonly found in remote locations far from company headquarters. Now, it's possible to monitor pump operations, collate and analyze seismic data, and track employees around the world from almost anywhere. Whether employees are in the office or in the field, the internet and related applications enable a greater multidirectional flow of information – and control – than ever before.