Interview: Blu Hulsey, Senior Vice President of Government Relations and Regulatory Affairs, Continental Resources
Continental Resources, Inc. recently announced its first-ever sale of Bakken oil specifically for delivery overseas. Continental Resources has sold 1,005,000 barrels of crude oil for November delivery to Atlantic Trading and Marketing ("ATMI"), which intends to export the oil to China.
Continental Resources is a top 15 independent oil producer in the U.S. Lower 48 and a leader in America's energy renaissance. Based in Oklahoma City, Continental is the largest leaseholder and one of the largest producers in the nation's premier oil field, the Bakken play of North Dakota and Montana. The Company also has significant positions in Oklahoma, including its SCOOP Woodford, SCOOP Springer and SCOOP Sycamore discoveries and the STACK plays.
According to Continental Resources, the daily November sales transactions of 33,500 barrels-per-day, will take place in Cushing, Oklahoma. ATMI then plans to transport the oil for loading on tankers at Texas ports.
This export of crude oil overseas marks another chapter in a long story of creating an American energy market for the planet.
Blu Hulsey, Senior Vice President of Government Relations and Regulatory Affairs, Continental Resources, said the export issue was something the industry worked on collectively for a number of years, but he recalls the last couple of years which added pressure seemed to pay off.
"We worked really hard on that in 2015," Hulsey said. "The artificial difference between world price and Brent price WTI, that was really something that allowed us to go to capital hill to talk about our need to gain world market and talk about one disadvantage that was putting US producers to world producers.
Many in the industry believe the current $6 discount to Brent should not exist because of the consistency and high quality of WTI, as well as relative shipping costs.
Furthermore, stabilized U.S. production and increasing industry sales of American crude to international markets will drive down U.S. inventories, correcting much of the recent disparity between Brent and WTI prices.  Modern modes of transport in the crude oil sector today eliminate price disparities between markets and allow free markets to work.
Hulsey sees this overseas contract as a benefit for not only the producer, but the consumer as well.
"The ability for us to get long term contracts with not only refineries in the US, but as well as refineries around the world, it puts producers in the driver's seat of where we are going from an energy perspective," Hulsey said. "That's really beneficial as we talk about long term energy security, long term energy dominance the Trump administration has talked before about what that means for jobs and our economy and obviously just energy to do economic activity in our country."
Hulsey added that these relationships will also give the United States new allies and customers.
"As we continue to do things from a development standpoint, finding those markets, ensuring that we have those buyers so we can as Americans enter into partnerships to provide energy to other parts of the world and create allies through energy development is a key part or geopolitical improvement in what our country is going to do," Hulsey said. "That will benefit both the producers and the consumers."
Hulsey also talks about other shale plays that Continental Resources are involved in, including the SCOOP and STACK plays.  Technology, natural gas and right-sizing through a downturn are also discussed in the exclusive interview.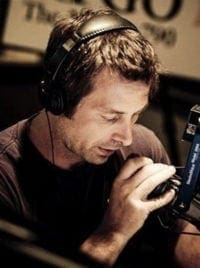 Jason Spiess is a multimedia journalist, entrepreneur and content consultant. Spiess has over 25 years of media experience in broadcasting, journalism, reporting and principal ownership in media companies.  (Over 30 years experience if you count his adolescent years as a newspaper delivery boy learning the importance and logistics of daily distribution and monthly door-to-door bill collecting.) Spiess has worked in the areas of oil and gas, UAS and precision agriculture, health care, cannabis, agriculture, real estate, government affairs and economic development. Spiess is the host of two radio programs, Building the Bakken and Coffee & Capitalism, and three specialty programs, MonDak OilField Review, Corporate Ink and UnStuck, that carry a radio network that spans five states and two countries. Spiess is a North Dakota native and graduated from North Dakota State University.
3 Ways Technology is Going to Shape the Oil and Gas Industry
Free to Download Today
Oil and gas operations are commonly found in remote locations far from company headquarters. Now, it's possible to monitor pump operations, collate and analyze seismic data, and track employees around the world from almost anywhere. Whether employees are in the office or in the field, the internet and related applications enable a greater multidirectional flow of information – and control – than ever before.