There is an idea behind any startup. So, the story about how to make an oil field services startup successful should start with the idea. The key assets of any oil and gas company are wells, both drilled and future. The quality of the decisions to be made by an upstream company when planning and designing a field development is crucial not only for economic feasibility but sometimes for the life of the company. One of the specific features of the market is that the upstream companies do not control the price of their products (oil or gas). Meanwhile, we all are well aware of the fluctuations in the dynamics of prices. However, companies are still able to manage the production rate and efficiency, and actually do so.
The idea of the Geosplit startup is to provide the clients – oil and gas companies – with its own innovative method of collection of an accurate data flow on well operation, which leaves behind the data collected by way of conventional logging methods. Geosplit's technology does not require well interventions, thus the risk of accidents and well shutdowns is reduced to zero. The technology provides a highly improved quality of data with significantly decreased time consumption.
In 2015, after several years of research, testing of hypotheses, synthesis of prototype materials, and development of software algorithms, we ultimately created a viable product. The core of the Geosplit method is to mark well intervals with a special material that continuously releases quantum dot marker-reporters® into the borehole fluid. These are nanocrystals of 2 to 10 nanometers, obtained by colloidal synthesis and coated with a layer of adsorbed surfactant molecules functioning as a high-precision indicator of oil, water or gas in the fluid.
As a result of such marking, the client can, at all times, have accurate numbers required to get a clear image of well intervals that produce oil and gas, and which of the intervals produce water. The monitoring after marking can be carried out for several years, while the client can receive data with any frequency, even on a daily basis. By analyzing these large amounts of data, data processing with use of software, and integrating it into geological and reservoir models, the client can significantly improve the quality of his decisions on field development and the economic feasibility of production.
In the meantime, we closely cooperated with potential early-bird clients who would be interested in testing and using our new products at pilot projects. The oil and gas industry is typically characterized by a very conservative decision-making process, which is understandable, given how huge the cost of a mistake at the field is.
In 2016, we received the first evidence of successful use of Geosplit's technology in real wells. The projects were mainly intended to confirm the viability of the technology, to compare it with conventional logging techniques, and to evaluate the effectiveness of the main production stimulation method, i.e., multistage hydraulic fracturing. Based on the results of these efforts, oil companies could make a feasibility study for further scaling of the technology and, in some cases, launch projects to optimize the parameters of horizontal drilling.
Since 2017, we have been intensely reaching out to new clients. The number of wells studied with Geosplit's technology increases by several times annually. We upgrade our technology, improve existing products, and introduce new solutions to the market. According to publicly available data, 250+ horizontal wells were marked at different fields in 2021, which made Geosplit a world leader in tracer-based monitoring. Meanwhile, Geosplit managed to bring the solution to the global market, having launched projects in China, the Middle East and Southeast Asia.
It is worth noting that China is commonly seen as a difficult market to promote foreign products and services. The country is self-reliant to a large extent. It runs numerous programs fostering domestic innovations and technologies aimed at creating a favorable environment for the development of local businesses and building barriers to entry for foreign competitors and their products. However, Chinese upstream companies are currently targeting the development of the shale gas segment, so novelties in the oil and gas industry and digitalization technologies are especially welcome now.
In 2018, we signed the first international contract worth $2 million with Haimo oil field service company and the operator of the China National Petroleum Corporation (CNPC) on performing production profile surveillance at the Changqing oil field for CNPC. And, as early as in 2019, we launched a large-scale project aimed at studying gas wells using a new solution, i.e., Geosplit's gas markers, which allows receiving a continuous stream of data on the performance of well intervals multiple times for several years without well interventions or shutdown. Due to high demand for tracer-based monitoring technologies in China and the strategic business development in the Asia-Pacific region, we opened our own research laboratory and a production facility in 2022.
At the same time, we opened our offices in the Middle East to start sales, get to the market and increase brand awareness. In addition, we have just completed our first pilot project on our completion solutions in the Middle East in an offshore field for the Abu Dhabi National Oil Company (ADNOC). The company is also piloting its well completion solutions in Saudi Arabia, Oman and India, and it is engaged in discussions with Eni (Egypt) to deploy tracers in downhole completions in its deepwater operations. Along with Dubai, we are also promoting sales in other directions, such as the USA and Southeast Asia.
We are also looking at the digital area and focusing on incorporating the production data we provide to our end-users into the data-driven models, which would enable our clients to automate and optimize decision-making process, eventually leading to more efficient hydrocarbon recovery. This could be another turning point for the company, representing the evolution from a tracer company to a digital data-driven company.
Let us share two interesting cases of integrated geological and field analysis of the data collected by means of tracer-based monitoring in producing horizontal wells.
In the first case, a low reservoir pressure zone was traced, which caused insufficient reservoir recovery in the heel of the horizontal well and a highly uneven inflow profile. Together with the geological department of the oil company, it was decided to use one of the neighboring wells at this site for reservoir pressure maintenance purposes. Due to this timely effort, an additional source of flooding was created, resulting in a cumulative increase in oil production from the horizontal well under study, achievement of a smoother permeability pattern, and a greater contribution of poorly drained frac ports to the overall performance.
In the second case, after conducting multi-stage hydraulic fracturing in one of the wells, high water content of reservoir products was observed. Upon integrating the data of tracer-based production profile surveillance and conventional modeling in the hydraulic fracturing simulator, we confirmed an untargeted breakthrough of one of the ports into the overlying aquifer. This knowledge helped in optimization of hydraulic fracturing designs for future wells to be drilled at this site, and to achieve a significant increase in oil production.
The beauty of being a small player is agility, and the key competence is to listen to the client's needs and be able to respond to them in a short period of time. The excitement is there, and now we see the first indicators that activity will further expand.
Headline photo: Marker tape installation. Photos courtesy of Geosplit.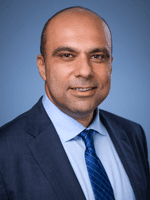 Nadir Husein has expertise in oil and gas enterprises management, marketing, sales, operations and corporate communications.
The author of more than 10 technical papers, Husein has extensive administrative and engineering experience in the integrated application of hydraulic fracturing services, coiled tubing, regional sales of corporate products and project management.
Husein has over 20 years of experience in various administrative positions in international oil field services and production companies in Iraq, Oman, Pakistan, the UAE and Yemen. A graduate of the American University in Cairo with a degree in mechanical engineering, Husein has attended various advanced training courses in coiled tubing operations, management, finance, personnel management and sales in the USA, the U.K., the UAE, France and other countries.
Contact information: n.husein@geosplit.org, +971544361331
3 Ways Technology is Going to Shape the Oil and Gas Industry
Free to Download Today
Oil and gas operations are commonly found in remote locations far from company headquarters. Now, it's possible to monitor pump operations, collate and analyze seismic data, and track employees around the world from almost anywhere. Whether employees are in the office or in the field, the internet and related applications enable a greater multidirectional flow of information – and control – than ever before.