With a tightening economy and multiple avenues being explored for turning a profit, advancements in technology arrive at the forefront of business strategy. The notion of improving processes to streamline activity has grown increasingly high to drive profits up and expenses down. One company has reduced touchpoint opportunities and enhanced safety during drilling activities, while effectively providing significant cost savings for its customers.
Roger Simonson utilized his vision and knowledge to start One Eye Industries, a company specializing in magnetic filtration. As the CEO of his firm, he developed a spinoff division, CleanMud, to focus on reducing wear contamination build up during the drilling and completions processes which, in return, reduces non-productive time caused by mechanical failure. The CleanMud system is fully automated with no intervention during drilling operations. While the notion of efficiency prevails at the top of the success pyramid, the bottom pillars essentially become good environmental stewardship and a heightened safety awareness.
Efficiency Justifies the Cost
Simonson and CleanMud initially targeted the oil and gas industry as the ideal niche customer base. Although the sector typically associates component failure with speed, temperature and pressure increases, CleanMud made a case for wear contamination being the primary culprit. Simonson says that his company's research data support the inference that its magnetic filtration system can reduce non-productive time by 30-plus percent. Simple math implies that 30 percent in savings allows for an increase in profits.
The drilling industry, CleanMud's original target audience, suffers from casing and drill pipe erosion, as well as iron compounds released from the formation. Tiny wear particles formulate from silica and natural iron compounds less than 10 microns in size. Traditional filtration applications have not yielded success in capturing these destructive particles. CleanMud's superior technology provides an alternative method with significant results by collecting wear particles down to and below one micron. Studies indicate these account for 35 percent of contamination.
CleanMud's reach proves multifaceted as it can be used in different drilling areas. Oil based mud, a necessity in the drilling process, is costly. The CleanMud filtration system should be applied to drilling mud before initiating drilling and kept in service during the complete drilling process. By cleaning the mud at the start of the job, Simonson says that its usage life sees serious extension.
"Drilling contractors may get 20 to 30 hours out of the mud motors and drill bits and other drill string components, then have to shut down to replace them. Using the CleanMud technology reduces the rate of wear, extending operational life and drilling production."
Although every drilling rig design and formation is different, the common theme of increased production applies to all when it comes to mud pumping. Simonson rationalizes that the name of the game is to reduce downtime to increase production. CleanMud's magnetic filtration system accomplishes this task and boasts a 50 to 90 percent increase in gallons pumped during production and a 40 to 50 percent life extension in drill string components. With such cost savings, CleanMud's service cost far outweighs those replacement expenditures and puts money back into the pockets of the investing oil and gas companies.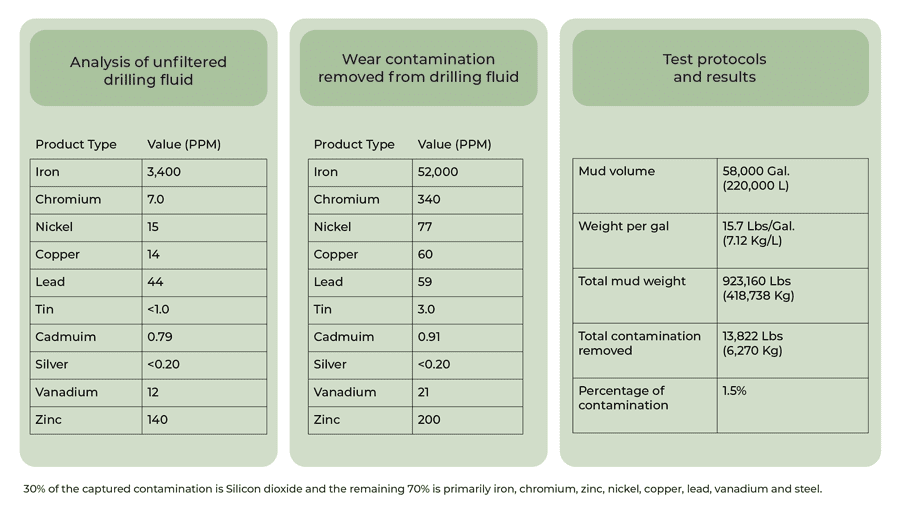 "With our ability to clean under one micron, CleanMud extends the life of components and puts a damper on the service industry, which makes its money on the short life expectancy of those failed components," says Simonson.
CleanMud recognizes the sizable value in the offshore market due to logistical costs. Any downtime costs see magnification due to being located offshore.
"Transportation costs of goods and personnel are extremely high in the offshore sector," Simonson points out. "When equipment goes down, substantial costs come into play in transporting mechanics and equipment to an offshore site, along with the potential of moving people from the facility, because non-productive time far surpasses the cost of leaving workers idle on location."
Protecting the Planet
The oil and gas industry has developed strategies to protect the environment in which it works. Regulations and best practices mandate measures to reduce environmental exposure, but companies struggle to meet clean work goals. With component failure, some environmental impact often plagues the process.
By reducing component failure, the CleanMud magnetic filtration system assists in reducing environmental impacts such as spills and contamination. By capturing those particles, their release into the atmosphere is avoided. As a result, the benefit of protecting the planet serves as another pillar of success that justifies the cost of utilizing this specialized patented technology.
Additionally, reducing energy spent plays a vital role in planet preservation. CleanMud's ability to reduce the repair rate reduces energy exerted when traveling to a location, whether onshore or offshore. Emissions from support vehicles and craft are no longer emitted because CleanMud's magnetic filtration system either reduces or eliminates the need.
Efficiency Improves Safety
Exposure rates directly influence safety statistics. The more exposure endured, the more likely an incident or injury will occur. Simonson indicates a significant component of success that accompanies the CleanMud technology, and is identified as the last pillar of the success pyramid, is an improved safety record.
By reducing wear contamination, CleanMud accomplishes more than a reduction in loss of non-productive time and planetary preservation; the company lowers the odds of experiencing an unwanted incident. Because CleanMud removes the need for multiple attempts to repair failed components, the incident probability rate drops. The concept is simple: By reducing the exposure to hazardous work, the probability of injury is reduced as well.
"CleanMud eliminates the need of handling equipment multiple times because we increase the life expectancy," says Simonson. "Incidents associated with repair drop."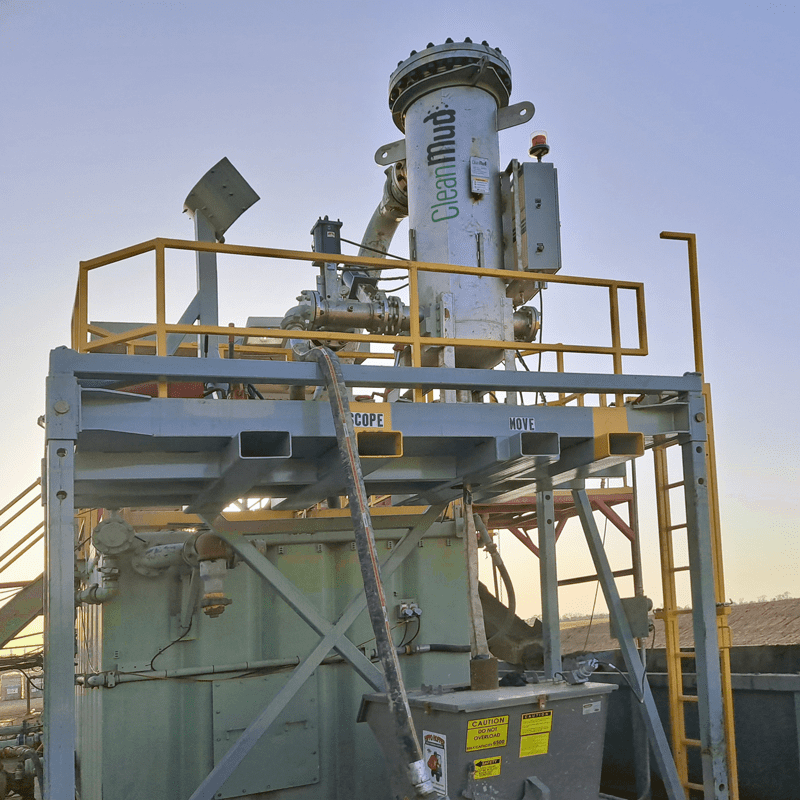 Case Study Indicates Success
Proving his belief in his technology, Simonson welcomed the opportunity to put it to the test. In a recent case study, CleanMud assisted a major drilling rig contractor and provided a 52 percent life extension in components.
The CleanMud and client partnership revealed staggering results. The CleanMud magnetic filtration technology, on average, removed 25 percent ferrous and non-ferrous contaminants from drilling fluids every 24 hours. Contamination reduction numbers proved impressive with only one filter cleaning per day. Compared to multiple periods of downtime from the usual methodologies, the results instantly ratified CleanMud's ability to save time and money.
Further inferences made during the case study confirmed that wear contamination below four microns accounted for one percent of drilling fluids. Silicon dioxide made up thirty percent of those contaminants and is known to contribute to premature wear. Iron, chromium, zinc, nickel, copper, lead, vanadium and steel accounted for the majority.
The significance in size measurement speaks volumes about the CleanMud case study. While difficulty accompanies attempts to measure cleanliness below four microns, the CleanMud technology surpassed those standards. Thirty-five percent of particles captured were below one micron in size. Although these particles are so incredibly tiny, they act like sandpaper and inflict major damage.
While many technological advancements require long periods of time to recognize increased profits and growth, CleanMud's case study revealed a quick turnaround when considering return on investment. While the 52 percent increase in component life speaks volumes, the ability to capture a return on investment in less than one fiscal year solidifies the technology's value and longevity.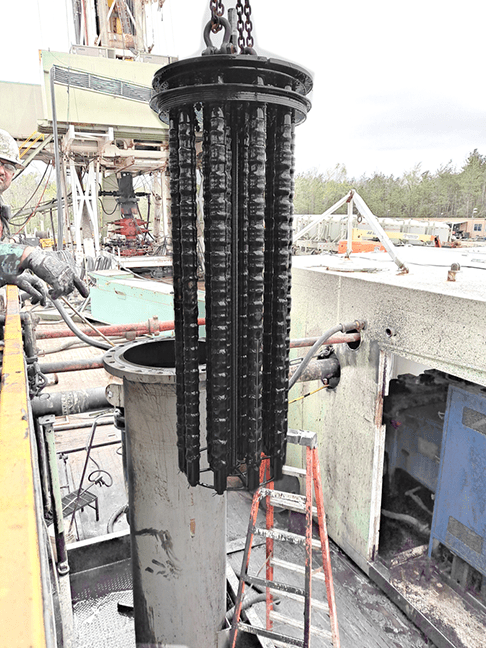 Endless Possibilities
Simonson sees a diverse future at hand for magnetic filtration. While its application shows great promise on multiple levels, the oil and gas industry is just one area he feels will benefit from the CleanMud magnetic filtration system. He believes a future exists in collecting lost silicon in solar module manufacturing. Cleaning thermal oil in bitcoin mining is another new market. Recovering plastics from our rivers, lakes and oceans may be another near future application.
The CleanMud automated design can also reap great rewards in additional areas, such as cutting cooling oils in manufacturing plants. Simonson has identified a means of extending oil life and reducing bacteria growth. Additionally, steel mill quenching waters can improve, and Simonson sees a vast market in large hydraulics systems onshore and offshore in oil and gas. Cleaning glycol, thermal oil, turbine oil and transformer fluid are other opportunities. One Eye Industries' magnetic filtration technology stands alone in the filtration world that can clean wear contamination under one micron from hydrocarbon liquids and chemicals with high efficiency.
Simonson identifies a CleanMud future introduced from various levels of the industry. It can serve as a route of savings submitted by the customer or be leveraged into play at the service end. The operator typically maintains responsibility for components in the oil and gas industry, but Simonson says drilling contractors can bring the technology to their customers. No matter how the technology arrives in the equation, Simonson ensures that the CleanMud solution will significantly reduce non-productive time and increase life expectancy. The added safety and conservation features only enhance an already effective tool that will undoubtedly be utilized by many in the future.
Headline Photo: CleanMud helped one of the largest contractors in the world, extend the life of their drill rig components by over 52%.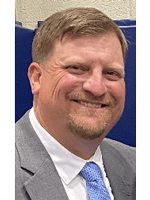 Nick Vaccaro is a freelance writer and photographer. In addition to providing technical writing services, he is an HSE consultant in the oil and gas industry with twelve years of experience. Vaccaro also contributes to SHALE Oil and Gas Business Magazine, American Oil and Gas Investor, Oil and Gas Investor, Energies Magazine and Louisiana Sportsman Magazine. He has a BA in photojournalism from Loyola University and resides in the New Orleans area. Vaccaro can be reached at 985-966-0957 or nav@vaccarogroupllc.com. 
3 Ways Technology is Going to Shape the Oil and Gas Industry
Free to Download Today
Oil and gas operations are commonly found in remote locations far from company headquarters. Now, it's possible to monitor pump operations, collate and analyze seismic data, and track employees around the world from almost anywhere. Whether employees are in the office or in the field, the internet and related applications enable a greater multidirectional flow of information – and control – than ever before.