Enterprise resource planning (ERP) software is one of the most important technology choices an energy company can make. It impacts all facets of corporate health and wellbeing, including general and administrative, operational expenses, employee satisfaction, vendor relations and competitive advantage. It is also central to an organization's ability to pivot and adapt to our industry's ever-changing market conditions. When it comes to ERP, though, many upstream energy companies are stuck in a rut.
Amid an exponentially expanding digital oil field, energy professionals must be equipped with ERP technology that is optimized to manage an increasingly complex and data-driven business while providing scalability and cost containment. The oil and gas industry has entered the digital age where continuous innovation is the only winning strategy and those who rely on 20 to 30-year old ERP software are effectively wielding Stone Age tools.
The World Economic Forum estimates that upwards of $1.6 trillion of value are associated with digital transformation in the energy sector; however, capturing that value across upstream organizations has not been uniform. Only 16 percent of energy companies feel they are responding to digital transformation with an aggressive strategy at scale.
There is a large gap between what many energy companies can achieve with their current ERP systems, and what is now possible through the Cloud – automation, AI, analytics and a technology capability chasm between laggards and digital innovators that is only widening with time. To cross that chasm requires a giant leap forward, not just small, incremental steps.
Energy companies large and small must have an ERP digital transformation strategy to thrive. For those who successfully execute and sustain digital transformation, the payoff is big, including increased business performance, agility and millions in annual cost savings. Digital innovators like Laredo Petroleum and Riverbend Energy Group have embarked on their digital oil field transformation journey, positioning them for success with ERP technology that scales as they grow.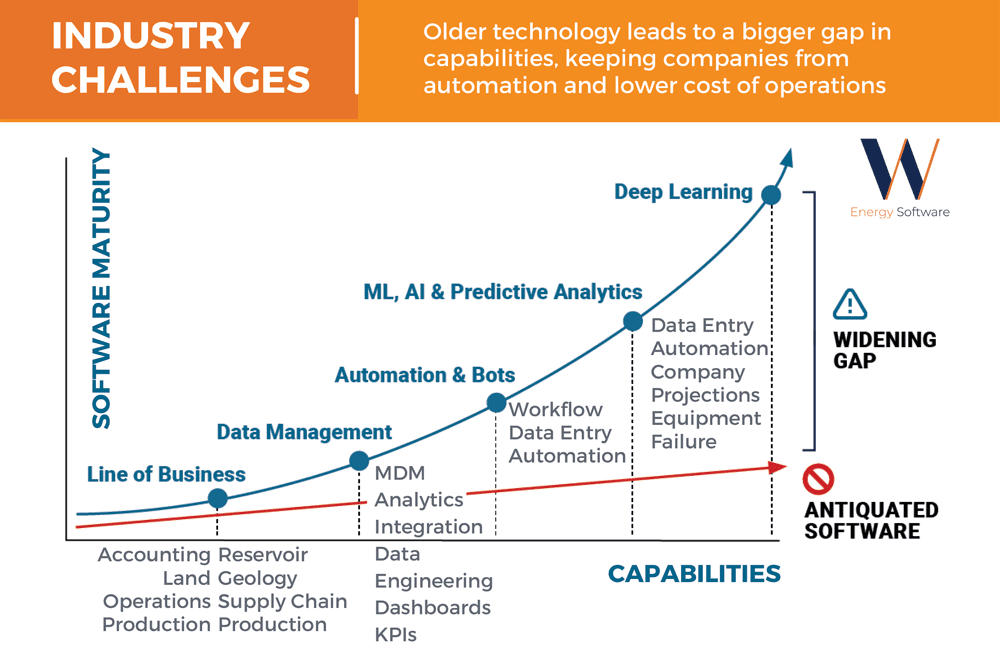 What Exactly is ERP in Oil and Gas?
Whether teams refer to their core business systems as ERP or not, every upstream organization relies on enterprise resource planning technology to manage leases, accounting, production operations, revenue disbursement, taxes and regulatory compliance. In most cases "ERP" is a mish mash of "point solutions," highly specialized commercial or homegrown software. Upstream companies typically have one piece of software for managing financials (general ledger) and others for revenue accounting, allocations, lease administration, division order and interest owner payments.
Such point solutions are by nature disconnected from each other with little or no integration, creating data silos, multiple versions of the truth and data delays across multidisciplinary teams. Typical land management, accounting, production and regulatory solutions are also built with old, legacy technology and require heavy reliance on spreadsheets to plug functionality gaps. The result is fragmented ERP solutions that don't play well together, information sprawl, and systems that are brittle and can't scale as upstream companies grow.
Instead of dozens of point solutions, larger energy companies have gravitated to ERP software developed decades ago as an on-premise suite of applications. While the technology undeniably has created robust and reliable capabilities to manage the digital and physical oil field under a steady-state market, "big box" ERP requires an army of consultants to deploy and comes with a bloated box of building blocks, providing cost and complexity overkill while still leaving the industry with underwhelming capability.
Digital Oil Field Innovation Imperative
In today's complex market, where success is a function of commodity price, operating costs and ESG guided investor sentiment, innovation should be the guiding light to profitability and sustainability. Yet lack of innovation in the energy back office, and old legacy ERP technology, are holding back upstream companies, just as much as an entrenched mindset and culture of doing things the way they have always been done.
Standing still comes at an excessive cost, both a financial hit to the bottom line and an opportunity cost. On average, a mid-sized energy company with at least 3,000 wells overspends $2 million each year on legacy ERP, wastes 1,200 hours of duplicated effort, and pays fifteen full-time employees to keep everything running.
Legacy energy software was built decades ago at a time when oil and gas companies grew by adding people and responded to downturns with layoffs. Innovation is the key to growing with the resources you already have and breaking the cycle of letting valued employees go when basins become uneconomic overnight.
The sacred ERP cow must be replaced with a new paradigm that prioritizes innovation, data value, collaboration and cost efficiency. Upstream companies must not only upgrade their software, but the way they think about data and integrate corporate knowledge across departments, breaking down data silos and siloed thinking. And when it comes to delivering a modern, unified ERP, lower cost operations, scalability and a data driven culture, the Cloud is where everything converges.
Anti-Patterns Delay Digital Transformation
It is no longer debatable that the Cloud is the best place to run business software and power oil and gas workflows, and this is absolutely the case for ERP. A recent report by Accenture cites that 90 percent of enterprises have made the transition to the Cloud, but only 30 percent report having fully realized the expected value. It seems after a decade of a "cloud first" digital transformation movement in ERP solutions, companies are still chasing value. Why?
Anti-patterns are ingrained ways of thinking and responding to digital oil field transformation that are counterproductive to the end goal, including:
Cultural resistance – a workforce nearing retirement that has been hit repeatedly by industry busts lacks the enthusiasm to take on more work and navigate new systems.
Digital varnish – organizations spread too little digital innovation over many existing processes without taking full advantage of the Cloud and opportunities to optimize processes.
POC purgatory – oil and gas teams spend time and resources continuously evaluating the business value of already established and viable technologies, delaying the benefits.
Point solutions – willingness to continuously kick the can down the road and re-up every year for disconnected, on-premise accounting, land, production and regulatory solutions.
Overweight IT projects – digital oil field transformation initiatives helmed by the IT organization take years to implement during which time business priorities have shifted.
Digital transformation and ERP success require energy companies to stop overinvesting in the processes and technology that have merely worked in the past and embrace a unified SaaS ERP approach to optimize technology spending, accelerate data flow and drive more revenue to the bottom line.
Breaking Free from Legacy ERP
Counterproductive organizational patterns are just the warning signs that it's time to reset your team's digital strategy. There are also abrupt transitions that result in a wake-up call and sudden urgency to make a change. Your team might find itself in the midst of a major acquisition only to discover that your current oil and gas software, data management and processes are limiting growth. Or you have an existing, outdated ERP and the vendor is forcing you to upgrade to a different version that entails massive capital outlay and long project timelines. There are many ways your team can suddenly have an awakening that change is needed.
Attaining the prize of a modern technology stack and benefits of a highly collaborative, data-driven, low-cost operation takes more than digital transformation, it takes business transformation. For the C-suite, digital transformation is a new team sport, requiring full support and broader coordination from the CEO, COO, CFO, CIO and other leadership. Through clear sponsorship and active management of a digital transformation initiative, the C-suite can overcome the status quo mindset, apathy and implementation anxiety that have made ERP a sacred cow.
The New Face of Digital Oil Field Innovation
Bringing disparate accounting and land systems together in a unified SaaS solution that is purpose-built for oil and gas companies was very attractive to Laredo Petroleum, a publicly traded energy company that operates 1,400 wells in the Midland Basin. As Laredo Petroleum successfully executed its growth strategy and further advances operational efficiency through digital innovation, the producer recognized the value of cloud-based ERP solutions, which offer scalability and high-performance computing to match its growth profile. Laredo Petroleum selected W Energy Software's full upstream SaaS ERP, which provides it with a broad spectrum of integrated business applications, including Financial Accounting (AP, AR, financial statements), Revenue Accounting, Joint Interest Billing (JIB), Fixed Assets, Purchasing, Authorization for Expenditure (AFE) and Materials Inventory. The W Energy Software solution also provides Laredo Petroleum with next generation Division Order, Lease Administration and GIS capabilities, as well as integrated solutions for marketing and ONNR reporting.
By moving to a unified ERP built on the Cloud, Laredo Petroleum will enable scalable future growth by minimizing complexity and reducing or maintaining G&A. The energy company expects to accelerate its monthly closing to allow more time for analytics and critical review while benefiting from hard cost savings through consolidation, retirement of systems and vendor obligations. Laredo Petroleum also expects to reduce risks and exposures by eliminating manual data entry, providing a true system of record versus spreadsheets, and enhancing compliance with internal controls, increased transparency to ELT and ownership.
Laredo Petroleum joins other forward looking digital innovators who have transitioned to W Energy Software SaaS ERP, including Killam Oil Company, Grayson Mill Energy and a large integrated energy company with more than 10,000 operated wells and extensive midstream operations.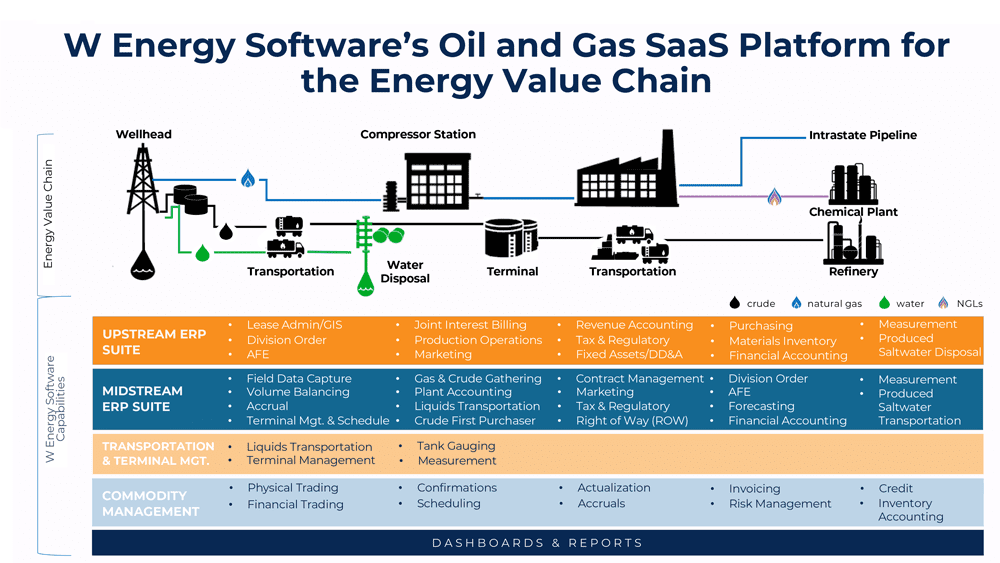 The benefits of a unified, cloud-based ERP purpose built for energy extend to non-ops and investors, too. Riverbend Energy Group is a proven leader in acquiring, developing and monetizing energy assets, including operated assets, non-operated working interests, minerals and royalties. Since 2003, it has successfully managed more than $3 billion of total enterprise value across nine asset portfolios. It currently manages four portfolios spanning the Williston, Permian, Eagle Ford, Delaware, Fayetteville and Haynesville Basins. With significant growth over the past decade, Riverbend Energy Group had outgrown its legacy oil and gas accounting system and turned to W Energy Software to manage the scale and complexity of its rapidly growing portfolio.
Investing in the Future
The oil and gas industry continues to come to terms with an unprecedented super cycle characterized by historic commodity fluctuations, capital restructuring and consolidation. How your team chooses to move forward now, by design or through inaction, will determine the long-term viability of your organization.
As supply and demand rebalance, it's risky to assume that the oil and gas business will continue to function as it always has. The world has changed along with old models. Going forward, the energy industry is unlikely to resemble patterns of the past and old ways of resetting will no longer suffice.
In the rapidly evolving digital oil field disrupted by inevitable downturns, energy companies fail because they overinvest in the things that have worked in the past. Instead, oil and gas businesses must double down on the things they need to be good at tomorrow, embrace digital transformation, and reap the benefits of a truly data driven culture.
Pete Waldroop, CEO of W Energy Software, has over 27 years of experience in software, consulting and the energy business. He has helped clients, such as ExxonMobil, Shell Oil, Anadarko Petroleum, Targa Resources and many others, design and implement better software solutions. Prior to joining the W Energy team in 2010, he served as a partner at Capitalize Consulting, was a founder and EVP at Quorum Business Solutions, and was the original developer for TIPS in 1992 while at Andersen Consulting (now Accenture). Waldroop holds a degree in electrical engineering from Oklahoma State University. 
3 Ways Technology is Going to Shape the Oil and Gas Industry
Free to Download Today
Oil and gas operations are commonly found in remote locations far from company headquarters. Now, it's possible to monitor pump operations, collate and analyze seismic data, and track employees around the world from almost anywhere. Whether employees are in the office or in the field, the internet and related applications enable a greater multidirectional flow of information – and control – than ever before.