"Floating production platforms are a complex blend of users with different needs and the solutions they require need expert management and delivery," writes Alexandre de Luca, president, Marlink Enterprise.
Successful provision of both digital and connectivity solutions to fixed and mobile offshore assets requires a unique blend of sophistication, complexity and operational understanding. These sites are run by multiple stakeholders, with differing requirements, all of whom require precision and efficiency at the core of their operation.               
Each stakeholder is demanding in its own way and all must be provided with services that allow them to take advantage of the most advanced digital tools and services, whether for production, asset management or operations.
On one side is the asset owner, responsible for the overall performance and the provision of the foundations of the operation. The rig operators are responsible for the day to day business of production and maintenance. Lastly, service companies operate on the rig, providing specialist functions that enable it to operate safely and efficiently.
All three stakeholders require their own bandwidth and digital tools, with varying priorities for bandwidth and latency. Each will demand its own level of guaranteed uptime and throughput, with both revenue and safety depending on it.
Unlike the maritime industry, in which operations are to a greater extent commoditized within their sectors, a fleet whether large or small will need common systems and likely specify a baseline of performance that only needs occasional adjustment.
The energy sector is a project by project business and, although there are similarities, each one has its own challenges and requirements. In addition, the costs of rig operations can be staggering and the penalties for non-delivery of promised services can be just as serious; ensuring these assets run smoothly is essential. This makes them ideal for very high bandwidth services in MEO orbit which have lower latency than GEO solutions.
Until recently, connectivity options for oil and gas rigs have been focused on the provision of VSAT and LTE solutions that provided the required throughput and the highest levels of redundancy, so that operations could continue even if one or more hardware components or service was unavailable.
A combination of VSAT options, including medium Earth orbit (MEO), geostationary equatorial orbit (GEO), and low Earth orbit (LEO) services including back-ups, also means that solutions providers like Marlink can provide flexible service levels with maximum and committed information rates (CIR) tailored to application demand and client preference.
The most significant development for customers in the energy industry is the emergence of LEO connectivity, providing a further layer of high bandwidth, low latency service that can be combined with existing networks. This means that solutions providers can combine guaranteed CIR bandwidth over GEO VSAT and MIR services over LEO, for applications where throughput and latency are more important than the need for guaranteed bandwidth.
Although, each of the three stakeholders' traffic is important, not every piece of data needs to move at the same speed or priority. To make the network fit the client's requirements, Marlink provisions SD-WAN technology to enable the relay of vital data and information across any network regardless of orbit or frequency.
Historical definitions of network optimization have involved selecting a bearer based on type of data, whether video, text, voice or static files. SD-WAN works by recognizing and classifying the applications in use on a network and assigning that application's traffic with specific routing. For example, allowing Teams to run over a LEO connection, while having Enterprise Resource Management or drilling analytics software run across the GEO VSAT.
For any type of customer, SD-WAN enables a competitive supply of third-party applications and the ability to potentially reduce Capex, Opex, space and power consumption, changing the game for users by designing a network around performance of applications and dramatically improving the quality of user experience.
The ability to use a wider range of applications over multiple carriers and prioritize traffic by service at protocol level – rather than by carrier or channel – provides offshore clients with a truly bespoke package designed around true operational optimization.
Marlink's provision of tailored digital solutions enables customers in the offshore sector to manage complex and critical operations with the flexibility and scalability required. This enables multiple stakeholders to utilize different bandwidth at different times, while always having the ability to access applications they require. Marlink is able to deliver this required user experience based on an intimate understanding of the business and customer needs.
Of course, the digital oilfield requires digital solutions, but it is not simply a question of putting in large amounts of connectivity. An appreciation of what each customer wants to achieve, how these demands interact, and how to blend the best in class into a customer solution will define a successful and long-lasting relationship.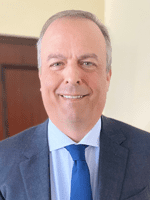 Alexandre de Luca has served as president, Marlink Enterprise, since May 2017 and has more than 25 years of experience in leadership and international business.
During his leadership, the data traffic from Enterprise customers has increased by 50 percent in 2020 and built up the installed VSAT base to more than 1,300 active terminals.
Before joining Marlink, de Luca served as Global Sales and EMEA President of ITC Global, providing end-to-end satellite communication to energy, mining and maritime companies operating in remote places.
De Luca was also the founder of NewSat Communications SA in 2003 which became the backbone of ITC Global business after its acquisition in 2013. He holds a bachelor's degree in political sciences from the University of Lausanne, and speaks and writes fluently in French, English, German, Italian and Spanish.
3 Ways Technology is Going to Shape the Oil and Gas Industry
Free to Download Today
Oil and gas operations are commonly found in remote locations far from company headquarters. Now, it's possible to monitor pump operations, collate and analyze seismic data, and track employees around the world from almost anywhere. Whether employees are in the office or in the field, the internet and related applications enable a greater multidirectional flow of information – and control – than ever before.