On a regular workday at an ordinary midstream gas plant, an extraordinary routine begins. A quadruped robot, Spot® by Boston Dynamics, rises to its haunches like the animal it emulates and begins a programmed patrol. Spot's primary task on patrol is to read gauges throughout the plant. The programmed patrol route will take it around the periphery and through the heart of the midstream gas plant carrying on its back a small rectangular box. The box, paired with Spot, detects and identifies any small gas leak emanating along its route, even those that may otherwise escape notice. The small rectangular box is an 8-gas chemical detector, Teledyne FLIR's MUVE™ C360. In this case, the C360 was riding along with Spot. The entire inspection and detection routine is pre-programmed, with humans out of the loop until Spot finds something to report, shaking off the proverbial leash and monitoring characteristic of any early robotics and automation.
Robotics Adoption in Oil and Gas
Robotics have played a vital role in oil and gas for decades. Upstream oil and gas have utilized automation for drilling, conducting seismic surveys, and measuring the alignment and penetration of the suction anchor of the drillship. Searching for new oil and gas fields, particularly in inaccessible environments, is one of the prime applications of automation and robots. Drones and other remotely operated vehicles utilize primary cameras, lights and manipulator arms to aid underwater drilling while providing accurate data. Downstream oil and gas have used robotic and automated aid in material handling, repair and refueling. Finally, midstream uses these technologies for inspection, maintenance and remote monitoring.
Adoption has been consistent at all levels of industry and in all domains of drones and robotics: underwater, ground and aerial. Now that adoption curve is accelerating with advancements in robotics and especially in digitalization and software development.
The development of technology to safeguard individuals and organizations is a hallmark of progress in the industry. Early adoption in oil and gas was characterized by performing repetitive and dangerous tasks with the byproduct of reducing inefficiency. Robotics and automated processes reduce the chance of injury during most oil and gas production phases. The consistency and precision of robotic tools help identify problems before they increase in magnitude and severity. Exploration, drilling, production, operations, and even de-commissioning are all made safer with automated technology. The driver behind broader adoption, as costs simultaneously decrease, is the integration of multiple technologies. In this example, Boston Dynamics' Spot robot is paired with the 8-gas MUVE C360 chemical detector in an integration by MFE Inspection Solutions.
"Spot and the Teledyne FLIR MUVE C360 integration represents a cutting-edge autonomous solution with immense potential for saving human lives," explains Jason Acerbi, Chief Technology Officer at MFE Inspection Solutions. "Our ongoing integration efforts will likely include expanding communication capabilities, including the incorporation of additional methods such as text messages or emails that provide localization references detailing the shutdown location of the robot. These advancements promise to enhance the efficiency of safety operations and establish new benchmarks in the realm of autonomous response systems."
Problem Spotting
Still on patrol performing routine gauge checks, Spot rounds a corner and proceeds down a walkway; three-quarters of the way down, Spot pauses. There's no apparent reason for its delay, as though it smelled something. Spot abruptly sinks on all fours as though going to sleep. Functionally, it is asleep. The system has shut down. While Spot couldn't smell anything, the MUVE C360 did.
The C360 will pick up and alarm for volatile organic compounds via a photoionization detector (PID), flammable gases with a lower explosives limit (LEL) sensor, chlorine, oxygen, nitrogen dioxide, carbon monoxide, hydrogen sulfide and sulfur dioxide.
The C360 detected a tiny gas leak and communicated that leak to Spot. Spot reports the leak, marks the location, and then shuts down (hitting the adjustable LEL threshold will trigger Spot to shut down as a precaution to protect the robot and the environment). It operates precisely as programmed. At this point, humans enter the loop as Spot notifies the maintenance team of the leak. The leak is so small that, at its current stage, it is less likely that a person doing the same inspection route would've detected it.
Fortunately, this wasn't an emergency. The leak was identified early when its impact was still negligible. But, the operations staff now have an opportunity to address this issue early before any potential harm could arise.
The Integration of Boston Dynamics Spot and Teledyne FLIR MUVE C360 has sparked significant excitement among the leadership at the midstream plant. Upon witnessing this solution's capabilities, leadership was impressed by its potential to enhance facility safety. The ability of Spot to detect tiny combustible gas leaks and autonomously mitigate ignition risks resonated strongly with leadership, highlighting the profound impact this integration can have on safety practices within the industry. This integration offers a compelling investment return by enhancing safety protocols and minimizing the risk of explosive damage caused by undetected gas leaks; the midstream plant can safeguard personnel, protect critical infrastructure, and achieve cost savings and operational efficiencies.
The Robotics Roadmap and Digitization
The adoption of this kind of technology is already here in oil and gas. Midstream gas plants are utilizing solutions for midstream applications. The MUVE C360 isn't equipped only on Spot. It is fully integrated with real-time readings with multiple aerial drone platforms, including the Teledyne FLIR SkyRanger R70 and the DJI M300. Future integrations can move this from a drone to a robot to a handheld device or for stationary monitoring. Modular sensors that are platform agnostic, fit to serve any chemical and gas detection need, are here – walking the corridors today.
"Our primary mission for our Detection solution is to save lives and livelihoods," states Craig Crume, Director of Product Management for Detection at Teledyne FLIR. "This mission is shared by midstream gas plants creating a safe work environment and by Military and First Responders on the front line. The MUVE C360 on Spot is a great example of working with customers, distributors, and platform providers to create a solution that is efficient and promotes safety."
Industry adoption of robotics at all levels of oil and gas, upstream, midstream and downstream, will cause more modular, data-driven integrations and solutions.
Spot is just one example, but the robot acts as a customizable platform that can climb stairs and traverse rough terrain with unprecedented ease. Its payload integrations help the robot perform repetitive inspection tasks like thermal monitoring and remote gauge reading in addition to detecting minute leaks.
"Equipped with the MUVE C360, Spot can identify leaks typically undetectable by humans and avoid disruptive downtime due to unforeseen maintenance," explains Maddy Hawkins, Director of EAM Partnerships for Boston Dynamics. "Ultimately Spot is helping to improve the safety, reliability and efficiency of oil and gas operations, allowing operators to implement predictive maintenance programs that can significantly reduce outages and maintenance costs."
Data Drives Momentum
The more robots, drones, submersibles and automated technology, the more digitization enables data capture. The volume of robotics use cases is only rising. Digitization enables all use cases and applications to provide an ever-growing amount of data that will provide insights with advanced analytics.
Digitization will apply across the spectrum of oil and gas use cases. Industrial robots and automated technology used in upstream and downstream applications will contribute to the actionable data provided by advanced analytics. Service technologies used in midstream applications will provide data and act on it in real time.
This data has incredible value and potential to increase efficiency, reduce costs, and create a safer work environment. Insights formulated from the data captured at every level of the oil and gas industry by industrial and service robots are invaluable to operations teams.
As this technology solidifies and propagates into even more practical applications, solutions, and integrations, the software side of this technology will blossom. Artificial intelligence and machine learning can take improved data-gathering techniques and map inspections and maintenance into predictable, actionable operations. Data isn't the toolbox, but the software applications developed from data are. Operational staff will have new tools to improve and build upon throughout the oil and gas industry.
Using Robotics to Drive a Safety Culture
Safety is paramount in the oil and gas sector and embedded in the culture of nearly every leading energy company. Major oil and gas producers have invested billions to reduce risk, promote operational excellence and ensure their employees get home safely at the end of the workday. This intense focus on safety standards drew the oil and gas industry close to the world of robotics as rapid innovation has produced competent systems that can keep humans out of harm's way.
Robotics are a fast-growing market, expected to triple in the coming years. Industrial robots have long driven growth, but as digitization is adopted, that change will expand into overlapping areas within oil and gas. As operations become less siloed through growing data and adoption, the ripple effects across oil and gas will be pronounced, affecting mergers and acquisitions, patent filings, and hiring. Service robots will continue to grow and grow in proportion to industrial robots. Technological developments will drive the energy sector to maintain and improve the industry's already high safety standards.
Looking Ahead
The sharp increase in applications and use cases in the past few years indicates the path ahead: energy driven by data collected through industrial automation, service robots, and drones, and the ability to accurately detect, identify, and act on issues before they are problems. Adoption isn't about getting in at the ground level; it's already here. It's now about building capabilities for the data, analytics, artificial intelligence, and machine learning to come. The result will be more efficient, connected, and safer workplaces in the oil and gas and energy sectors.
Following Spot's successful detection and identification, it heads back to its home base. The job is complete, and a potential problem has been identified and addressed. Spot will be ready to go back out and repeat its patrol tasks later today, tomorrow, and for the coming weeks, months, and years—or to be reassigned to another critical role. The MUVE C360 payload on Spot's back is ready to be mounted to a drone to take to the skies. And the innovation coming in the near future moves relentlessly forward.
Headline photo courtesy of Boston Dynamics.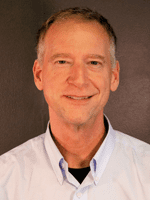 Craig Crume is Director of Product Management, Detection, for Teledyne FLIR Defense. He joined Teledyne FLIR in 2019 as Training and Service Manager for chemical, biological, radiological, nuclear and explosive (CBRNE) detection products. Since 2021, he's served as Director of Product Management for the entire CBRNE portfolio of handheld, portable and payload devices. Crume has spent more than 35 years working with field deployable and portable instrumentation, including 25 years focused on CBRNE applications.
3 Ways Technology is Going to Shape the Oil and Gas Industry
Free to Download Today
Oil and gas operations are commonly found in remote locations far from company headquarters. Now, it's possible to monitor pump operations, collate and analyze seismic data, and track employees around the world from almost anywhere. Whether employees are in the office or in the field, the internet and related applications enable a greater multidirectional flow of information – and control – than ever before.