The boom and bust business of fossil fuel refineries is currently on a downswing created by the energy transition. Refiners are challenged to stay competitive while processing crude slates and difficult-to-refine feedstocks as they balance the shift from fossil-based systems to renewable energy sources like renewable diesel and biodiesel. Equipment and quality issues, regulatory compliance, and worker safety exacerbate their challenges.
By engaging with next-generation technology solutions, oil and gas companies will find it easier to maintain worker safety, regulatory compliance, equipment functionality, product quality and achieve sustainability goals. Sensor miniaturization and its inevitable cost reduction over the past several years have rapidly fueled the transformation, but IIoT and sensors create datasets so massive that companies have become overwhelmed. For example, a single centrifugal compressor streaming temperature, pressure, flow, vibration and power information can generate about 2.5MB/sec of data, or 216GB/day. In an oil or petrochemical refinery, there are typically hundreds of interconnected assets and processes generating similar amounts of data, making it impossible to manually evaluate the masses of data and identify actionable insights.
Artificial intelligence (AI) can quickly convert raw data into usable information and actionable insights that optimize refining and petrochemical processes while reducing operational costs.
According to a survey by Gartner, AI and machine learning have become the top game-changing technologies in the oil and gas industry. Research firms advise operators to deploy an AI platform that delivers system-wide downstream operational improvements. Ultimately, this can drive additional revenue and save costs while enabling improved ESG and emissions performance. AI can enhance operational visibility and improve equipment performance based on real-time evaluation of hundreds or thousands of data points from interconnected assets, processes and systems. Simultaneously, this technology can continuously update its understanding as operating practices and conditions change.
Predictive and Prescriptive Insights
During scheduled maintenance, refining production equipment is inspected at regular intervals. However, rotating equipment components can deteriorate earlier than anticipated due to variations in the quality of fluid system components and environmental conditions. When the equipment fails, it can lead to expensive, unexpected plant shutdowns, but predictive and prescriptive insights can prevent this unplanned downtime, optimizing uptime operations.
Predictive maintenance leverages real-time data collected from deployed assets, and the environment in which they operate, to learn and recommend the best possible time to perform maintenance. At the same time, it warns stakeholders of emergent failures with advance notice to avert interruptions that can cause ripple effects throughout an entire operation.
The conventional approach to detecting anomalies typically involves a combination of manual inspections, condition monitoring techniques, and data analysis. But this approach lacks the ability to monitor the process state, which detects performance degradation and equipment abnormalities at an early stage.
In contrast, AI for predictive maintenance uses machine learning algorithms to ingest historical sensor data from a facility's operations. This data can then be used to build a model trained to recognize what normal operations look like. The normal behavior model can analyze sensor data in real-time and identify and flag operational conditions that deviate from the established norm. This is very different than condition-based monitoring, which simply leverages thresholds, as AI adapts and recognizes what variations are normal and which require immediate action. Adding historical sensor data and knowledge from subject matter experts, the model learns to send meaningful alerts that, when addressed, have demonstrable value, helping eliminate alert fatigue.
Detecting signs of equipment failure is one thing, but the causes of the degradation must be investigated and eliminated for smoother operations in the future. With sufficient data on abnormal conditions, machine learning can create a classifier to determine whether the current state is normal or abnormal. Analyzing the classifier model makes it possible to determine which process variable contributes more to the current state. If there is insufficient data on abnormal conditions, a clustering method can divide operational states into groups and examine each in detail, including the abnormal operation state. Based on the features of this group, a condition with a high possibility of abnormality can be obtained.
AI takes predictive maintenance a step further by providing prescriptive insights about the underlying reasons for an issue, and determining which corrective actions should be taken to resolve it most efficiently.
Worker Safety
With its inherently dangerous combination of heavy equipment and hazardous materials and chemicals, environmental, health and safety (EHS) optimization is essential for refineries. Refinery health and safety performance directly affects worker productivity and efficiency, as well as the costs associated with accident claims, regulatory non-compliance, and staff morale and retention. The scope of health and safety includes the workplace, culture, day-to-day training and work practices.
By harnessing the power of natural language processing and machine learning, AI can identify potentially hazardous workplace conditions and practices by extracting insights from unstructured information sources, such as incident reports and observation cards. With hazards and unsafe practices or locations identified, managers can proactively address them and reduce the chance of incidents.
Performance, People and Assets in Compliance
Visual AI solutions also have a place in refineries. Computer vision, a type of AI, is paired with existing camera networks (CCTV, PTZ, drones and mobile devices) to monitor performance, people and assets. A visual AI platform is available today that supports over 125 end-to-end computer vision use cases for safety, security, visual inspection, productivity and situational awareness. It deploys quickly within any operational framework and can be fully customized for high-ROI applications specific to refinery needs.
With its capacity to identify, analyze and alert in real-time, 24 hours a day, visual AI can transition refineries from reactive to proactive corrective actions in ways humans alone cannot. Visual analytics can be simultaneously activated on multiple real-time video streams for targeting and collecting essential data on performance, people and assets from a configurable drag-and-drop web-based and mobile app dashboard. It immediately provides role-based alert notifications when safety non-compliance, security breaches or other signals are raised, and delivers them to a web dashboard, mobile app, email, SMS, WhatsApp and/or on-site alarms. It can scale to thousands of cameras, consolidate all video feeds into a single interface, and its continuous-learning training module improves product performance over time to mitigate false positives and negatives.
By integrating AI-enabled solutions into refinery operations, companies can avert unplanned downtime, strengthen worker safety, and improve asset performance and useful life.
Headline photo courtesy of SparkCognition.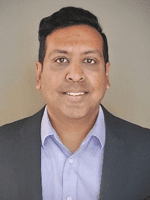 Jason Chadee is director of energy sales for SparkCognition. He has 25 years of experience in solving complex operational problems with software solutions for the oil and gas, utilities and renewables markets. SparkCognition partners with the world's industry leaders to analyze, optimize and learn from data, augment human intelligence, drive profitable growth, and achieve operational excellence. Its patented AI, machine learning and natural language technologies lead the industry in innovation and accelerate digital transformation. www.sparkcognition.com.
3 Ways Technology is Going to Shape the Oil and Gas Industry
Free to Download Today
Oil and gas operations are commonly found in remote locations far from company headquarters. Now, it's possible to monitor pump operations, collate and analyze seismic data, and track employees around the world from almost anywhere. Whether employees are in the office or in the field, the internet and related applications enable a greater multidirectional flow of information – and control – than ever before.