In the rapidly evolving oil and gas industry, the ability to process and understand vast amounts of data quickly is not only a convenience, but a necessity. Here's where TIBCO Spotfire, a cutting-edge data visualization and analytics software, enters the stage. The software has garnered significant attention – the "gold standard" in oil and gas analytics – for its ability to allow users to create interactive dashboards, workflows, visualizations, and reports swiftly and straightforwardly, providing precious insights into their operations.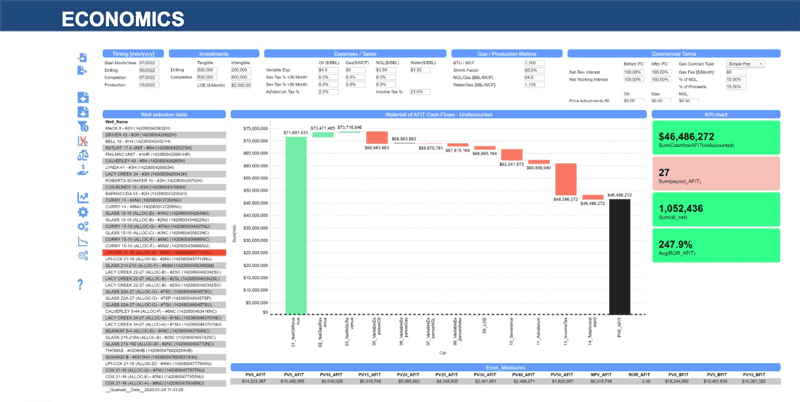 Spotfire stands out with its real-time data visualization, an essential feature in the oil and gas industry where quick decision-making can be the difference between substantial gain and significant loss. This allows users to analyze and visualize their data as it is being generated, ensuring timely and accurate decisions with confidence.
Key points about Spotfire benefits and training include:
Real-Time Data Visualization: Spotfire's ability to provide real-time data visualization means users can analyze and visualize their data as it's being generated, which is crucial for quick, accurate decision-making, particularly in time-sensitive industries like oil and gas.

User-Friendly Interface: Spotfire has an intuitive, drag-and-drop interface that allows users to quickly create and modify dashboards and visualizations, making it accessible to users with varying levels of technical expertise.

Flexible Data Connectivity: The software can easily connect to a variety of data sources, including popular databases like Oracle, Microsoft SQL Server, MySQL, and big data sources like Hadoop and Spark. This flexibility allows users to analyze large amounts of data from multiple sources quickly and efficiently.

Advanced Analytics Capabilities: Spotfire offers advanced analytics tools, including predictive analytics, statistical modeling, and machine learning. These tools can uncover insights and patterns in data that may not be immediately apparent, offering a significant advantage in data-driven fields such as oil and gas.

Scalability and Customization: Spotfire is highly scalable, suitable for businesses of all sizes, and offers a high level of customization, allowing users to tailor the software to their specific needs.
For those users looking to improve their Spotfire skills, Blue River Analytics, the leading Spotfire oil and gas training and consultancy firm, offers several courses to help users and teams boost their knowledge. Courses are delivered via Zoom/Teams/Meet/Webex or via the firm's popular OnDemand training platform with 24×7 access. All three modules – Intro to Spotfire, Intermediate Spotfire and Advanced Spotfire – are indexed for rapid accessibility and the courses use industry-relevant public oil and gas data. Trainees can learn at their own pace, which is an advantage for any busy professional, and the courses are taught by industry professionals for industry professionals.
With thousands of users trained, user feedback has been extremely positive. A few examples include increased productivity – employees can learn how to use Spotfire more efficiently and effectively, which can help them complete their tasks faster and with greater accuracy, as well as significant cost savings – investing in software training can help companies avoid costly mistakes and reduce the need for external consultants or support. Additionally, employees who are properly trained on software tools may be able to identify opportunities for process improvement or automation, which can lead to cost savings over time.
Overall, investing in software training can have significant benefits for companies, including increased productivity, better collaboration, cost savings, improved employee satisfaction and retention, and enhanced compliance and security.
Since 2014, Blue River Analytics is the oil and gas industry's only pure Spotfire consultancy and training company. At Blue River Analytics, we help oil and gas companies create a competitive advantage by developing advanced analytic tools to visualize well and field performance and profitability. For our clients, and as your partner, we have over 150 years of oil and gas industry experience in the deployment, support, training, application and software delivery process, to help maximize the delivery of value from assets  and your software investment to achieve your goals now, not later.
John Buckley is passionate about helping operators, banks, private equity and midstream achieve incredible operating efficiencies by means of TIBCO Spotfire analytics. A 30-year technology executive with a laser focus on shaping the strategic vision to achieve business goals, Buckley is highly skilled at fostering executive relationships and assembling superior results driven teams that deliver ridiculous ROI and operational improvement.
3 Ways Technology is Going to Shape the Oil and Gas Industry
Free to Download Today
Oil and gas operations are commonly found in remote locations far from company headquarters. Now, it's possible to monitor pump operations, collate and analyze seismic data, and track employees around the world from almost anywhere. Whether employees are in the office or in the field, the internet and related applications enable a greater multidirectional flow of information – and control – than ever before.