With the gradual recovery of oil prices and the market's highly volatile nature following the 2015 downturn, oil and gas exploration companies are increasingly focused on improving efficiency and maximizing return on investment (ROI) to shareholders, instead of investing in new projects. Drilling costs for new projects are estimated to account for as much as 50 percent of capital in an operator's exploration and production (E&P) budget, whereas redeveloping mature fields to enhance production provides an opportunity for operating companies to boost their profit and ROI. Although intervention operations in brownfields can be challenging, efficient management can make the effort worthwhile.
Operating companies seeking to develop new strategies to better manage their brownfield projects are often challenged by low ROI, due to the unpredictable nature of the cost component inherent in brownfield intervention operations. This may be attributed to the nature of brownfield wells, which are typically mature wells that have attained peak production and progressed to a stage of declining production and, as such, projected recovery rates seldom justify the investment. Adopting more efficient solutions as alternatives to the operations generally utilized in conventional operating models yields greater cost control and more productive results.
A conventional intervention operation will normally require a suite of solutions from slickline, wireline and coiled tubing (CT) services. Successfully executing this operation requires planning, selecting and deploying technology-specific equipment for the selected services required at various operational phases throughout the well intervention operation. For example, an intervention operation for a zone change might have the sequence depicted in Figure 1.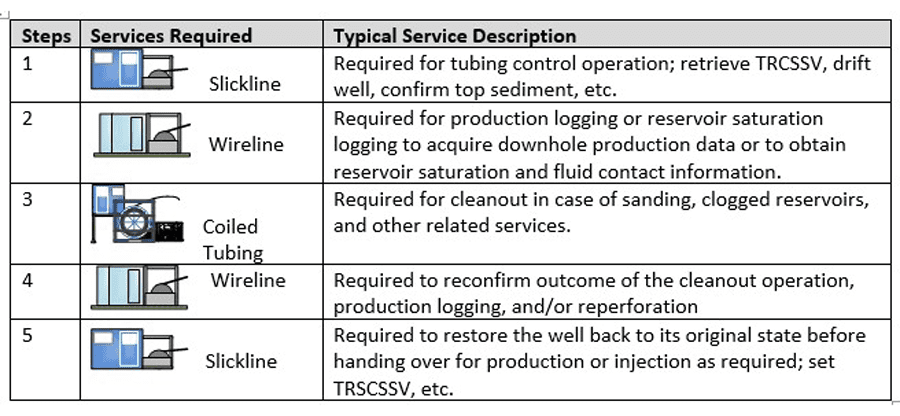 The steps in Figure 1 illustrate different resource requirements at various operational stages, making the process highly inefficient and capital intensive. This concern is alleviated by customized integrated solutions, driven by multi-segment synergies that promote efficiency. Two such initiatives that have proven effective in the field are integrated CT and wireline solutions, as well as integrated slickline and wireline solutions in the form of digital slickline. Both tools optimize operations. By combining the services of either wireline and slickline or CT and wireline, both options reduce the number of mobilizations and total resource requirements by about 40 percent, yet there are merits to each initiative that operators will need to consider before embarking on an intervention operation.
An Introduction to The Architecture of Integrated Solutions
In a coiled tubing and wireline integrated solution (Figure 2), the synergy between wireline and CT enables high-end wireline technology to be coupled with CT by utilizing fiber optic cable installed within the coil, batteries for downhole power, and a surface wireless infrastructure for data transmission to the acquisition system from the reel.
Combining CT and wireline services with the latest technology in wireline production logging allows for the highest-quality onsite evaluation, well stimulation treatment design, real-time treatment diagnosis, and well production optimization to be carried out in one trip to the wellsite. This revolutionary solution enables CT intervention in tandem with wireline logging services, without additional surface equipment from wireline. The integrated solution translates to significant savings on personnel, equipment and a reduced footprint, which is well-adapted for the tight economics associated with brownfield intervention campaigns.
I had the opportunity to demonstrate proof of concept for this solution in a mature oil field offshore the Republic of Congo, while working as the engineer in charge of wireline operations on a project for a major international oil company. In this location, the integrated solution delivered significant revenue and efficiency achievements (as compared to previous intervention operations in the field using conventional solutions), most notably generating an overall cost savings of 35 percent per well. Factors contributing to the total reduction in cost included:
Reduced volume of acid utilized for the cleanout operation, due to real-time monitoring enabled by the integrated solution. Enhancing the production logging operation with the integrated solution of coiled tubing and wireline logging tools, using the same surface equipment, provided both a qualitative and quantitative analysis of the well production profile. This helped fine-tune the cleanout operation by identifying non-producing zones of the well, and provided renewed flexibility by eliminating the need for additional wireline surface equipment (as indicated in Figure 2). The integrated solution also allowed for the post-cleanout production logging operation to obtain data to better optimize the cleanout operation. As a result, the coiled tubing cleanout operation was precisely focused on selected regions of the reservoir, thereby optimizing the consumption of valuable chemicals that resulted in cost savings to the customer.
Reduced project timeline to 7.5 days per well, as compared to approximately 13.5 days per well using traditional solutions. Since conventional operations require wireline surface equipment on the deck during production logging operations, large quantities of equipment must be shuffled around between operations, costing valuable time. The CT reel used for this project weighed over 20 metric tons (44,092 pounds), which was a challenge due to limitations with the platform crane – a typical concern for most rigless offshore platforms, which now constitute the majority of intervention operations. The simplified rig-up as shown in Figure 2 eliminates the need for separate surface rig-up of wireline equipment. Figure 3 illustrates that introducing the integrated solution eliminated these additional constraints, leading to significant time savings. Note that the mobilization and demobilization time depicted in the chart includes equipment transfer to and from the platform to the storage vessel.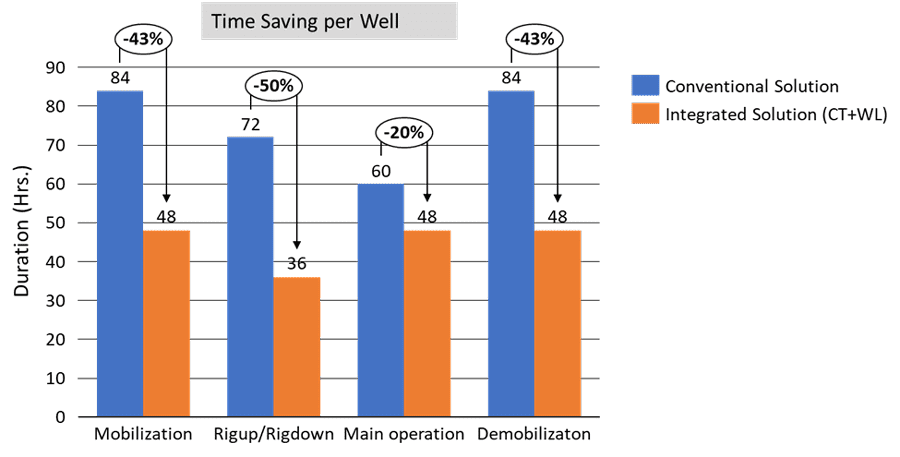 Increased oil production by approximately 50 percent. The precision enabled by the integrated solution technology substantially improved the effectiveness of the cleanout operation to double well production.
In addition to cost savings, the integrated solution used in this operation minimized exposure for health, safety and environmental (HSE) issues by reducing the equipment footprint and logistics (single load-out) and simplifying rig-up, as opposed to conventional operations that require separate surface equipment, such as the wireline logging unit, the storage/workshop container and pressure control equipment, which normally takes up ample space for wireline, for data acquisition in-between the CT cleanout operation. The efficiencies achieved with integrated solutions inherently reduce the breadth of required equipment and associated logistics and footprint, and thus have less risk of operational and environmental hazards.
Another leading, cost-efficient strategy is known as digital slickline. This solution relies on standard slickline surface equipment with a modified slickline wire. An integral coating on the wire allows for two-way digital communication between the surface acquisition system and downhole tools. As shown in Figure 4, the integrated solution blending digital slickline and wireline technology enables real-time data acquisition of wireline production logging services, while still providing standard slickline services, without requiring additional surface equipment. The combined technology tremendously expands the envelope of intervention operations and is well-suited for light remedial intervention operations and wellsite locations with deck space constraints, since this integrated solution allows for a huge reduction in the equipment footprint.
Digital slickline allows oilfield services companies to perform tubing control operations like drifts, removal, manipulation and installation of downhole flow control devices, reservoir monitoring and evaluation, production logging, reperforation, well integrity evaluation, water shutoff operation and zone change, among others, all from one wire and surface equipment operated by a smaller, multi-skilled crew.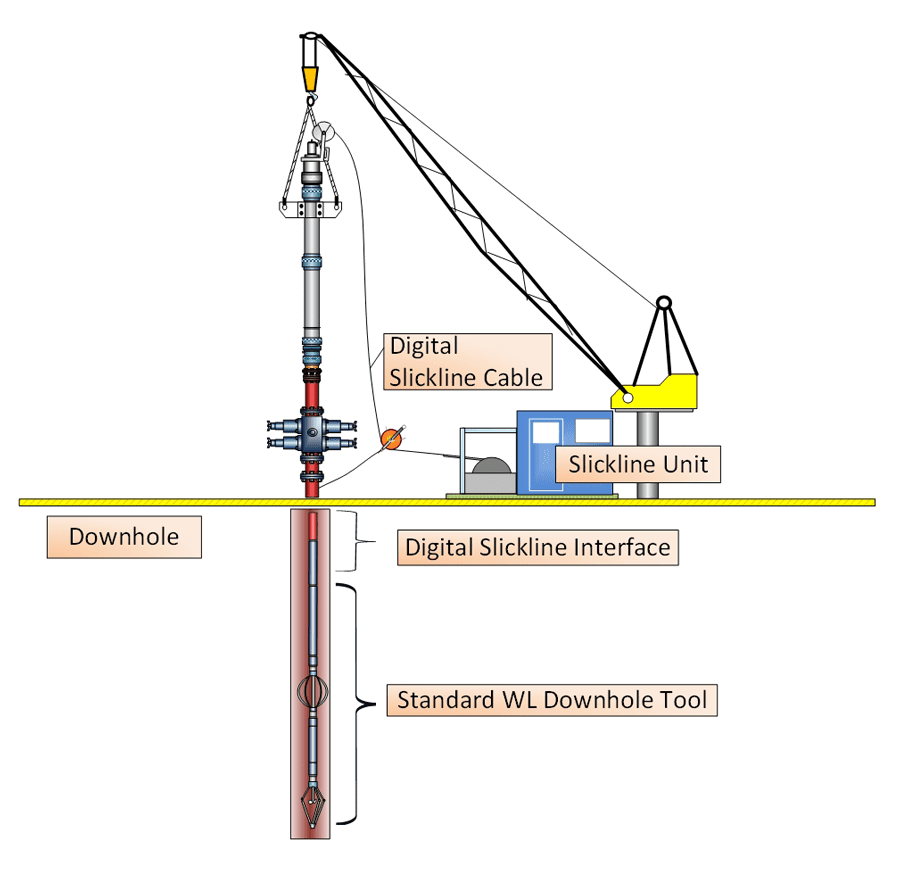 The Cost Benefits of Integrated Solutions
These solutions optimize the main cost drivers in a traditional intervention operation by substantially reducing the mobilization and associated service charges for equipment and personnel requirements, as compared to what is normally required in brownfields. Furthermore, since deck space at the wellsite is often a challenge, the reduced footprint – requiring less equipment and personnel at the wellsite – improves flexibility in terms of equipment layout, rig-up and safety of the operation.
Additionally, the integrated solution enables real-time decision making during the operation, and also helps fine-tune the operation through real-time data acquisition, which significantly improves the efficiency of the job execution and reduces the overall operating time.
Both of these integrated solutions may be used in combination or independently, depending on the scope of work for the planned well intervention. Because slickline is often required as a basic service in a majority of well intervention operations, digital slickline and wireline are more predominant in the oil and gas industry, due to equipment availability, ease of deployment and the broad array of services offered. Conversely, coiled tubing is only required for specific operations, and thus the CT and wireline integrated solution has a lower rate of adoption.
Typical production optimization operations, which form the majority of intervention operations, such as water shut-off, reperforation and cleanout, generally require wireline, slickline and, in certain cases, CT. These basic equipment necessities provide oil and gas exploration companies with leverage to consider suitable integrated solutions and thereby maximize profitability.
Ivan Imonigie is a service quality engineer for one of the world's largest oilfield services companies, responsible for tractors and powered interventions in wireline operations. An expert in improving the efficiency of service delivery in the oil and gas industry, his award-winning innovations in new technologies and integrated solutions have helped operators worldwide achieve better productivity and profitability.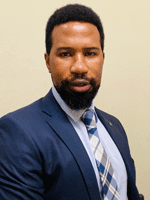 Ivan Imonigie is a service quality engineer for one of the world's largest oilfield services companies, responsible for tractors and powered interventions in wireline operations. An expert in improving the efficiency of service delivery in the oil and gas industry, his award-winning innovations in new technologies and integrated solutions have helped operators worldwide achieve better productivity and profitability.
3 Ways Technology is Going to Shape the Oil and Gas Industry
Free to Download Today
Oil and gas operations are commonly found in remote locations far from company headquarters. Now, it's possible to monitor pump operations, collate and analyze seismic data, and track employees around the world from almost anywhere. Whether employees are in the office or in the field, the internet and related applications enable a greater multidirectional flow of information – and control – than ever before.